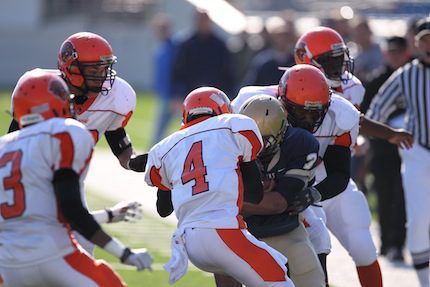 11 Aug 2013

MALVERN: New-look Leopards mix things up

Conference: 7-4A
Coach: Mike Scarbrough
'12 Record: 9-3 (5-2)


With a new head coach and a new offensive coordinator, Malvern hardly looks like the team that fired off eight-straight wins to begin the 2012 season. However, don't let the new personnel fool you; the Leopards mean business in 2013.
"Don't expect anything less than last year," first-year coach Mike Scarbrough said. "We are going to have pretty good skill guys and a lot of returning starters."

Senior Bret Murdock promotes to quarterback and has a plethora of receivers in his arsenal, including seniors Kaylen Burks, Devin Bradford, Keidric Dickens and Elliott Coston. Burks led the team in receptions a year ago. Bradford averaged more than 21 yards per catch. Junior Montae Hernandez will carry the workload in the backfield.

Defensively, the Leopards return six starters, including strong senior defensive end Isaac Wright. Seniors Kade Myers, Otis Phillips and Andre Tuggle are the meat of the defensive line. Dickens and Coston have potential at cornerback. Burks and Bradford defend in the secondary.

The Leopards will have to work together to stay afloat in the powerful 7-4A conference that includes the likes of Arkadelphia, Nashville and Ashdown.
"It has always been a really strong conference and it won't be any different this year," Scarbrough said. "Arkadelphia is the favorite. Nashville and Ashdown are going to be good this year. We have a chance to be okay."

Schedule:
Sept. 6 Glen Rose
Sept. 13 Lake Village
Sept. 20 at HS Lakeside
Sept. 27 at Bauxite
Oct. 4 Pulaski Robinson
Oct. 11 at Ashdown
Oct. 18 Ark. Baptist
Oct. 25 at CAC
Nov. 1 Nashville
Nov. 8 at Arkadelphia