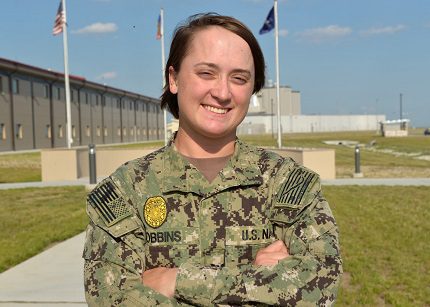 15 Jul 2017

Malvern native serving at Navy missile site in Romania

Posted at 12:02 AMh

in

News

by Cmdr. Morgan Murphy
Navy Office of Community Outreach


A Malvern High School graduate is part of a new and unique Navy command providing critical missile defense to a large part of Europe.


Petty Officer 3rd Class Morgan Robbins, a Malvern native, is a master-at-arms serving at Naval Support Facility Deveselu, one of the Navy's newest commands defending against the threat of ballistic missiles.

A Navy master-at-arms is responsible for protecting the base or ship.


"I really have come to love it (my job) because I meet so many people and I'm always part of any special event like visiting dignitaries, concerts and tours," said Robbins.


NSF Deveselu is the first Aegis Ashore Missile Defense Facility placed into operation, providing support to NATO's overall ballistic missile defense system. Commissioned in October 2014, the installation is home to U.S. Navy sailors who work with their Romanian partners to defend against the threat of a ballistic missile attack.


"The importance of our sailors' mission in Romania can't be overstated," said Capt. Jon Grant, commander NSF Deveselu. "Because we are here, our combatant commanders have a lot of flexibility to position their sea-based missile defense assets where they'll have the largest strategic impact, and that wouldn't be possible without our sailors stepping up to the plate and knocking it out of the park 24/7, 365 days a year."


Assigned to U.S. 6th Fleet, sailors are on watch throughout the European region and are important assets supporting the European Phased Adaptive Approach to enhance the security of that area of the world from ballistic missile, according to Navy officials.


Navy personnel at NSF Deveselu are supported in their efforts by forward deployed units in Rota, Spain, such as the Arleigh-Burke class guided-missile destroyers USS Ross (DDG 71), USS Porter (DDG 78), USS Carney (DDG 64) and USS Donald Cook (DDG 75). Having four destroyers based in Rota gives the U.S. 6th Fleet flexibility to send these ships to a variety of locations for a range of missions, while at the same time providing a large umbrella of protection for European allies.


Approximately 200 officers and enlisted men and women are stationed in Deveselu. Their highly-specialized jobs are critical to mission success, according to Navy officials.


"I like being stationed in Romania because it's easy to travel to so many countries from here," said Robbins.


Living abroad is challenging, Navy officials explained. The young men and women are highly motivated, and quickly adapt. The sacrifices are worthwhile to ensure the safety of our allies and loved ones back home.


Supporting this important mission, Robbins explained that her fellow service members know they are part of a legacy that will last beyond their lifetimes.


"Not everyone gets to serve in the Navy, so I feel good to give back in some way," Robbins said.