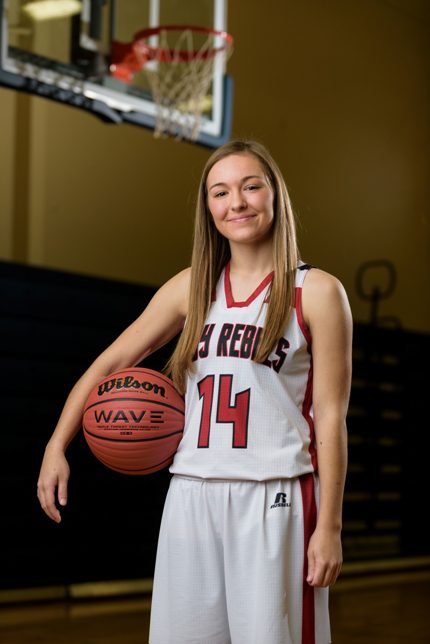 11 Jan 2017

Malik an 'encourager' for Sacred Heart

by Mark Oliver


In many ways, it hasn't been the final season that Sacred Heart guard Toni Malik had dreamed of. However, in the face of adversity, the senior finds power in positivity to help her Lady Rebels improve.


"Our team is pretty young right now," Malik said. "We only have three seniors this year. While the season is not going the way we wanted it to, we keep improving every day. You can see that in our practices and in our games and everything. Every day is something new, and they're starting to understand the competition of senior high basketball and are starting to play a lot better in the second half of the season."


Malik was selected to this year's 501 Basketball Team — 34 players representing the best the 501 has to offer both on and off the court. The senior was nominated by her head coach, Kyle Duvall. The team is sponsored by First Service Bank and First Security Bank.


"Toni always displays a positive attitude in everything she does," Duvall wrote in his nomination. "Every time she steps on the floor, her attitude and effort are something that sets her apart from other players. She always has a smile on her face and is always ready to help other teammates or students in whatever ways she can."


As captain of a sophomore-laden team, Malik has many responsibilities — from teaching younger teammates the fundamentals of the game to providing encouragement when the going gets tough.


"It's been a tough year, but my goal is to make sure that the team never gets down on themselves," Malik said. "It's easy to get frustrated and want to give up, but you can't do that in basketball. You have to keep your head up. If you miss a shot, just keep shooting. Each of my teammates is talented and I know that they can all be successful. Sometimes they just have to see it for themselves."


"Toni is a great leader and captain to her teammates," Duvall wrote. "She is always there for her teammates and always willing to help them in academics or on the floor. She constantly makes others around her on the floor more involved and puts them in a better position to succeed."


To add to the team's adversity this season, Malik also missed the beginning of the season due to injury.


"I hurt my ankle in our first game and was out of action for about a month," Malik said. "I knew my team needed me, so I came back before I was cleared in order to play. To this day, it's hard getting back into playing like I used to, but I wrap my ankle before every game and I just go out there and play. I ice it after every game or practice."


Malik's injury isn't the first physical challenge that the senior has faced during her high school career.


"Last year, I separated my shoulder while playing basketball," Malik said. "As a result, I wasn't able to play much and it still affects me on the court today. There's some over-the-head passes that I can't really do and I'm also not able to put my arms behind my back very well, either."


Malik's hardships have inspired the senior to pursue a career in the medical field.


"I want to become a nurse one day," Malik said. "I've always been interested in the medical field. I have a lot of family members who are nurses and they are always encouraging me to pursue it."


Off the court, Malik serves as secretary of Beta Club and Key Club at Sacred Heart. In her community, she helps operate a food drive and works to beautify the 501 by picking up trash. In her free time, she enjoys playing sports with friends.


"Toni has a great attitude and work ethic in everything she does and is, overall, just a great student athlete," Duvall wrote. "She will be successful in anything she looks to accomplish, because she is a great person and strives to be great in everything that she does."


Sacred Heart plays host to Quitman on Friday, Jan. 13.