23 Feb

Making a difference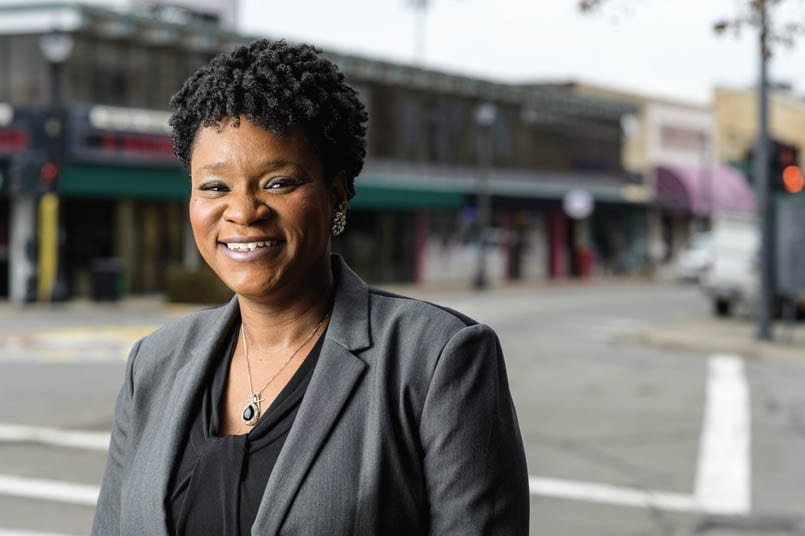 by Kiera Oluokun
Shawanna Rodgers knows what it means to be a mover and shaker in the 501.
After 13 years of professional experience as a church administrator at True Holiness Saints Center, she is now trying her hand in local government, working for the City of Conway Office of the Mayor. She was recently named the Diversity and Economic Development Coordinator, a new position for the city.
501 LIFE had the opportunity to catch up with Shawanna about her new role and how her past experiences have helped shape her into the successful woman that she is today.
Why is it important to see a woman represented in local government?
I think it encourages and empowers women to continue to strive and work hard in whatever position they hold. It's an honor for me to be in local government in the new role as the Diversity and Economic Development Coordinator because I am just one of many hard-working women that do it on a day-to-day basis. I have a love, and a passion, and a desire to help the community at large.
Some women are career-focused and career-driven while also being a wife and a mother, so they must maintain a career, a home and their sanity all at the same time. For me to be able to work in city government is an even more humbling experience because I know that there are several women out there that are just as capable as me to do this job, but I am just grateful and blessed that I was the one that was chosen. I am excited to bring all of my energy and empowerment to the position.
What advice would you give to the younger generation of women?
I tell young women starting out in their career three things.
The first thing that I tell them is to be faithful in the small things and the things that you may consider not as important. Be faithful in your commitment and service to those things because those are the areas that you learn and grow. You can make a mistake in those areas and learn from it and get better. I do not consider things to be failures, but I do think that there is an opportunity to try again. Commit to the small things first. If there is a small task that you have, do it and do it with integrity. I think that is a tool that will help you be successful in any career or just being a successful person in general. Always keep the heart of a servant and a servant's attitude — that keeps you in a relatable place with the people that you serve.
The second thing that I tell them is that integrity is important and essential. In saying that, I would suggest a mentor — someone who can guide you through the process. For me, having an accountability partner and a mentor helps guide me in the direction of areas that need to be corrected and helps me maintain my integrity.
The final thing is don't quit. There will always be things that go wrong and challenges that come, but keep that same drive and determination as when you first had your dream, and that dream will definitely come to reality. If you keep your dream in the forefront of your mind, and you take your energy, resources and experiences and keep them with that dream, you will be successful. If you have failed attempts, don't look at them as failures — just pick yourself up, put that dream back in the forefront of your mind and take everything that you have and run with it.
How do you achieve good work and life balance?
Prior to this position, I served at True Holiness for 13 years and managed many different facets of the church. In my new position, I'm able to take that experience and apply what I have learned to be able to maintain that same balance. In the areas that I had some challenges balancing while working at the church, I am now able to see that and put different parameters and boundaries in place to keep me in the right direction for a good balance. I am learning to do for myself more and I am realizing that if I am not balanced and in a healthy place, then everything that I do will be out of balance as well.
What or who has been your biggest inspiration?
I come from a strong background of women. My mother, Juanita Louise Rodgers, passed away when I was younger, but even people that I run into now talk about the strong legacy that she left.
My grandmother, De'Ella Jones, was also a strong, influential woman in my life along with several aunts and cousins that have helped shape me into the woman that I am today. They were all dedicated, determined women. When they put their minds to something, they made sure it was accomplished.
A lot of my mentorship and learning as it pertains to the professional aspects of my life came from my former boss, Pastor E.C. Maltbia, during my 13-year tenure working at True Holiness. He believed in doing everything with a spirit of excellence and what I appreciate most are those moments of correction because it allowed me to grow. I took a lot of what he taught me, and I am applying it to my current position — when you do it, you do it with a spirit of excellence. Whether you are doing it for five people or 500,000 people, the same spirit of excellence needs to be in it all.
When you have an opportunity to be kind and an opportunity to help, you take those moments.
What can we look forward to from you in the upcoming year as it pertains to your new role promoting diversity and economic development?
I am working on the 2020 Census and I am eager to share that experience with the Conway community and the complete count committee, which is comprised of several community leaders, colleges and universities, and public schools.
I am very excited about that because we all came together, along with Conway Corporation, to bring awareness to the 2020 Census. We just want to make sure that Conway thrives and continues to grow. Everyone should look forward to the census information that we are pushing out, and you will see details about upcoming events on social media.
The census is only my first big objective. Be on the lookout because there are several major things that we have in store in the Diversity and Economic Development Department for the next five years. Keep your eyes open and "like" our Facebook page, Diversity and Economic Development, so that you can stay abreast of all the things that we have coming.