22 Nov

Make Me Over: Winners complete journey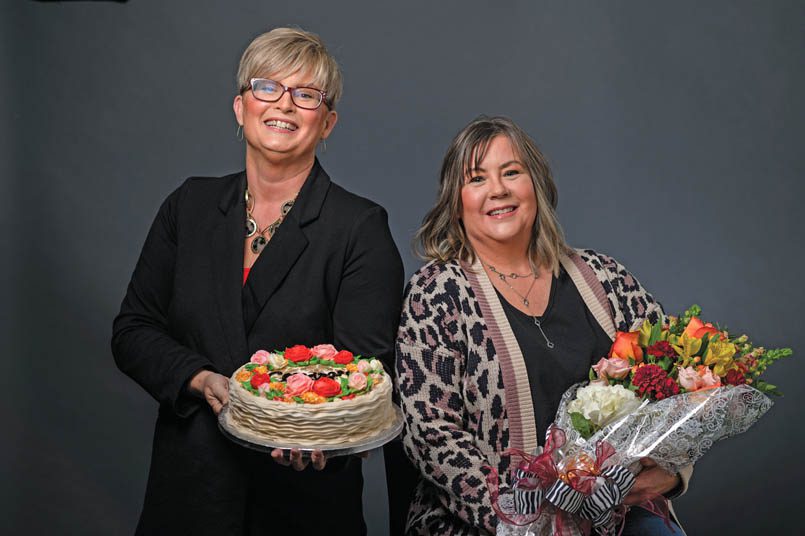 Tracy Martin and Vicki McCauley have completed all the steps in their 501 LIFE Make Me Over journey.
501 LIFE teamed up with some amazing sponsors to offer Tracy and Vicki a unique makeover experience. The two were selected from entries submitted for the contest. 
Sponsors were Bledsoe Chiropractic, Conway Regional Health and Fitness Center, Daisy-A-Day Florist and Gifts, E.L. Clinical Esthetics, First Service Bank, Harrington and Company, Julie's Sweet Shoppe and Rachel Deal General Dentist.
"The entire experience of winning the 501 Make Me Over has been wonderful," said Tracy. "Most recently, we met with the staff at First Service Bank. They gave us the gift of prepaid Visa cards to use on a shopping trip to purchase new outfits. The ladies there were so kind and happy for us."
"Everyone at First Service was very friendly and excited for us," added Vicki.
Tracy and Vicki shopped for their new outfits at Wilkinson's, where they were assisted by Shantay Bobo and Amberly Connors. "We were greeted by very sweet, friendly and patient young ladies who helped us pick out our perfect outfits," said Tracy.
The final steps in the makeover featured hair and makeup with Robin Harrington and Harrington & Co. and the presentation of flowers to each of them from Daisy-A-Day and cakes from Julie's Sweet Shoppe.
Previously, Tracy and Vicki met with and received services provided by other sponsors – Dr. Amanda Bledsoe, Dr. Rachel Deal, Susan Isom at E.L. Clinical and staff at Conway Regional Health and Fitness Center.
"Dr. Bledsoe fitted me for shoe inserts to help with the leveling of my hips," said Tracy. "I received vitamins, which are very beneficial, and a massage. The massage released so much tension that my body wouldn't have released. It was very relaxing! Everyone in the office was so nice and encouraging."
"I continue to go to Bledsoe Chiropractic, now as a client," said Vicki.
Both makeover winners were also impressed with Deal and her clinic staff. "I received X-rays, teeth cleaning and was fitted for molds for teeth whitening trays," said Tracy. "Everyone was helpful and very friendly!"
At E.L. Clinical, they received a skincare consultation and treatment.
At Conway Regional Health and Fitness Center, Tracy and Vicki were presented with a six-month membership. The two also met with Sarah Money, wellness coordinator and registered dietitian. 
"I have been enjoying my membership at Conway Regional so much," said Vicki. "The fitness center has something for everyone! I never dreamed I would enjoy water aerobics and especially water Zumba."
Both Tracy and Vicki expressed their appreciation to the sponsors for the makeover experience.
"I'd like to thank all who have contributed to this makeover," said Tracy. "It truly has been fun and stretched me to things I would never do for myself."
"I've enjoyed absolutely everything connected with the makeover. All the partners have been great. They've gone out of their way for us," said Vicki. "I feel like I'm taking better care of myself since starting to make me over. 
"We ladies tend to put everybody else first. I am lucky and blessed to take part in this fantastic experience with my friend, Tracy. Seeing her as she's pampered makes me so happy because I love her! I would encourage ladies to take care of themselves and their friends."