19 Aug

MAGNET COVE: Panthers back in the thick of the 5-2A

Conference: 5-2A
Coach: Caleb Carmikle
'17 Record: 7-5

2017 was headed for a second-straight losing season for Magnet Cove, but everything changed for the Panthers in Week 4 with a 31-30 win over England.

"We got hot at the right time and won a share of the conference for the first time since 2013," said Coach Caleb Carmikle.

The Panthers lone 5-2A blemish was to Conway Christian. Magnet Cove defeated Hackett in the first round, 43-6, before falling at Hazen, 20-14.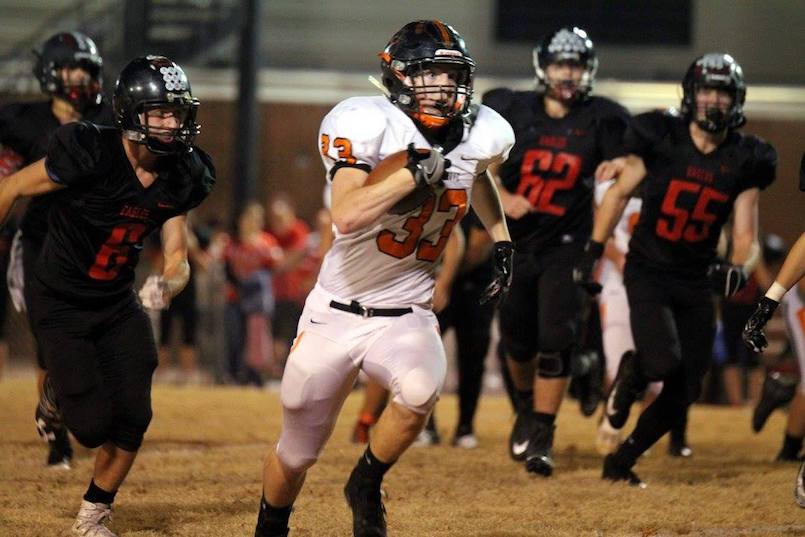 Senior Grant Eskola and junior Tyler Hodges will both see time at quarterback this fall. Senior all-state running back Eli Dawson and senior fullback Trent Robinson anchor the offense's core strength — the rushing game. Dawson rushed for 1,436 yards and 13 touchdowns last fall, and Robinson rushed for 499 yards. Landon Stone, Wesley Standridge and Aaron Walling rotate at receiver. Eskola, when not playing quarterback, will also pop in at receiver. Senior Tyler McJunkins is a leader on the offensive line, alongside senior Ty Dawson, junior Logan Walker and sophomores Lucas Smeltzer and Carson Lane.
"Offensively, we have one of the better backfields in the conference," Carmikle said. "I expect to have another strong running game, and a much improved passing game. Our offensive line has lots of question marks right now, but I look for them to improve as the year progresses."
Ty Dawson and Jake Harmon start at the defensive ends, while Smeltzer demands attention in the middle at tackle. McJunkins and Walker fill run lanes at inside linebacker, and Robinson and Cade Asher chase down oppenents at outside linebacker. Stone and Eli Dawson defend the safeties, and junior Alex Ordonez and Standridge lock down the corners.
"Defensively, we expect to be fundamentally sound all over the field," Carmikle said. "We should have a very strong front seven. If our secondary can continue to show improvement from last year, we should be pretty solid defensively. Our biggest strength this year is the experience and leadership of our senior class. Our biggest weakness is our lack of overall team speed.
"Conway Christian will be the team to beat in the 5-2A in 2018. They are set up to make a big time run with a very talented quarterback and group of receivers returning. Once England adjusts to their new coaching staff, they will be very tough as well. They always have a ton of speed on the field."
5 Players to Watch: 
Eli Dawson (Sr. RB/DB)
Ty Dawson (Sr. OL/DL)
Tyler McJunkins (Sr. OL/LB)
Trent Robinson (Sr. FB/LB)
Grant Eskola (Sr. QB/WR/
1 Must-see Game:
"Conway Christian. It has developed into a great rivalry and is always an intense game with a championship on the line." — Carmikle
2018 Schedule:
Aug. 24 at Mountain View
Sept. 7 Atkins
Sept. 14 at Mount Ida
Sept. 21 England
Sept. 28 at Poyen
Oct. 5 Quitman
Oct. 12 at Mountain Pine
Oct. 19 Bigelow
Oct. 26 at Conway Christian
Nov. 2 Cutter Morning Star
501 Football Team '18
Tyler McJunkins
Classification: Sr.
Position: OL/LB
On the field: Tyler is the vocal leader of this football team. He plays with so much passion, enthusiasm and aggression. Our coaching staff knows that we are going to get the most out of Tyler every single snap.
Off the field: Tyler is one of the most respectful, polite kids in our program. He's the kind of young man that you would want your son to model himself after.