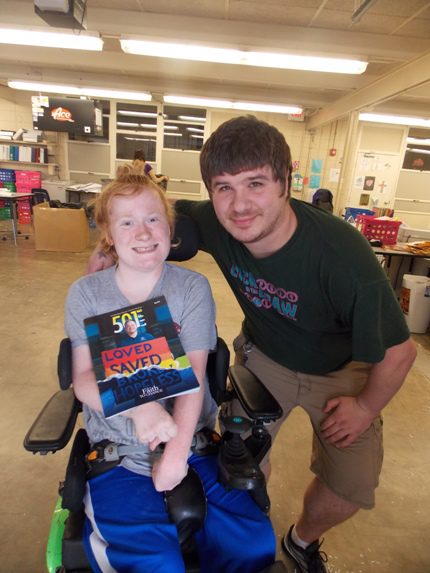 18 Jul

'Luck of the Draw' scheduled Aug. 5

The Conway County Center for Exceptional Children (CCCEC) will host its Fourth Annual "Luck of the Draw" Friday, Aug. 5.


Tickets are now on sale for the fundraiser, which will be held live on radio station KVOM FM 101.7.


Last year, more than 1,200 tickets were sold and more than $37,000 was raised.


Eight different themed prize packages valued at an average of $1,000 each will be raffled off. Tickets are $20 each or six for $100. As a unique feature, organizers will allow the individual to select in which prize package their tickets will be entered.


The themes include auto, back-to-school, entertainment, landscape, game day, restaurant, sportsman or renovation. A full list of items in each package can be found on the Center's website at centerforexceptionalchildren.org or at facebook.com/cccec.


Tickets will be available through Friday, July 29, at the center or sponsor locations: Edward Jones Investments, Magie Ford, Farmers & Merchants Bank, Knights of Columbus, Petit Jean State Bank, Brents & Sons Heat & Air, Primarily Pediatrics, Pyramid Therapy, Roberson Tire, Morrilton Rotary Club or Lipsmeyer's Daylight Donuts.


All proceeds from the event benefit the clients of the center. Every dollar helps make a difference in the lives of CCCEC clients.


CCCEC is a non-profit organization that has provided high quality services for individuals with developmental delays or disabilities and their families since 1970. CCCEC is comprised of three divisions in two counties: ACTION Services and Beginnings in Morrilton, and Step by Step in Perryville.


ACTION Services Workshop specializes in confidential document disposal performed by adults with mental or physical disabilities. There is also a 24-hour recycling drop off no charge. Contact ACTION Services at 501.354.4484 for more information.


The Beginnings and Step by Step facilities, located in Morrilton and Perryville, are day treatment clinics that serve the early childhood demographic. The centers work with children from 6 weeks to 5 years. For a free developmental screening, contact Beginnings in Morrilton at 501.354.5593 or Step by Step in Perryville at 501.889.1295.


For more information or to purchase "Luck of the Draw" tickets, call Alisha Ragland at 501.354.4484.