31 May

Loyal pup supports owner through illness and loss

By Becky Bell

Many people say laughter is the best medicine, but if you ask Mary Cortes, she will disagree and say Chihuahuas are the best medicine.

This is something she discovered after receiving dialysis for two years and then receiving a kidney transplant in 2020.

"I just think dogs are the best thing you can have," Cortes said. "They are loyal to you, they are your family, and they love you."

A native of Puerto Rico who moved to Conway from Miami, Cortes has had a long love affair with dogs. She now owns three Chihuahuas, Chole, Zoe´, and Xena.

She is closest to Chole because the loyal dog stayed by her side when she received life-sustaining dialysis. Although 4-year-old pup could not go with Cortes to her appointments, she would be faithfully waiting for her owner to come home and get into the bed.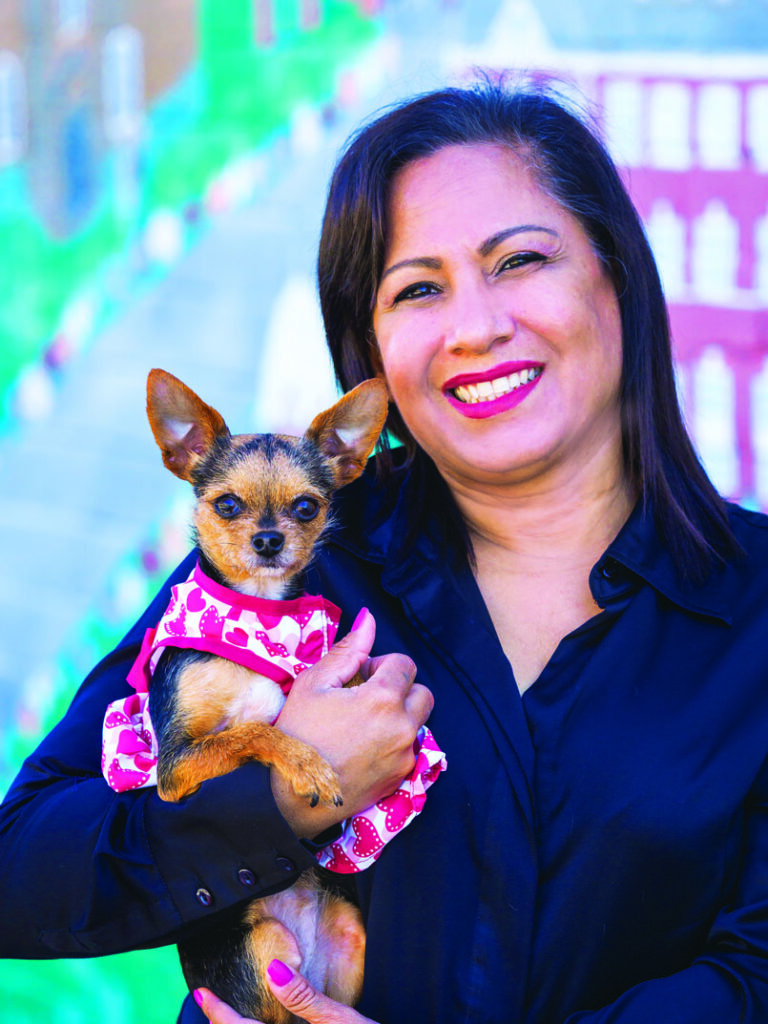 "She would lick me and make sure I was OK," she said. "She wouldn't cry to go out to the bathroom. She would wait until someone could take her. She would cuddle with me and love me."
Cortes' wife, Sulma Bautista, wanted to give her a kidney, but was not a match. However, a gentleman in Miami also needed a kidney and his wife was a match for Cortes, so they were able to both receive kidneys. "God was so good," Cortes said. "It was a blessing to have this happen. Her husband needed the kidney, and (Sulma) was able to give it to him."
Cortes said one of the reasons she thinks she and Chole have such a close bond is because she hand-fed her with a bottle when she was a tiny pup. In her lifetime, Cortes imagines she has rescued hundreds of dogs. These dogs come to her with such horrible stories that make someone wonder about the lack of humanity in the world. But once Cortes rehomes them, they end up going off to new homes and having a good life."I am their voice, and I don't want anyone to talk about my dogs," she said. "I am their voice, and they mean everything to me." She said some of the dogs along the way were not Chihuahuas, but she is less allergic to them than other breeds.
Personal discomfort from allergies never got in the way of what she wanted to do. "All my life, I have always loved all dogs," she said.
Cortes describes her dogs as adorable but said that she and Chole are inseparable, and that the little pup is overprotective of her. She lost a daughter three years ago, and Chole even knows when she is thinking about that and is sad.
"She knows when I'm happy and she knows when I'm sad," she said. "She knows when I'm thinking of my daughter. She will sit on the couch with me, and she will come lick my eyes when I am crying."
Through dialysis, Cortes sometimes didn't think she could sustain herself, but with Chole by her side, she did. "When I was crying, there were times when I felt like giving up, but she was right there with me," she said. "I actually think they connect with you." Cortes' son, Cristopher Cortes, has a favorite of the Chihuahuas and that is Xena, who is long-haired. She said her son tells her, "that is his dog."
"He buys more things for her than the other ones," she said. Sometimes you might meet the Chihuahuas at her store in downtown Conway, Out da Clozet. The store sells both new and gently used clothing.
Chole won't generally be there unless it's a weekend and there are extra sales people to help customers. She said she realizes as cute as Chole is, some people don't appreciate a dog that barks, and Chole barks to protect her owner.