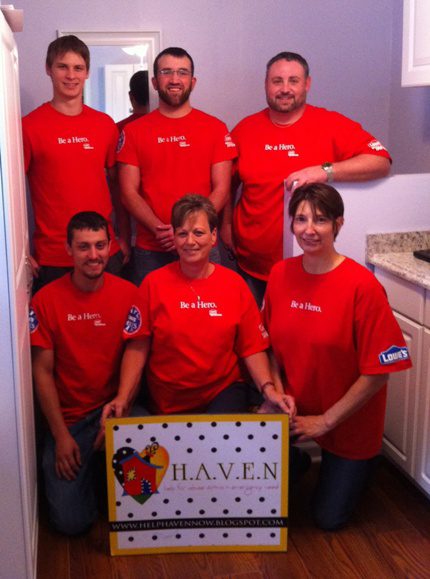 04 Nov

Lowe's lends hand to HAVEN

The Conway Lowe's Heroes team was recently tasked with a great mission – restore one room in a home so that it could be used as office space.

The project doesn't sound daunting, but the room used to be a bathroom in a private house built in 1912, according to Brenda Brown, admin manager. "The charity that utilizes the space in this home does such amazing work that we accepted our mission without a second thought," she said.


Help for Abuse Victims in Emergency Need (HAVEN) is a facility for girls ages 6 to 18 who have been removed from their home situation through no fault of their own. It has been a saving grace for several thousand girls since 1986 and has been housed in various facilities in that time frame. Being a non-profit agency, the charity has a minimal budget which it uses for day-to-day operations to keep the children they help fed, clothed and provided with any other services they require.


One of the necessities when housing children is to address their medical needs, which includes distributing any medications they may require. The HAVEN staff is required to have a "double-Lock" system where the medication is stored.


"That particular aspect of the home was being stored in the room we volunteered to remodel. We knew for the safety of all the children who come through the doors we had to make this room impenetrable for everyone except those who were authorized to have access to the medication."


The first step in transforming the room and making it as efficient as possible was to start from the ground up. "We completely gutted the room and removed an old porcelain bathtub. We replaced the commode and sectioned it off from the rest of the room to still allow the room to be functional but also to provide an office atmosphere," Brown said. "From there, we put down new flooring, painted the walls, as well as installed new molding and trim. We finished the renovation with new cabinets and new light fixtures.
"The best part of the entire process, besides knowing that we had helped a very deserving group of people, was that with the installation of the new cabinets, we know without a doubt that the "double-lock" system for the girls' medication is safe."

HAVEN executive director Jenny Morse expressed her gratitude and the need for more assistance from the community. "Being a shelter, we make use of every single inch of our facility," she said. "To have the Lowe's team come in and make the space work for us is beyond amazing."