24 Sep

'Loving LIFE' and a new friendship

by Laurie Green 

One of my favorite things about being a contributor to this magazine is getting to share my adventures. At the end of July, a group of very dear friends and family attended a cruise on the Carnival Triumph. This was my second time to enjoy my newfound favorite vacation mode, and it was a trip that did not disappoint.  

Of course, I carried a copy of 501 LIFE magazine for some cool photo opportunities, but little did I know how this magazine was going to forge a new friendship that would reach across oceans.

As much as I love the excitement aboard the floating entertainment of the cruise ship, I am very much a people person. I enjoy talking with the crew and learning about the life they live, so it was only natural that I would strike up a friendship with our room steward, Larsen Reyes.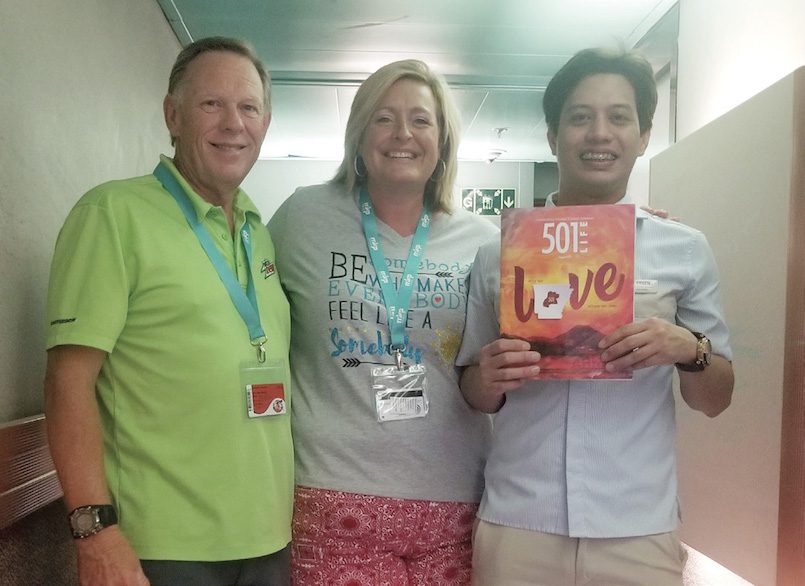 Larsen is from a small city in the Philippines about an hour away from Manila called Cavite. For the past 11 years, he has done what he does best, making sure he takes care of his assigned cruise families. Larsen has a smile that lights up a room, and we were constantly in awe of how at any given time you could walk past him and be greeted by name. For a full five days aboard the Triumph, he made sure that my husband, Will, and I (as well as every other guest he served) were well taken care of and treated like VIPs. 
I gave Larsen my magazine after we posed for a picture, thinking he might enjoy seeing and reading all about our fabulous 501 area. So imagine my surprise when he told me that another contributor to the magazine who shared the opposite page to my article had written a whole story about the town his mother is from.
I couldn't believe the chances of such a coincidence like that would take place. It gave us even more of a connection to talk about. We made sure to exchange info and promised to keep in touch, which is exactly what we have done.
Through our newfound friendship over 501 LIFE, I have learned so many interesting stories from Larsen. Like the fact that the ship never really stops. As soon as one group departs another group is loading on. So every week is back to back cruises where he is in charge of taking care of normally 34 rooms. Plus, after a day, he remembers everyone's name. He is very humble and kind and doesn't necessarily see that as such a talent. His work has taken him to such places as Hawaii, Sydney and Alaska, which was one of his most favorite places to see. Being from a tropical place in the southern Philippines he hasn't seen a lot of snow.
He tells me that his ultimate dream is to see the Statue of Liberty. With the ship about to dry dock to be renovated, he should get that opportunity as soon as it's finished and travels out of New York.
I'm very thankful for the friendship and the opportunity that writing for 501 LIFE has given to me. I've enjoyed learning about other cultures and sharing about ours. I am excited to know I have a connection and a friendship that reaches across the oceans. Until we meet again, safe travels to my friend.