31 Jan

LOVE WINS

One casualty of the pandemic was postponed or scaled-down ceremonies. In fact, according to the website The Knot, 35 percent of couples who sent invitations for a 2020 wedding postponed it until 2021 or later. The couples profiled below faced the stress head-on with the help of their wedding planners. Flexibility on the part of their family, friends and vendors eased the pressure and they were thrilled to make the ultimate commitment to the love of their life in 2020.
Mr. and Mrs. Garrett Pender
Photo by B.Matthews Photo • Wedding Planner: Jessika McCuin Weddings
Floral arrangements: Magnolia Belle Floral
When Jessica Sanchez accepted the proposal of Garrett Pender, they set a March 28, 2020, wedding date. They both lived in Little Rock and planned a grand wedding weekend with nearly 200 guests.
"This was going to be a great opportunity for Garrett to meet the majority of my family for the first time," Jessica said. "COVID-19 hit and we had to reassess our plans. We put love first and decided to have an intimate wedding Sept. 12, 2020."
Initially, the change was hard for the excited couple to accept because some of their closest friends and family members would not be able to attend. "But at the end of the day, we knew that everyone who was not there wished us well," the new bride said. "We focused on the importance of why we wanted to get married, and we finally became one and our day was centered on love."
Because of the experience, Mrs. Pender has changed her mind about large weddings. "It was perfect! Now I am a lover of small, intimate weddings!"
She said that she could not have made all of the changes without the support of her wedding planner and vendor team who were "gracious and supportive." Jessica chose to have the ceremony and reception outside to allow for social distancing. Prior to seating guests, the ushers screened them and encouraged them to wear masks when distancing was not an option. Guests sat by household and were spaced apart, and extra hand sanitizers and masks were available on their tables. The meal was changed from a buffet to plated dining, and plexiglass shields were used at the bar to protect the bartenders.
"Following the guidelines removed most of the stressors from planning a COVID-19 style wedding," she said.
Mr. and Mrs. Bryce Biggerstaff
Photo by Christopher Nolan Photography • Planner: Jessika McCuin Weddings Floral: Tanarah Luxe Flora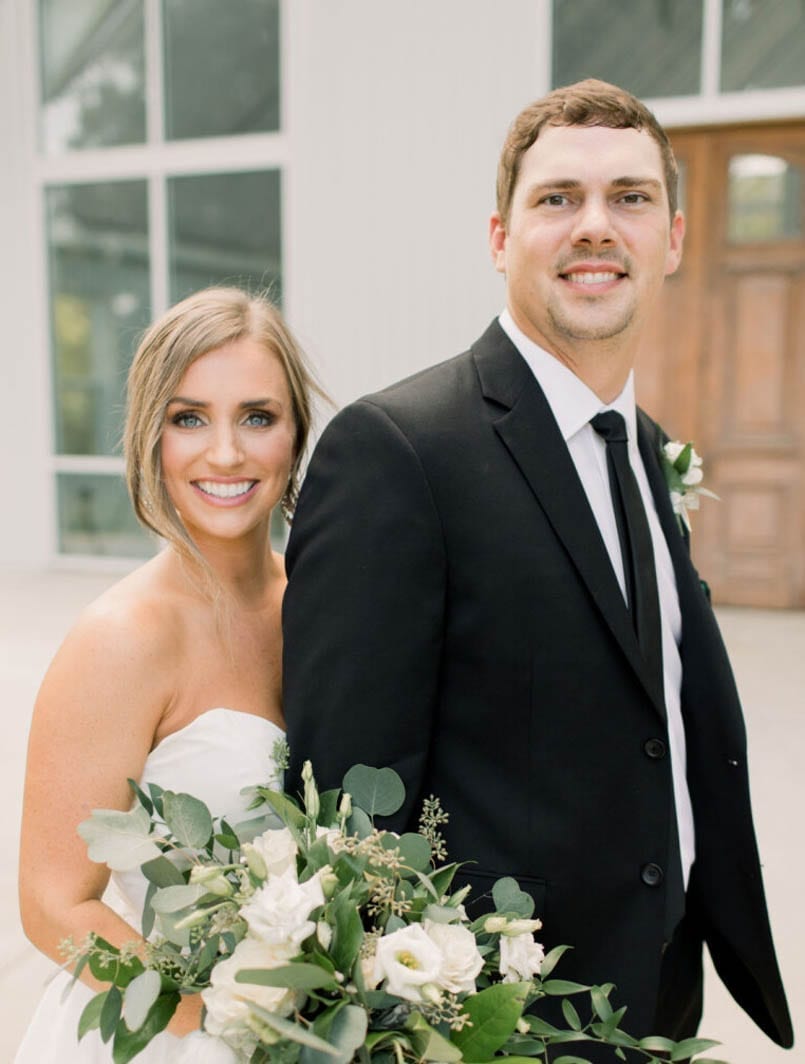 Kari Ray from Cabot planned to marry Bryce Biggerstaff from Sherwood on April 18, 2020, but COVID-19 altered their plans.
"We made the decision a little over a month before our original date to postpone to later in the year," she said. "We were definitely heartbroken about having to change our wedding date. It's something we never anticipated happening."
On their original date, they spent the day together, and with their dogs, and enjoyed the beautiful Arkansas weather and "counted their blessings!" They married on Aug. 22 at Cold Springs in Paron (Saline County.)
"It was the most perfect day with our family and friends," the newlywed said. "When everything was said and done, with the help of Jessika McCuin Weddings, Tanarah Luxe Floral and other vendors, we had the wedding day that we always dreamed of.
"We were so blessed with the most understanding vendors who happily rescheduled. Jessika and her team helped us to follow COVID-19 protocols to make our wedding day as safe as possible for our guests."
Mr. and Mrs. Matthew Kane
Photo by Sterling Imageworks • Planner: Jessika McCuin Weddings • Floral: Tanarah Luxe Floral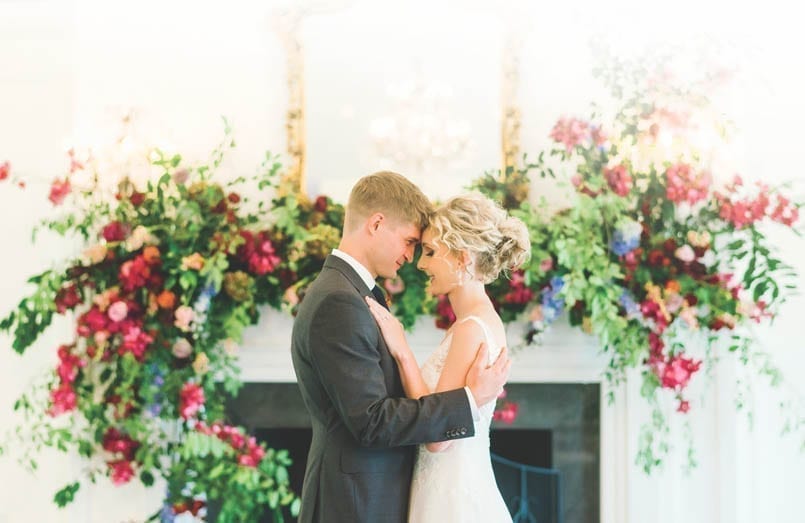 Rachel Hildebrand of Little Rock and Matthew Kane of Conway planned a spring wedding for late April 2020, at Trinity Episcopal Cathedral. They invited 300 guests and looked forward to a rehearsal dinner at the Capital Hotel and a reception at the Country Club in Little Rock. A dream honeymoon trip was planned to Croatia and Istanbul.
A month before, they decided to reschedule for Aug. 1, initially with the same guest list and venues; however, in June, they pared down the guest list and made alternate arrangements.
"Looking back, the changes did not matter," Rachel said. "At the time, though, the necessity of constantly
reworking plans, which had been in place for nearly a year, was nerve racking."
The happy couple married at the Country Club of Little Rock with a family-only ceremony and reception. A rehearsal dinner was held the night before at the home of the groom's mother. They honeymooned in Aspen, Colo. They followed all the requirements of the indoor venue directive, had 6-foot spacing between the ceremony chairs and reception dinner tables, and allowed "only formality dances." Guests were served a plated dinner and had seating assignments with fellow family groups.