By Tiffany Block
Everyone knows that February is the month of romance but did you know that there are certain foods that can accent sensuality?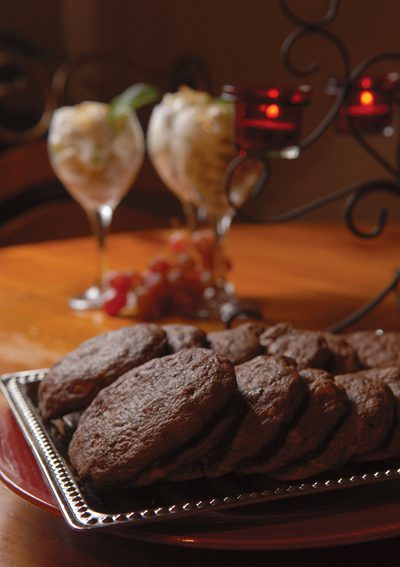 Certain flavors, textures and aromas can evoke certain feelings within us. For example, how do you feel when you smell coffee brewing first thing in the morning? What about a tangy fresh lemon – does it make you think of freshly-squeezed lemonade? And the best example of all –chocolate.
Another "love food," pine nuts (also called Pignolis), come from the inside the cones of the pine trees. Galen, a second century doctor, prescribed them to his patients for their reported powers. Today, people hail the pine nut as the kernel of love.
Figs are small, pear-shaped delicacies. A ripe fig tastes sweeter than any dried one and a fresh plump fig smells better than any syrupy canned version. A knife slices through it like butter; the edible seeds are endless through each layer filled with succulent flavor. Figs date back to Cleopatra and the Roman Saturnalia (around 354AD).
Chocolate has and will always be "Love Potion No. 1." What do you give someone you love – chocolate! This decadent candy contains phenyl ethylamine (PEA) which is the very same chemical that flows through the veins of someone who is in love. Why tamper with this ancient love potion?
Enjoy these recipes prepared with some "Love Foods."
Garlic Asparagus with Parmesan
3 tablespoons butter or margarine
1 bunch fresh asparagus
3 cloves garlic, chopped
Grated Parmesan cheese
Melt the butter or margarine in a large skillet over medium-high heat. Add the garlic and asparagus spears; cover and cook for 10 minutes, stirring occasionally, or until asparagus is tender. If you like your asparagus well done, reduce heat and cook an additional 10 minutes.
Sprinkle Parmesan cheese and serve.
TIP: Thinner asparagus stalks are better suited for sautéing. Thicker stalks are better for steaming.
Grape Salad
1 pound seedless red grapes
1 pound seedless green grapes
1 (8 ounce) package cream cheese, softened
1 (7 ounce) jar marshmallow cream
1 (6 ounce) package slivered almonds
Wash grapes in a colander under running water, and remove all stems. Place in a large bowl.
In a separate bowl, stir together the cream cheese and marshmallow cream until smooth and creamy. Pour the mixture over the grapes. Using a rubber spatula or large serving spoon, fold the mixture into the grapes until well coated. Fold in the almonds.
This salad may be served immediately, or covered and refrigerated for 1 hour to set slightly, and to allow flavors to blend.
Chocolate Chocolate Chip Cookies
1 cup butter, softened
1 1/2 cups white sugar
2 eggs
2 teaspoons vanilla extract
2 cups all-purpose flour
2/3 cup cocoa powder
3/4 teaspoon baking soda
1/4 teaspoon salt
2 cups semisweet chocolate chips
1/2 cup chopped walnuts (optional)

Preheat oven to 350 degrees F (175 degrees C).
In large bowl, beat butter, sugar, eggs and vanilla until light and fluffy. Combine the flour, cocoa, baking soda, and salt; stir into the butter mixture until well blended. Mix in the chocolate chips and walnuts. Drop by rounded teaspoonfuls onto ungreased cookie sheets.
Bake for 8 to 10 minutes in the preheated oven, or just until set. Cool slightly on the cookie sheets before transferring to wire racks to cool completely.
There are certain foods that are famously characterized as "love foods." Their linkage to love and sensuality can be traced back in history. Some of these "love foods' include the following:
artichokes
asparagus
avocado
basil
black beans
chocolate
chilies
coffee
figs
grapes
honey
oysters
pine nuts
rosemary
strawberries