31 Jul 2021

Look what's cooking at Conway Regional

By John Patton

One of the many things that Mike Robichaud appreciates about Conway is the small-town vibe. When Robichaud accepted the position of director of Food and Nutritional Services at Conway Regional Medical Center, his friends began a flurry of activity, calling his phone and reaching out on social media.

"Conway Regional is a big part of the community and some of them had been wanting me to work here for a while," said Robichaud, a 20-year Conway resident. Robichaud is known for bringing restaurant style food to the hospital setting.

It just so happened that he joined Conway Regional during the COVID-19 pandemic when the general public could not access the hospital cafeteria. Robichaud recruited staff from some of his previous food ventures and introduced them to an existing group of enthusiastic staff.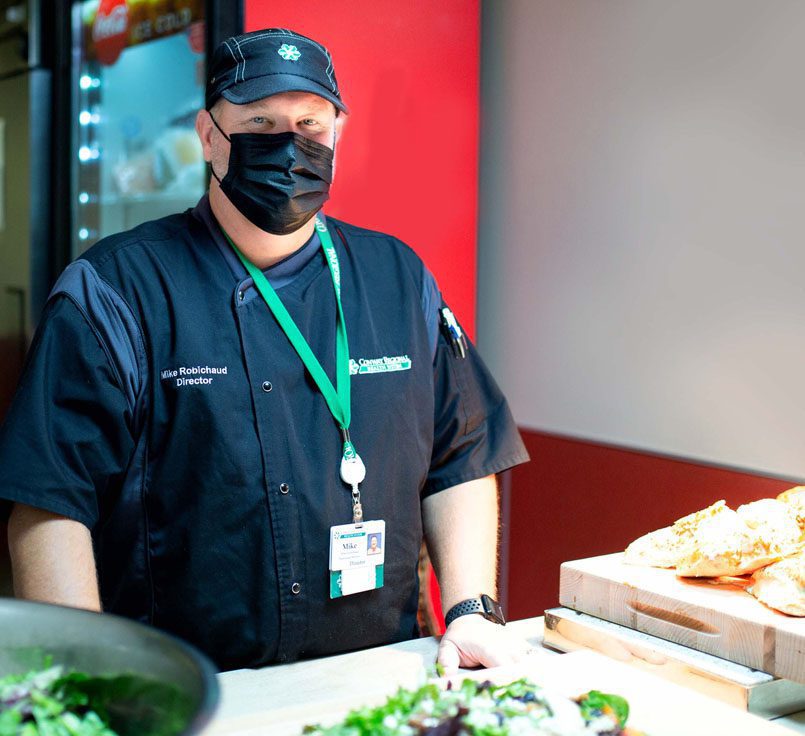 "It's nice to start with some people who have worked with me before and know the standards. The existing individuals who were already here saw the vision and bought in. I started on a Wednesday and by Monday we flipped it to more of a restaurant style. If everybody had not been on board, it wouldn't have worked," said Robichaud.
He defers the credit to his team. "It's not me; it's we."
Accolades began pouring in as Robichaud changed menus and recipes and restructured how the food was prepared.
One of his first changes was to adopt a more gradual cooking process: "cook less, more often." He explained, "We start with a couple of pans, then we cook some more, and we cook some more. In this way, everything stays fresh. The person coming in at one o'clock isn't getting the food that was cooked at 9 a.m. That's a big deal." His team also does more "scratch cooking" and relies less on pre-prepared dishes.
The Nutrition Services team is also working on patient food to enhance the quality and choices of the food being delivered to patients. "Working with Clinical Nutrition Manager Jennifer Turner, we are developing an exciting new menu featuring fresh veggies and more upscale entrees," Robichaud added. He has also changed how food is delivered to the patient floors at Conway Regional Medical Center by initiating a Nutrition Ambassadors program in which warm, fresh food is personally delivered to each patient.
He is continuing to upscale the menu for staff and visitors by changing the Mexican food recipes to be more authentic, introducing Cajun foods like fried alligator, hibachi style Asian foods, and adding more seafood options.
Each Wednesday, Robichaud has started a "Chef's Table" during which he and Jon Russell, a sous-chef whom Robichaud recruited, answer questions from Conway Regional staff and visitors and prepare fresh menu items such as cob or strawberry salads or carve meats.
"It's a way to meet people and answer any questions they have about what we are doing," said Robichaud. "The pandemic took away the salad bar, so we've been preparing some fresh salads out there, as well."
Robichaud added, "I get a lot of compliments on our move away from frozen vegetables and toward using fresh vegetables. It's that restaurant mentality. That's what we are: we're a restaurant inside of a hospital, and that's what the people deserve."
His most recent food theme was developed around Cinco De Mayo, featuring huevos rancheros for breakfast; burritos, enchiladas, rice, and beans for lunch; empanadas, mini tacos and crispitos on the grill line; and a steak, chicken, and shrimp fajita bar. The attraction also included a live mariachi band in the cafeteria.
"Doctors were stopping me in hallway complimenting me on the food," he said. "I probably got a dozen emails that day." Again, Robichaud defers the praise to the Nutrition Services team. "It's nice to be appreciated but it's not me. We have to work together and that's happening. It's a great environment to be a part of."
Inspiration
After returning from military service, Robichaud began a 24-year food service career. "I was working at Waffle House and discovered that I loved it. I kept moving on to different types of restaurants," said Robichaud. "I did the business side first and I learned about presentation and food quality from the chefs I hired."
While he concedes that he watches Food Network shows to learn about trends in food preparation, Robichaud said, "I'm not a TV chef. I just try to make food that people like and do it the right way."
Mike Robichaud and his wife, Erica, have lived in Conway since 2001 and have raised four children here. The oldest son, Corey, is in the US Navy and the oldest daughter, Callie, is a travel nurse who is caring for people with COVID-19. The two youngest sons are Carson, who plays in the Conway High School band, and Colton, who plays football for Conway Junior High School.
What does the future hold?
Eventually Robichaud wants to work with local farmers to add a market site at Conway Regional with a mobile kitchen for cooking demonstrations.
With an eye on the future, he said, "I want this to be an upstanding, modern style eatery. I want people to know that we are continuing to get better. I still want to wow people."