16 Nov 2018

Lonoke County: 'Footsie' Britt

by Dr. Robert Reising

"If Arkansas ever had an honest-to-God hero, 'Footsie' Britt was that person," proclaimed Lt. Gov. Mike Huckabee soon after learning of the Carlisle native's passing on Nov. 26, 1995. It would be an unusual Arkansan who found reason to disagree. "The Natural State" has produced dozens of noteworthy citizens, but none more gallant, accomplished and admirable than the man who came to be known by his size 13.5 shoe size.

His imprint was first discernible at Lonoke High School, where his excellence as a three-sport athlete and an essayist passionate about patriotism earned him statewide respect. Graduating in June 1937 while serving as both class president and class valedictorian, he accepted a football scholarship at the University of Arkansas, simultaneously qualifying for a four-year appointment in the school's ROTC program. In Fayetteville, he again lettered in three sports — football, basketball and track — claiming All-American Honorable Mention gridiron honors in both of his last two seasons.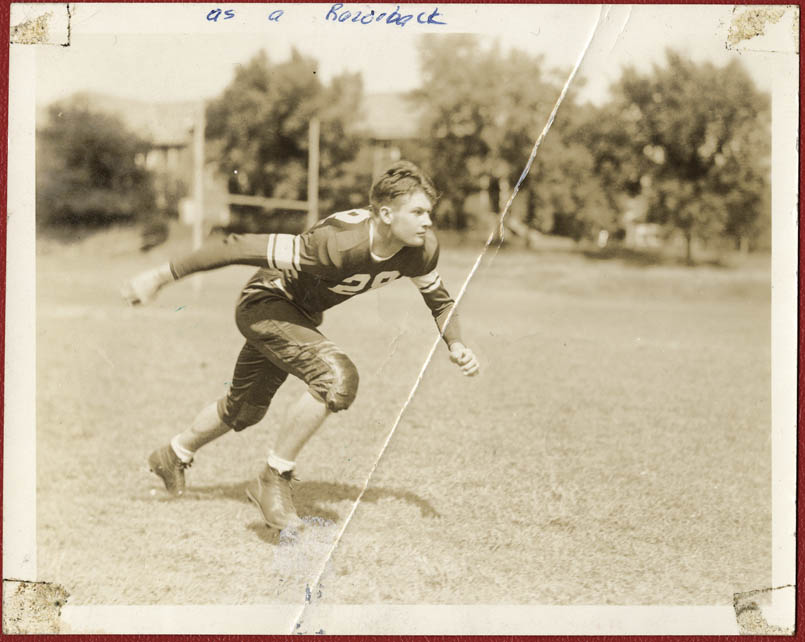 Dec. 7, 1941, and the Japanese bombing of Pearl Harbor brought an abrupt and premature close to what promised to be a multi-year career as an end with the National Football League's Detroit Lions. Within weeks of the "date that shall live in infamy," "Footsie" entered the United States Infantry as a Second Lieutenant, and before wounds at the Battle of Anzio, Italy, on Jan. 23, 1944, hospitalized him, he compiled one of World War II's most meritorious military records. The young man with oratorical eloquence when treating patriotism proved that, for him, the topic merited much more than inspiring words; losing his right arm and a portion of his right leg to enemy fire, he demonstrated that it deserved the most courageous, the most selfless actions he could summon.
Three nations, Britain and Italy in addition to the United States, provided "Footsie" with their highest honors. From his grateful nation came the Purple Heart, with three clusters, and a battlefield promotion to Captain, as well as its four best-respected, most-prized medals: the Congressional Medal of Honor, the Silver Star, the Distinguished Service Cross and the Bronze Star. He emerged a national hero, the first American soldier of World War II to win all of the Army's top medals for valor.
Throughout the remainder of his 76 years, "Footsie" undoubtedly suffered pain from his war wounds, yet never did he allow that pain to keep him from a cheerful disposition and an active, productive life, particularly in the service of the state that he loved above all others. After devoting 1945-46 to the study of law at Fayetteville, he moved, first, into furniture manufacturing in Little Rock and later into aluminum building products in Fort Smith. In 1976, with Winthrop Rockefeller heading the Republican Party ticket as its gubernatorial candidate, "Footsie" won the lieutenant governorship, and two years later earned a second term. The reform-minded pair generated new energy and confidence into the tiny, long-ineffectual Republican Party and not only ended the era dominated by ultra-conservative Orval Faubus but also, in the words of one political analyst, "made it respectable to vote Republican."
"Footsie" did not seek a third term. Soon thereafter, President Richard Nixon named him district director of the federal Small Business Administration, a post from which he retired in 1985. A year later, he made his final foray into politics, failing in his bid to gain the Republican nomination for governor.
A decade of comfortable retirement followed, frequently punctuated by fishing trips to his beloved Lonoke County. He remained a revered figure throughout the state, distinctive because of his 6-foot-4 height and unmistakable because of the empty, motionless right sleeve neatly tucked into his lower-right jacket pocket. With the passing of the Colors, his left-hand and -arm salutes to "Old Glory" would snap into place, silent signals of his undiminished love for America.
For six hours on Nov. 30, 1995, a scene impossible to replicate honored "Footsie" in death. Hundreds of admirers, many of them not alive when he amazed and inspired the nation with his heroics, filed by his open casket in the Capitol Rotunda. His military jacket hung from the back of his favorite rocking chair, which was placed next to his body. His medals and cap lay on a nearby table, and an Army Sergeant stood at the head of the casket throughout the six hours.
Lonoke County and 501 will always have special reason to be proud of Arkansas's "honest-to-God hero."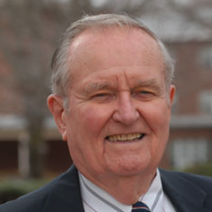 Latest posts by Bob Reising
(see all)