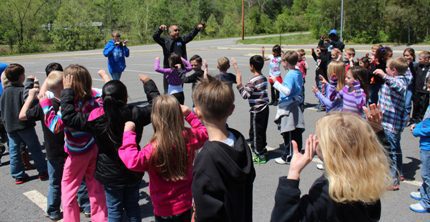 22 Jan 2015

Local foundation selected to receive Chick-fil-A grant

Posted at 10:13 AMh

in

News

by Sonja J. Keith

The Chicks for Children Foundation, which started in Conway, is among the recipients of more than $1 million in awards from the Chick-fil-A Foundation.

The foundation was one of four True Inspiration Award recipients in the country awarded $75,000, according to founder and executive director Mark Cooper.


"Our foundation aspires to identify and mobilize public school, parochial school and church partners to implement instructional modules designed to teach kids to make a difference in the lives of kids, especially kids characterized by a lack of food, clean water, homelessness, illiteracy, sickness, despair, hopelessness, voice-less-ness, fear, abuse and social isolation," said Cooper.

The Chick-fil-A Foundation announced today the recipients of its inaugural True Inspiration Awards, a $1.1 million package of grants to local organizations across the country that foster leadership in children. The awards were inspired by the generosity of Chick-fil-A's late founder S. Truett Cathy.

The True Inspiration Awards, which range in amounts from $10,000 to $100,000, were granted to 25 organizations across the country based on local community impact in three categories:

• Emerging Leader Development: Organizations focused on character development, positive community and cultural involvement and effective civic engagement.
• Youth Entrepreneurship: Organizations committed to developing business knowledge, entrepreneurial skills and financial literacy.
• Innovative Education: Organizations dedicated to improving teaching and learning through ground-breaking practices and visionary leadership.

"The Chick-fil-A True Inspiration Award will grow the breadth and depth of our local and global partnerships," said Cooper. "Such partnership development will help us educate and empower more children and youth within the states and overseas.

"It will help give traction to our cause and grow our circle of influence. Too often, severely vulnerable children receive help without the opportunity to help. Our foundation wants all children, including the least of those to do unto others as others have done unto them. It is a dignity model that gives voice, power and influence to all children, including the severely impoverished. The True Inspiration Award will be a vehicle to transport such a purpose-driven and hope-filled message worldwide.

Organizations either applied or were nominated by Chick-fil-A restaurant franchisees based on the organization's local work in the three categories. The Chick-fil-A Foundation evaluated the caliber of each organization's work in these categories as well as their operational health, financial stability and transparency. The 25 inaugural award winners will be honored at a celebratory event in Atlanta this fall.

"Every 26 seconds a student drops out of high school in the United States," said Rodney Bullard, executive director of the Chick-fil-A Foundation. "We want to invest in youth at an early age as well as the organizations that are empowering students to dream big and ensure lifelong success," he said. "This is just one way that we are honoring the legacy of our founder, S. Truett Cathy, who dedicated his life to serving his community and helping young people."

Chicks for Children is known for its "Chicken Dance Marathon," which was created by third and fourth-grade students at Woodrow Cummins Elementary School in Conway to help children in the Kipsongo Slum in Kenya. Since then, Chicks for Children, in partnership with the Conway School District and the local Chick-fil-A restaurant, have enjoyed six Chicken Dance Marathons.

There have been other districts in Arkansas that have also introduced the Chicken Dance Marathon – England, Vilonia, Greenbrier and North Little Rock. Out-of-state marathons have included the Oakwood Christian Academy in Chickamauga, Ga., the Vail Church in Vail, Colo., and the Sweet Creek Baptist Church in Chattanooga, Tenn. More marathons are in the works.

Thousands of children in the states and the children at the Seeds Children's Home in Kitale, Kenya, participate in the chicken dance while one group sings, "I want to be a kid who cares about the kids in Africa," and the other group sings, "I want to be a kid who cares about the kids in America."

Proceeds from the marathons have contributed to local backpack projects to feed the hungry and to support youth involved in CASA (Court Appointed Special Advocates). There have been a variety of global projects, including the building of chicken coops, the purchasing of egg-laying chicks and broilers, the building of greenhouses, the building of classrooms and the feeding of orphans. (For more information, visit chicksforchildren.org.)

In addition to the three categories identified by Chick-fil-A, one winning organization was recognized as a True Inspiration Honoree, a special honor reserved for an organization or individual that embodies the innovative and entrepreneurial spirit of Truett Cathy. The recipient of this inaugural award is the Keith Boyd Foundation. Boyd, a 10-year-old small business owner with nonverbal cerebral palsy and no use of his arms, legs, or mouth, is using his Tulsa-based lemonade stands to raise awareness and resources for his tuition-free special needs alma mater.

To learn more about the True Inspiration Awards and view a complete list of recipients, visit chick-fil-afoundation.org/true-insp
iration-awards/meet-our-award-recipients.

The Chicks for Children Foundation was recognized among operator-nominated organizations awarded regionally, based on their work in Innovative Education, Developing Emerging Leaders and Youth Entrepreneurship. The foundation was nominated by Alan Kizer, who operates Chick-fil-A locations at Conway Commons and in West Conway.