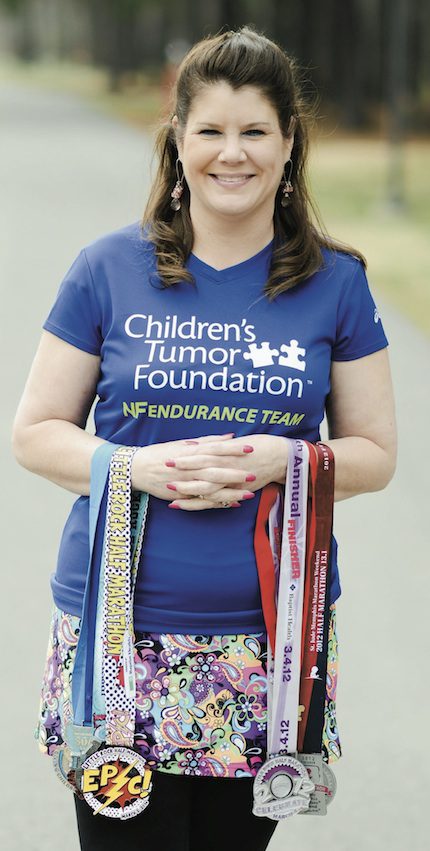 16 Mar 2014

Local doctor to run in London for NF

by Hunter Brooks


Dr. Anne Trussell has helped many in the 501 as a physician. In April, she is traveling to London to help millions around the world.

Trussell will be running in the London Marathon on Sunday, April 13, to help raise awareness for neurofibromatosis (NF) as a member of the NF Endurance Team, and to raise research funds for the Children's Tumor Foundation.


NF is a genetic disorder that causes tumors to grow on nerves, which can cause learning disabilities, blindness, deafness and even cancer. One in 3,000 births will be affected with NF, and there is currently no cure.


"Although I don't have any family members with neurofibromatosis, I knew about NF from medical school," Trussell said. "When I started running, I met Lesley and Connie Oslica, whose daughter has NF. They are the most passionate, hardworking, dedicated people I have ever met. I then learned that our good friends Ron and Susan Gatto had a family member who died of NF and another who is nearly blind due to NF. A colleague of mine has a daughter with NF as well."


The Children's Tumor Foundation is a not-for-profit organization dedicated to finding effective treatments, while improving the health and well-being for the millions of people worldwide living with neurofibromatosis. A branch of the foundation is the NF Endurance team that sees members run, bike and swim to help raise awareness and research funds to find a cure.


"When you join the NF Endurance Team, you are encouraged to run for a NF Hero," said Trussell. "It really gives you a sense of purpose and keeps you motivated, and makes your fundraising and volunteering more personal. Since I didn't know anyone with NF, the Foundation gave me Austin."


Austin, a 9-year-old boy from Wisconsin, was diagnosed with NF around his first birthday. He and Trussell have communicated regularly for the past year through letters.


"I (originally) got a long letter and picture from his mom; I wrote back, and since then we have kept in touch," Trussell said. "His mom, Katy, and I communicate on Facebook every week. I'm also now friends with Austin's dad, grandmother and uncle on Facebook. I like to send Austin and his brother, Mason, gifts occasionally. He draws me pictures pretty regularly and mails them to me. I actually met his mom and got to spend some time with her September 2013 in Chicago when we were there for an NF volunteer summit. There, I got to talk to Austin on the phone."


Since she began running in January 2012, Trussell has completed eight half marathons and 12 5Ks, but London will be her first full marathon. NF Endurance Team members pay their own expenses for all races and events. Money donated goes directly to the Children's Tumor Foundation.


Trussell also completed a personal goal in the process.


"I desperately needed to lose weight two years ago," she said. "I weighed 211 pounds. My friend Jennifer Welter recommended I start running and join the team. So here I am 65 pounds lighter, and have raised $15,000 for the Children's Tumor Foundation."


Trussell held a fundraising event Feb. 21 at the Southwestern Energy Headquarters in Conway that raised more than $4,500 for the Children's Tumor Foundation.


"All proceeds went to the Children's Tumor Foundation because thanks to generous sponsors, all the food, wine, beverages, art, flowers and venue were donated," she said. "My fundraising goal was $5,000, so combined with what I had already raised, that goal was surpassed."


Besides raising money for NF and preparing for the London Marathon, Trussell is a physician at Arkansas Pain Management and Detox Center, while also owning Sei Bella Med Spa. Both are located in Little Rock.


"At Arkansas Pain Management and Detox Center, I manage chronic pain patients' medications, and I also help patients who are addicted to and abusing prescription drugs and illicit drugs detox.


"At my other business (Sei Bella Med Spa), I focus on health, wellness and beauty. We do injectables like Botox and Juvederm, and also offer weight loss, bioidentical hormone replacement pellet therapy, facial peels, etc. My background is Internal Medicine, which I've practiced for 20 years. I'm phasing that out and will actually retire that part of my career this year."


Lesley Oslica, who is the Arkansas Chapter President for CTF and is also a national board member, praised Trussell for her contributions to the Children's Tumor Foundation.


"Anne is an incredibly determined woman," Oslica said. "If she sets her mind to it, she is going to do it. She is an amazing person who cares about the mission of the Children's Tumor Foundation — to end NF — and to create a brighter future for her NF hero Austin and all those with NF."


Those wishing to donate to the Children's Tumor Foundation can visit Anne's fundraising page at ctf.kintera.org/nfelondonmarathon2014/annetrussell47.