01 Jan 2023

Lives of Legacy: Rik Sowell

Rik Sowell knew from a young age that he wanted to be an architect. He has owned Sowell Architects, Inc. in Conway for more than 27 years and is now readying the next generation of designers to carry on his legacy. "My business partners, Cody and Emily Ferris, and I are engaged in a long-term buyout where I have the opportunity and the time to pass my experience and knowledge on to the next generation of owners. They, in turn, offer the viewpoint of a younger generation," Rik said.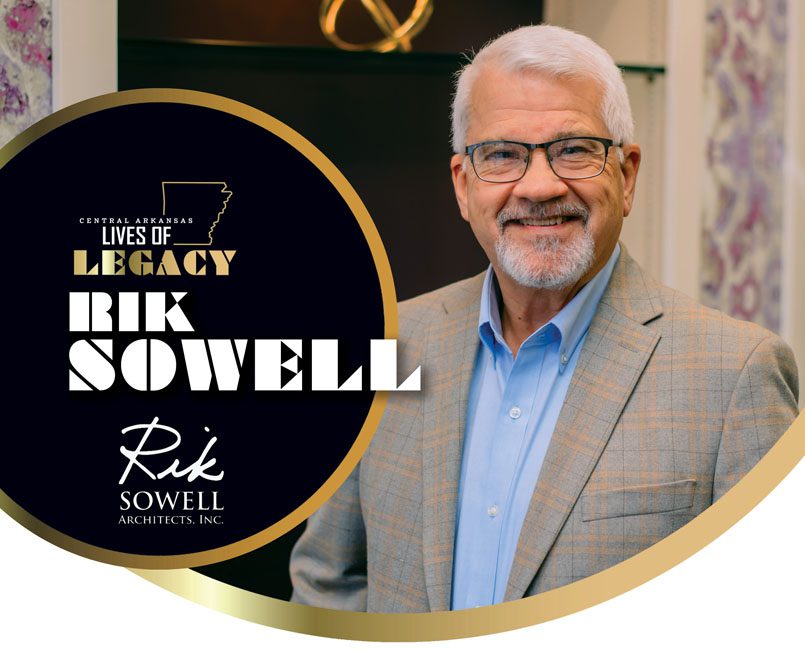 Sowell Architects is a general practice firm that designs a wide range of buildings. They have completed more than 1,000 projects, many of them working with local businesses. "As a Conway resident with an office downtown, I have a sense of satisfaction that we have been able to impact the environment in which we live," Rik said. One of his goals is to renovate Simon Park into a well-designed urban park that draws people downtown for social interaction.
Not only does he want to leave a legacy downtown but also has served on numerous boards including Renewal Ranch, Williams Baptist University, Soaring Wings Ranch and the University of Central Arkansas (UCA) Interior Design Department. "For years I wanted to teach college-level classes. UCA gave me that opportunity as an adjunct instructor teaching fourth-year design classes," Rik said.
How have you kept yourself motivated when facing obstacles?
I felt the call early to become an architect, partly because it satisfied my heart's desires. Therefore, I get a lot of joy from what I do. I learned long ago that every project I want is not necessarily a good fit. We get more than enough work to keep us busy. This enables me to relax when interviewing for a project because I know that if we do not land this one, there is another around the corner.
Who do you look to for inspiration and why?
My father had a great influence on my life. He taught me the importance of honesty, integrity, faith and hard work. He taught me to accept responsibility for my actions, to pick myself up when I fall and that a faith-based worldview is the only way to navigate this crazy world.
When people think of you, what do you hope they think of as your legacy?
I would be happy with an epitaph that simply read, "He was a nice guy." All people are important and should be treated with dignity, no matter their standing. My wife and I recently purchased some acreage in a small village in Belize where a lot of our mission work has focused. We are currently constructing a ministry center where we can continue assisting our friends there.