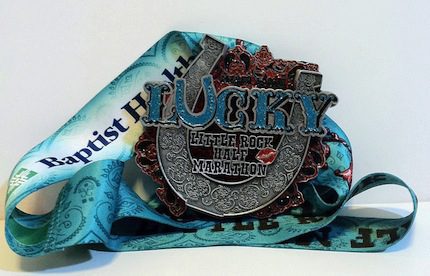 16 Jan

Little Rock Marathon unveils medals

Officials of the Little Rock Marathon revealed the finisher medals for each of the 2013 Little Rock Marathon races.

"Since 2004, we have awarded the 'world's largest marathon finisher's medal' according to Runner's World Magazine," said Gina Marchese Pharis, co-executive director. "We think our 2013 medal will help us hold on to that distinction."


"For us (the Little Rock Marathon), it is all about the medal," said Pharis. "Athletes come from around the world to earn our medal and every finisher is awarded a medal. On race day, only a few athletes are called winners. We want each of our finishers to feel like a winner when we put our medal around their neck. When it is all said and done, the one thing so many finishers cherish is their medal."


The 2013 family of finisher medals features the "Lucky" theme, as well as the race director's "smooch."

According to Pharis, the marathon medal is the biggest medal the race has produced to date.


The marathon finisher's medal is 8 inches and weighs 2 pounds 12 ounces. The medal features 12 MM stones set in the medal and is showcased by a custom ribbon.


The half marathon finisher's medal is 4 inches and weighs slightly more than 12 ounces.


The 2010 and 2011 marathon finisher medals were recognized by Marathon & Beyond, as one of the top 25 marathon medals in North America. Marathon & Beyond, a bimonthly magazine designed for runners of marathons and ultra marathons, conducted the nationwide medal competition.


The Little Rock Marathon is presented by the Arkansas Democrat Gazette and is set for Friday, March 1, through Sunday, March 3 in Downtown Little Rock. The 11th annual Little Rock Marathon weekend includes a two-day health and fitness trade show, the Little Rock 5K Fun Run/Walk (presented by Windstream), the Little Rockers Kids Marathon Final Mile (presented by Arkansas Children's Hospital and Today's THV), the Little Rock Marathon, the Little Rock Half Marathon (presented by Baptist Health) and the Little Rock 10K (presented by the Little Rock Convention and Visitors Bureau).


For more information, visit littlerockmarathon.com.