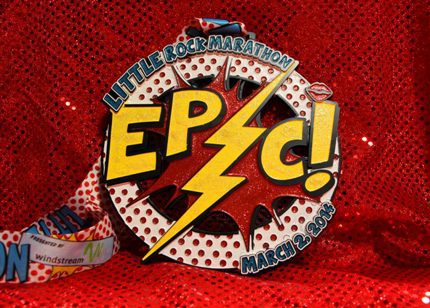 15 Jan

Little Rock Marathon unveils 2014 medals

The Little Rock Marathon recently unveiled its 2014 finisher medals as it makes preparations for another "sell out" event, confirming the race is quickly reaching its 15,000 participant limit.

The 12th Annual Little Rock Marathon Race Weekend, presented by the Arkansas Democrat Gazette, is slated for Friday, Feb. 28, through Sunday, March 2, in Downtown Little Rock and benefits Little Rock Parks & Recreation.


"We have been fortunate to keep growing our race each year and selling out before race day is a bonus," said Nancy Green, race chair.


"For us (the Little Rock Marathon), it is all about the medal," she said.


According to Green the medal is a significant factor in the event's growing popularity and sold out races each year. "Athletes come from around the world to earn our medal when they cross the finish line," she said. "On race day, only a few athletes are crowned winners. We want each finisher to feel like a winner when they finish and we put our medal around their neck. When it is all said and done, the one thing so many finishers cherish is their medal. "


The 2014 family of finisher medals features the "EPIC" super hero theme, as well as the race director's "smooch." According to Green, the marathon medal is 8 ¼ inches, weighs more than 2 ½ pounds and features a custom ribbon. It is the biggest medal the race has produced to date.
The half marathon finisher's medal is 4 inches and weighs slightly more than 14 ounces.

Race weekend includes a two-day health and fitness trade show, the Little Rock Marathon (presented by Windstream Communications), the Little Rock Half Marathon (presented by Baptist Health), the Little Rock 10K (presented by Whole Hog Café-North Little Rock), the Little Rock 5K Fun Run/Walk and the Little Rockers Kids Marathon Final Mile (presented by Wild Winter Country, the Little Rock School District and Today's THV).