07 Sep 2016

Lions 'fast and aggressive' behind senior leader Whitney

by Levi Gilbert


Defensive stalwart DeAirus Whitney and the Searcy Lions tasted success a year ago, and they want even more this fall.


Whitney, a senior linebacker for the Lions, racked up 16 tackles in Searcy's season opener at home against Valley View in Week 1.


"Some of the younger guys struggled at the start, but towards the end we started to get the butterflies out and started playing as a team," Whitney said of the season opener. "Sixteen tackles. I think that's pretty good.


"When people ask me what position I play, [I say] I'm a little small to play outside linebacker at 5-foot-10, 175, but my work ethic on and off the field goes a long way."


Whitney was selected to this year's 501 Football Team — 26 players representing all 11 counties of the 501. The team, sponsored by First Security Bank and First Service Bank, boasts the best the 501 has to offer both on and off the field. Whitney was nominated by his head coach, Mark Kelley.


"DeAirus plays extremely hard every play," Kelley wrote in his nomination. "He's a great young man that is a vocal leader for our young players."


After consecutive losing seasons, Searcy marched into the 6A playoffs in 2015 in Kelley's first year at the school.


"Since I've been a Searcy Lion, I've had three different head coaches," Whitney said. "Learning new schemes every year or every other year was tough."


Kelley brought stability to the Lions, and it worked well for Whitney, who racked up 73 total tackles in 2015.


Whitney is a one-sport athlete at Searcy; football gets his entire athletic focus and energy.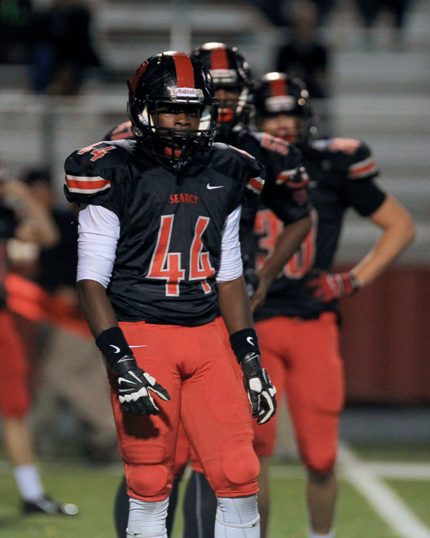 "I have been playing football since I was about 10 years old," Whitney said. "People always told me that my dad was a stud in high school, and he kind of influenced me to play. I always wanted to be like the guys on Friday nights.

"This year I just want to be an all-around team leader and influence everyone else to lead. I'd like to come back in a year and see how much everyone improved mentally."

Off the field, Whitney is active in student council and Future Teachers of America.

"DeAirus does a great job helping the community on our Lion Serve day in the summer," Kelley said.

The Lions travel to Batesville in Week 2.

"That's always a fun game, and I have some buddies there," Whitney said. "It's always kind of a rivalry game because we've played them since seventh grade, and this is our last year to show out against them.

"We're going to play fast and aggressive. You can never be too fast or too aggressive when it comes to playing Batesville."