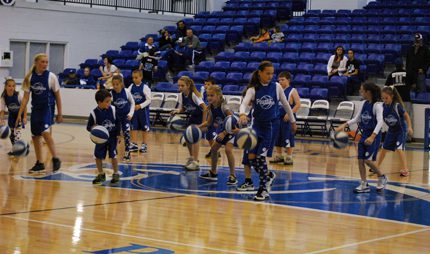 21 Dec 2012

Lil' Dribblers start 10th year

Photo and story by Lee Hogan


Take a trip to the concession stand or bathroom at a Greenbrier basketball game, and you might miss something entertaining.
The Lil' Dribblers have become a hot commodity during halftime at the Panther Pavilion, and the group just started its 10th year of performing.

"We're excited that we've made it 10 years," said Lil' Dribblers director Melba Kansaki.

A Lil' Dribblers performance is filled with music, dancing, smiling faces and bouncing basketballs.

Not every move or dribble is in sync. Basketballs go rolling sporadically throughout the routine. It's not perfect, but the smiling faces of the youth win over the crowd every time.

"They can't go wrong," Kansaki said. "Whatever they do is cute."

The group's first performance of the year was Nov. 15 during the halftimes of the Greenbrier senior girls and boys' basketball games at the Panther Pavilion.

The group, made up of first- through fifth-graders from Greenbrier and Wooster schools, has around 60 members each season. The Lil' Dribblers are split into two separate teams. Daniel Holt leads the white team, which is made up of first- and second-graders. The blue team is made up of third-, fourth- and fifth-graders, and is led by Kansaki. Each team is comprised of around 30 members.

The Lil' Dribblers will perform at four more Greenbrier games at the Panther Pavilion. Kansaki has also contacted the University of Central Arkansas about performing at halftime of a game at the Farris Center, but a date has not been finalized.

The Lil' Dribblers performed last season at Hendrix for a fundraiser, which Kansaki said the group might perform at again this season.

The Lil' Dribblers main goal is to teach the children basic ball handling skills before they move on to playing basketball on a team. "It really helps them to get started or get that extra practice when playing basketball," she said.

Kansaki, the physical education instructor at Greenbrier East Side Elementary, started the program and has been the director for 10 years. When Kansaki was hired, her principal told her that she wanted her to start the program.

To understand what she was getting into, Kansaki went to various schools in Arkansas who had similar programs.
Kansaki credits the basketball coaches at Greenbrier for their help in getting the program off the ground in the early stages.

Ten years later, the Lil' Dribblers are still going strong, although participation has decreased in recent years. With more kids being forced to choose between the Lil' Dribblers and playing pee-wee basketball, numbers have dropped and the Lil' Dribblers have gone from three teams to two. However, Kansaki understands the choice and said she encourages kids to start playing team basketball as soon as they can.

Kansaki said parents' feedback about the program has been great. "I have parents that tell me, 'I'm so glad my child is in this program. It really helped them get started,'" she said. "I love getting compliments from parents."