02 Aug

LIFE put them back together

By Rita Thmoas

In every puzzle, key pieces help others fall into place. The same can be said about life. For a 20-year-old Conway man, his own words became the key to connecting missing pieces together.

Two months ago after years of separation by foster care placement, Tayshun Mattison reunited with his sister, Taylor Turner, now 18, from the Dallas area. When they entered foster care, Tayshun was 4, and Taylor was 2. They were also separated from an older brother, TJ, then 6. "I always say I found her, but really, she found me," Tayshun said.

A key piece of information became the catalyst in the connection.  "I've looked for him as long as I can remember," Taylor said. "When I got my case file when I turned 18, my case worker gave me an old article from 501 LIFE Magazine." The article was Tayshun's story, written in his own words.
Mrs. Sabrena Thacker, a history teacher with Mayflower High School, issued a class assignment during Tayshun's junior year. Impressed with his work and his story, she asked permission to send it to the magazine. Tayshun agreed, thinking it might help someone else since he found his forever home at age 12. Little did he know, his own words would be key in finding his siblings and filling pieces of his life puzzle into place.
His story was printed in the October 2018 issue and also published online. Readers may visit501lifemag.com/tayshun to read the original article.
"When I read the story, I started searching social media, found him on Instagram, and messaged him," Taylor said.
"I didn't reply to her right away," Tayshun confessed. Instead, he texted his older brother, TJ, whom he found just 18 months earlier, telling him he'd found their sister.
TJ, 22, also of the Dallas area, conducted an internet search in December 2020 using Tayshun's birth name. Since Tayshun disclosed it, the search retrieved the same 501 LIFE article. TJ contacted the magazine, who then shared his contact information with Tayshun and his family.
For three years prior to Tayshun's adoption, he was fostered by LaSunia Taylor and her husband, Andre.
"I knew right away [Tayshun] was different from the other foster kids," LaSunia said. "He was polite, well-mannered, and up front about wanting to be adopted, and he fit. He just fit our family."
The Taylors wanted to adopt Tayshun, but couldn't. Unable to bear the thought of losing him, LaSunia reached out to her parents, Jeannie and Ricky Mattison of Conway. The Mattisons agreed, already deeply connected to Tayshun through their visits. After the Mattisons completed all things necessary, Tayshun's foster mom became his sister.
Coincidentally or by divine design, the Taylors live in Glenn Heights, a Dallas suburb. When they learned TJ was just outside of Dallas, Jeannie and Tayshun made a familiar trip to Glenn Heights to connect with his brother, his maternal grandmother, two aunts, and several cousins.
"It was a really nice visit … they had pictures set up everywhere and photo albums. They shared pictures of his mom and of them as kids. Tayshun took pictures of pictures, some of his mom, and of her obituary. She died just before his 6th birthday," Jeannie said.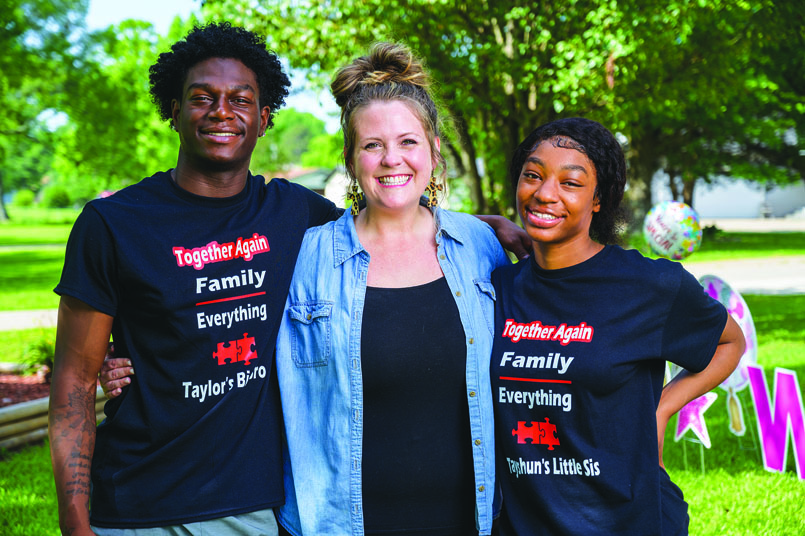 "My granny pulled out a big [photo] album and started going through it and sharing stories. That started pulling at some of my memories. It was nice to bring that back through some of those pictures. It helped me write more of my story and helped bridge the gaps," Tayshun said.
"The neighborhood subdivision [where his grandmother, Pamela Peterson, now lives] is the same neighborhood where [Tayshun] went to middle school, so all of that was familiar to him. He could see his old school from her house," LaSunia said.
From that December visit, Tayshun pieced together much of his life's puzzle, but there was still a significant piece missing until he received the message from Taylor in early June.
Family is everything in the Mattison family, so they sprang into action.
It took less than three weeks for LaSunia to bring Taylor to Arkansas. Jeannie wanted T-shirts in honor of such a monumental moment. LaSunia ran with it. The shirts read, "Together Again." The word "Family" sits above a line, and "Everything" sits below a line to say, "family over everything." Two interlocking puzzle pieces signify their reunion.
"My mom has always been a person to push me out of my comfort zone. Once we found out [about Taylor], I knew she would go above and beyond to do something big. This is just the type of person she is. She even put 'Taylor's Big Brother' and 'Tayshun's Little Sister' on the shirts," Tayshun said.
"[Taylor] was nervous during the trip. Uncertain. Anxious. She'd been waiting a long time. She just didn't know what to do, and that uncertainty grew as we got closer. But the minute we stopped, she screamed, jumped out of the car, and ran into his arms," LaSunia said.
"They gelled right away and spent time getting to know each other again. You know, they had to start from that moment because neither of them could remember much. Tayshun showed her all the pictures he took during his reunion visit with their family," LaSunia said. "They were like old friends spending time together."
"Having connected with my inner family makes me feel more complete. Just having us all as one again and being a family," Tayshun said.
Not only did Tayshun regain his sister, but Taylor gained a whole new extended family in Conway. "Taylor now has another mother and father, and we've gained another daughter," Jeannie said.
What's next?
"I'm trying to get everything together to have a siblings' reunion. I haven't connected with TJ in person yet. We talk all the time now, but we haven't met yet," Taylor said.
Over the years, Tayshun and Taylor each carried a photograph of the two of them as a piece of the other. "Never give up because you are always connected to your siblings, no matter where you are. Never, ever give up," Taylor said, offering encouragement to others.
Each now carries a commemorative keychain with half a puzzle that interlocks when they are together.
Family. It's fitting together, again, with more than missing pieces.