28 Feb 2023

Let's do family dinner

By Don Bingham

Few things are more meaningful than getting together with family! The family, whether an extended unit in annual family reunions or as the family that still lives in near proximity and can easily meet together, has always been the perfect opportunity to share stories, traditions and favorite recipes. It's also a good time to build cross-generational relationships and pass on family history.

All of our five children, along with their spouses and grandchildren, live within 20 miles of our home, except for one daughter and her family in the Houston area, and she is able to fly home often. Thus we are always up for celebrating around the table! For thirty years, my wife has prepared Sunday dinner for everyone; in recent days, the family has become so large with marriages and grands that we have limited our gatherings to holidays and the impromptu meal or potluck. We believe the family unit to be God-ordained and the dearest pathway to communicating encouragement, to persevere, to overcome and to strengthen our faith, and for this we are most grateful.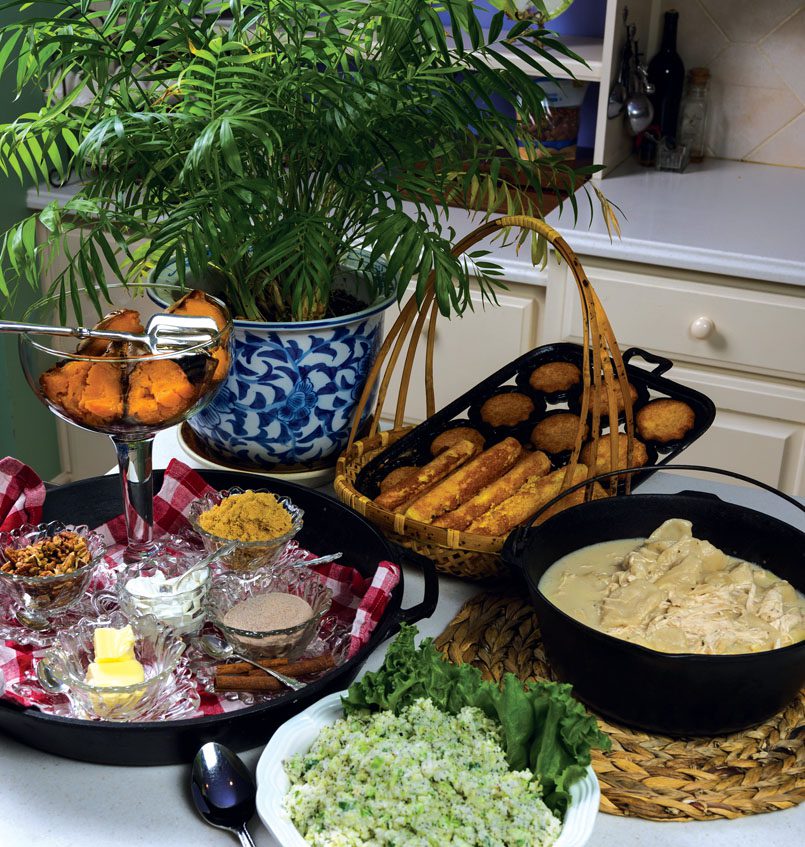 Just before writing this article, we decided to call a family Sunday meal following church. We even called our Texas daughter to fly in, if possible. For this gathering, we will hear about the arrival of the first great-grandchild, the adventures of a Disney Cruise, the ventures of a grandson's new job, and the joys of a new Aussiedoodle dog (which could double as a small Shetland pony). We'll laugh, maybe cry a little, remember many grand experiences and just be at home! We have not done a good ole southern menu in some time–at least since December–and we will do chicken and dumplings, turnip greens, sweet potato casserole, blackberry cobbler and, of course, cornbread.
There could be up to 24 of us this Sunday, while other times there are just three of us.
Whatever the number, we pray nightly for all the adult children, the grandchildren, and for God's protection in the twists and turns of life. I know all of our readers are immeasurably thankful for family gatherings and even for family phone calls and texts from those who are separated by distance and time. Included here are the recipes for this Sunday's meal! Enjoy the rich treasure, anytime possible, of faith, family and friends!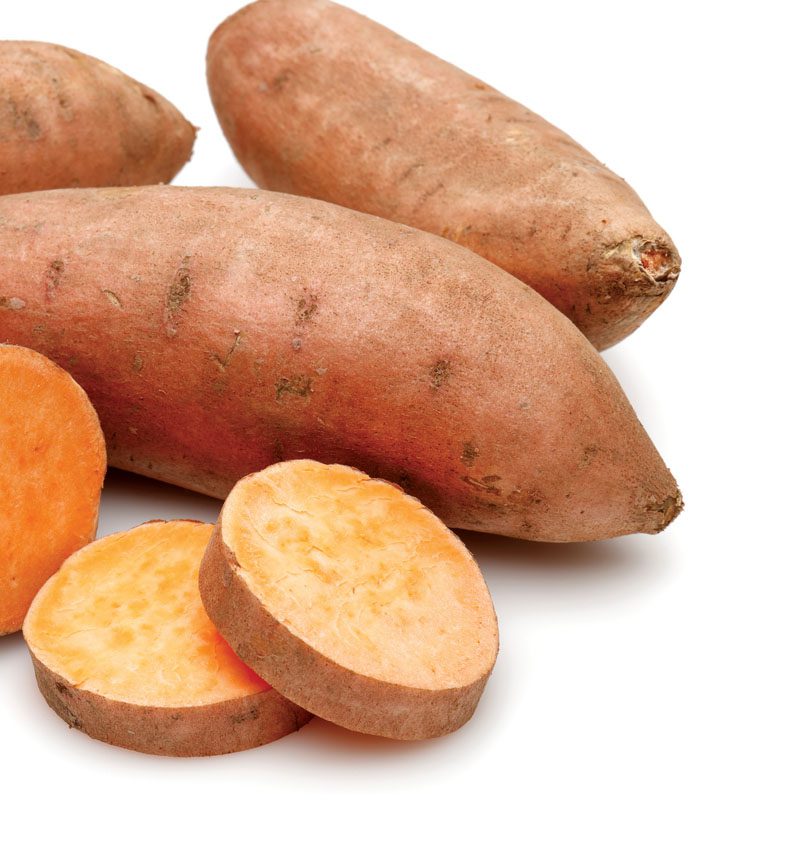 Build Your Own Sweet Potato Bar
Sweet potatoes
Olive oil or butter
Foil or parchment paper
Cookie sheet
Lightly brush sweet potatoes, skin on, with olive oil or butter (number to be determined by servings desired and size of sweet potatoes available).
Place potatoes on parchment or foil-lined cookie sheet, then bake potatoes at 350 for an hour or until potatoes are tender when a knife is inserted.
While the potatoes are baking, prepare small separate serving bowls with condiments consisting of brown sugar, butter, cinnamon, marshmallow cream and nuts to create a self-service buffet of toppings.
Guests will enjoy dressing their own sweet potato!
Chicken and Dumplings
1 whole chicken
Water
3 or 4 whole carrots
4 celery stalks
1 large onion
Salt and pepper to taste
4 cups of flour for dumplings
Place chicken and raw vegetables in a large pot and cover with water. Add salt and pepper to taste; about 1 tsp. each is a good start. Bring to a boil, reduce heat and simmer for about 1 hour, until chicken is tender. Butter may be added to broth for additional rich flavor, if desired.
Remove chicken from pan to a plate; cool. Skim and save the broth for cooking dumplings. Strain off the cooked vegetables, onion and celery and discard.
Remove meat from bones, then remove skin and discard skin and bones. Cut or tear chicken into medium-size pieces. Place in a shallow baking dish. Cover so chicken will stay moist and set aside.
To make dumplings: place about four cups of flour in a mixing bowl. Add chicken broth from cooked chicken (or use milk if desired), enough to combine flour and broth mixture, approximately 1-2 cups of liquid. Mix to form dough to roll out on a floured surface to about 1/2 inch thickness. Slice into 1- by 3-inch strips. Dough should be the consistency of biscuit dough.
In a large pot, bring reserved broth to a boil and drop in strips of dumpling dough. Reduce heat to simmer and cook for 10 minutes. Pour dumplings over chicken pieces; mix gently to combine. Serve immediately. Makes 6 to 8 servings.
Turnip or Collard Greens
1 bunch of turnip greens or collard greens
3 cups water or chicken broth
Salt and pepper to taste
2 Tbsp. butter
Greens must be washed thoroughly; soak greens in water for at least 30 minutes, wash each leaf individually, and drain water. Wash leaves twice more, rinsing well each time. Greens are gritty and dirty and must be washed carefully. The center membrane may also be cut out, if desired. After individually washing each leaf, front and back, stack the leaves and cut in inch-and-a-half wide strips. Place greens in a saucepan with water or chicken broth; bring to a boil then lower heat to simmer for about 45 minutes, or until greens are tender and the liquid is reduced by half. Stir occasionally. Serve immediately, adding sliced ham, sliced or chopped onions and Tabasco Pepper Sauce as desired.
Cornbread
1 tsp. vegetable shortening or vegetable oil to coat the pan
¼ cup oil
1 large egg
1 1/3 cup buttermilk
2 cups Martha White Self-Rising Enriched White
Buttermilk Cornmeal Mix
Heat oven to 450. Spoon shortening into an 8-inch oven-proof skillet or 8-inch square or round baking pan. Place skillet or pan in oven to heat for about 5 minutes.
Whisk egg in medium bowl. Stir in milk, oil and cornmeal mix until smooth. Batter should be creamy and pourable. If too thick, add 1-2 Tbsp. of additional milk or oil. Carefully tilt skillet to coat bottom with shortening. Pour batter into skillet.
Bake 20-25 minutes or until golden brown. Makes 8 to 10 servings.
Helen's Cabbage Slaw
1 head cabbage, shredded or finely chopped
2 heaping Tbsp. granulated sugar (or sugar substitute)
2 heaping Tbsp. vinegar
¼ cup mayonnaise
Mix sugar and vinegar until sugar is dissolved; add mayonnaise to mixture. Toss cabbage with dressing. Sprinkle poppy seeds or celery seeds to taste if desired. Serves 6.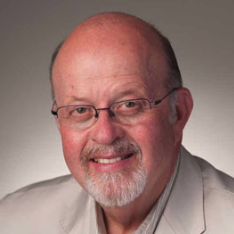 Latest posts by Don Bingham
(see all)