12 Jun 2013

Let freedom ring!!

by Don Bingham

The summer offers untold opportunities for celebrating the freedoms and heritages we hold dear. It's a great time to entertain outside.

Dorothy Frances Gurney, in her poem, "God's Garden," sums up the delight of dining outside: "The kiss of the sun for pardon, the song of the birds for mirth; One is nearer God's heart in a garden than anywhere else on earth."

Just being outside is exhilarating, but dining outside can be even more encouraging. Wherever you choose to entertain outdoors — garden or yard, beach or poolside, deck or veranda — it's a great way to celebrate the past, enjoy the present and spend quality time in the company of those we love.

Entertaining outside offers many advantages, such as accommodating a larger group of people, including children; using colors that don't have to match anything in particular and serving seasonal food that can be light and healthy.

Centerpieces should be natural, using fruits or vegetables, old-fashioned roses or wildflowers. And depending on the time of day your party is scheduled, candles in glass or tin protection add much to the atmosphere. You can even use torches and citronella candles for insect deterrents. Basket containers, wooden serving pieces, comfortable seating and lots of cool things to drink will ensure a great start for good conversation and fellowship.

July lends itself to the celebration of our freedom, remembering those who fought to make our country what is has always been: the home of the free and the brave! This is our country, the grandest on earth! Winston Churchill once said, "A love for tradition has never weakened a nation; indeed, it has strengthened nations in their hour of peril." The time spent around the table, the time spent with family and friends, the time spent remembering the past that has made us what we are today — these are the things worth celebrating. The "remembering holidays" of July 4th, Labor Day, Memorial Day, Father's Day and many others all give us the platform for listening more than talking and showing deep gratitude for time-honored sacrifices of the "faith of our fathers."

Here are some of our favorite recipes for outside dining. We'll create our own recipe for gratitude while delightfully welcoming the offering of the summer culinary season!

No-Fail Iced Tea

12 bags of your favorite tea

1 cup sugar

Lemon verbena or mint leaves

2 lemons

Boil three quarts of water. Add the 12 teabags and steep for 10 minutes, then remove. Combine cup of sugar and 1/2 cup of water at high heat, stirring constantly until dissolved. Add sugar mixture to the tea along with several crushed lemon verbena or mint leaves and let stand for one hour. Remove the leaves and refrigerate. Add two thinly sliced lemons, ice and serve.

Mexican Confetti Rice

1 tablespoon vegetable oil

1 1/2 cups long-grain white rice

1 medium onion, chopped

2 teaspoons minced garlic

3 cups canned low-salt chicken broth

1/4 cup tomato sauce

1 teaspoon salt

1 1/2 cups thinly sliced peeled carrots

1 cup frozen corn kernels

1/2 cup frozen green peas

Heat oil in heavy large pot over medium heat. Add rice; stir 5 minutes. Add onion and garlic; sauté until onion is slightly softened, about 5 minutes. Add broth, tomato sauce and salt; bring to boil over medium-high heat. Boil uncovered until about half of broth is absorbed, stirring often, about 10 minutes. Mix carrots, corn and peas into rice. Cover pot tightly with lid. Reduce heat to low; cook until rice is tender and liquid is absorbed, about 10 minutes longer. Remove from heat. Let stand covered 10 minutes; serve. (Can be made 2 hours ahead. Cover with paper towel and let stand. Re-warm rice over low heat.) 8 servings.

Toasted Jalapeno Corn Bread

3 tablespoons olive oil

1 1/2 cups chopped onions

1/4 cup minced seeded jalapeno chilies

1 1/2 cups yellow cornmeal

1 1/2 cups all purpose flour

1 tablespoon baking powder

2 teaspoons salt

3/4 teaspoon baking soda

1 1/2 cups buttermilk

3 large eggs, separated

1/4 cup (1/2 stick) unsalted butter, melted

1 tablespoon plus 1 teaspoon sugar

Preheat oven to 400 degrees. Generously butter 13x9x2-inch glass baking dish. Heat oil in medium skillet over medium heat. Add onions and jalapenos; sauté until onions are tender, about 5 minutes. Mix cornmeal, flour, baking powder, salt and baking soda in large bowl. Whisk buttermilk, yolks and butter in medium bowl to blend. Mix buttermilk mixture into dry ingredients just until blended. Stir in onion mixture. Using electric mixer, beat egg whites in another large bowl until soft peaks form. Add sugar and beat until whites are stiff but not dry. Stir 1/3 of whites into batter to lighten. Fold in remaining whites. Transfer batter to prepared pan. Bake until corn bread is golden and tester inserted into center comes out clean, about 25 minutes. (Can be prepared up to 8 hours ahead. Cool; cover with foil and store at room temperature. Re-warm covered at 350 degrees for 10 minutes before serving.) Cut into 20 squares and serve warm. Jalapeno chilies give this bread a nice spicy kick. Add it to the menu (it's a good do-ahead) or have it instead of the rice. Makes 20 squares.

Layered Enchilada Casserole

("Mexican lasagna")

2 pounds lean ground beef

1 large onion, chopped

1/4 cup chili powder

1 jalapeno chili, chopped

12 5- to 6-inch-diameter corn tortillas

1 15-ounce can chili beans

1 1/2 cups (packed) grated sharp cheddar cheese

2 14.5 ounce cans Mexican-style stewed tomatoes

Preheat oven to 350 degrees. Butter 13x9x2-inch glass baking dish. Sauté beef and onion in heavy large pot over high heat until brown, about 10 minutes. Reduce heat to low. Mix in chili powder and jalapeno and sauté 5 minutes. Season mixture with salt and pepper. Overlap 6 tortillas on bottom of prepared dish, covering completely. Spoon beef mixture, then beans evenly over tortillas. Cover with remaining 6 tortillas. Sprinkle cheese over. Pour tomatoes with their juices over cheese. (Can be prepared 1 day ahead. Cover with foil and refrigerate.) Bake uncovered until casserole is heated through and bubbling at edges, approximately 1 hour.

Kentucky Chess Pie

2 cups granulated sugar

2 tablespoons stone-ground white cornmeal

2 tablespoons all-purpose flour

3 eggs, beaten to blend

1 cup light cream

1/2 cup (1 stick) unsalted butter, melted and cooled

1 teaspoon vanilla

1/4 teaspoon salt

1 9" partially baked pie shell

Preheat oven to 425 degrees. Mix sugar, cornmeal and flour in large bowl. Stir in eggs. Blend in light cream, butter, vanilla and salt. Pour filling into pie shell. Bake 15 minutes. Reduce oven temperature to 375 degrees and continue baking until puffed and golden, 45-50 minutes. Let pie cool to room temperature before slicing and serving. Serves 6-8.

Lemon Roll with Strawberries

3 eggs

1 cup granulated sugar

1/3 cup water

1 teaspoon vanilla

3/4 cup all-purpose flour

1 teaspoon baking powder

1/4 teaspoon salt

powdered sugar

Clear Lemon Filling

2 pints strawberries

1/4 cup granulated sugar

1 kiwi, sliced

Mint leaves

Heat oven to 375 degrees. Line jellyroll pan with aluminum foil or waxed paper; grease generously. Beat eggs in small bowl on high speed until very thick and lemon colored, about 5 minutes. Pour eggs into large bowl. Beat in 1 cup granulated sugar gradually; beat in water and vanilla on low speed. Add flour, baking powder and salt, gradually, beating until batter is smooth. Pour into pan, spreading batter to corners. Bake 12-15 minutes. Immediately loosen cake from edge of pan; invert on towel sprinkled with powdered sugar. Carefully remove foil; trim off stiff edges of cake. Roll hot cake and towel from narrow end. Cool. Prepare Clear Lemon Filling; cool. Unroll cake; remove towel. Spread cake with Filling; roll up; refrigerate no longer than 24 hours. Reserve 8 medium strawberries; slice remaining strawberries. Sprinkle sliced strawberries with 1/4 cup granulated sugar. Garnish cake with reserved strawberries, kiwi slices and mint leaves. Serve sliced strawberries with roll. Serves 6-8.

Clear Lemon Filling

3/4 cup granulated sugar

3 tablespoons cornstarch

1/4 teaspoon salt

3/4 cup water

1 tablespoon margarine or butter

1 teaspoon grated lemon peel

1/3 cup lemon juice

Mix sugar, cornstarch and salt in saucepan. Stir in water gradually. Cook, stirring constantly, until mixture thickens and boils. Boil and stir 1 minute; remove from heat. Stir in margarine and lemon peel. Stir in lemon juice gradually and, if desired, 4 drops yellow food color. If filling is too soft, refrigerate until set.

Nancy's Apple Pie

Crust:

1 1/3 cups all-purpose flour

1/2 teaspoon salt

1/2 cup shortening

3-4 tablespoons cold water

Filling:

4-6 apples, peeled and sliced

1/2 cup granulated sugar (vary according to sweetness of apples)

2 teaspoons cinnamon

1/2 cup chopped walnuts

Topping:

1 cup all-purpose flour

1/2 cup granulated sugar

1 stick butter

For Crust: Mix flour, salt and shortening until cornmeal consistency. Add water, mix lightly; roll out. Makes one pie crust. For Filling: Place apples and sugar into unbaked pie crust. Sprinkle spice and nuts on top of sugared apples. For Topping: Mix ingredients together to crumble state; sprinkle generously on top of apples. Bake pie at 350 degrees for 40 minutes or until apples are done.

Pineapple Upside-Down Cake with Dried Cherries

1 20-ounce can unsweetened whole pineapple slices in juice

2 1/2 tablespoons unsalted butter

1/4 cup (packed) dark brown sugar

1/4 cup dried tart cherries

3/4 cup all purpose flour

1 teaspoon baking powder

3 large egg whites

1/8 teaspoon salt

1/2 cup sugar

2 large egg yolks

1/3 cup low-fat (1%) milk

1 teaspoon vanilla extract

Preheat oven to 350 degrees. Drain pineapple, reserving 5 tablespoons juice. Set aside 1 whole pineapple slice; cut 4 slices in half (reserve remainder for another use). Melt butter in 9-inch-diameter cake pan with 2-inch-high sides over low heat. Transfer 1 1/2 tablespoons butter to small bowl and reserve; leave remaining butter in pan. Add brown sugar and 3 tablespoons pineapple juice to pan. Stir over medium heat until mixture boils and thickens slightly, about 45 seconds. Remove from heat. Place whole pineapple slice in center of pan atop sugar mixture. Surround with halved pineapple slices, rounded side toward pan edge. Sprinkle cherries in hollows of pineapple slices. Mix flour and baking powder in small bowl. Using electric mixer, beat egg whites and salt in large bowl until soft peaks form. Gradually add 1/4 cup sugar; beat until stiff peaks form. Using same beaters, beat yolks and remaining 1/4 cup sugar in another large bowl until well blended. Mix in milk, vanilla extract and reserved 1 1/2 tablespoons butter. Beat in flour mixture just until blended. Fold egg whites into batter in three additions. Spread cake batter evenly over pineapple slices in pan. Bake cake until golden and tester inserted into center comes out clean, about 30 minutes. Cool in pan 5 minutes. Place platter over cake; invert cake onto platter. Remove pan; rearrange any fruit that may have become dislodged. Cool cake on platter 30 minutes. Brush 2 tablespoons pineapple juice over pineapple. Cool completely. (Can be made 8 hours ahead. Cover; keep at room temperature.) Made with a fraction of the butter used for most upside-down cakes, this dessert has the texture of angel food cake—and it tastes so good, nobody will know it has been streamlined. 8 servings.
---
Recognized throughout the state as an accomplished chef, Don Bingham has authored cookbooks, presented television programs and previously served as the executive chef at the Governor's Mansion. He is now the director of special events at the University of Central Arkansas.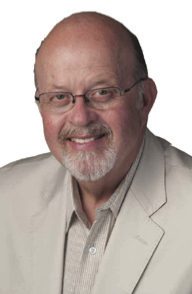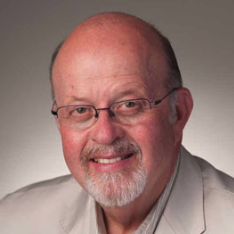 Latest posts by Don Bingham
(see all)