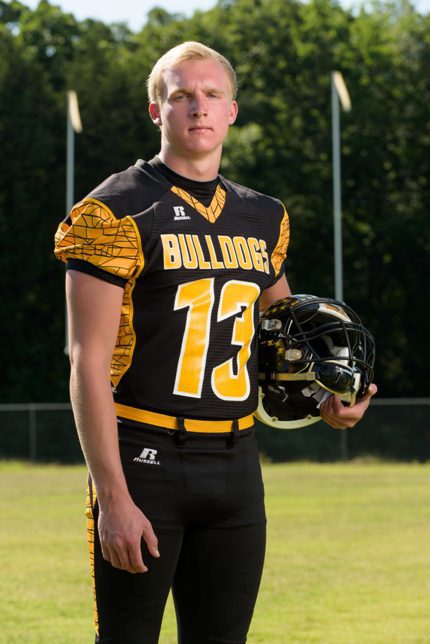 21 Sep 2016

'Legacy' important for McGhee, Bulldogs

by Mark Oliver


Off to a red-hot 3-0 start to the season, the Quitman Bulldogs are quickly showing the 501 that their success is no fluke.


"We don't get a lot of publicity, but we're used to that," said senior quarterback Trey McGhee. "We're a small school in a small town, but we are working hard just like everyone else. This season, we have an opportunity to do a few things that have never been done before at Quitman, and that is exciting for us."


McGhee was selected for this year's 501 Football Team – 26 players representing all 11 counties of the 501. The team, sponsored by First Service Bank and First Security Bank, boasts the best the 501 has to offer both on and off the field. Reed was nominated by Quitman head coach, Brian Narretto.


"Trey is a leader," Narretto wrote in his nomination. "He is a hard worker who leads by example. He is a student of the game, which makes him an intelligent player of the game. He is a competitor who knows how to conduct himself in the thrill of a win and in the face of a loss. Last season, he led the team in passing, rushing and touchdowns. This season, I expect him to manage the offense with effective communication throughout the games. "


In just three games, McGhee and the Bulldogs (3-0) have managed quite well. The team averages 43 points per game and hasn't allowed more than six points in any of its three games this season. This week, a win over rival Bigelow would give Quitman its first 4-0 start in school history.


"Last year was the first year that we had ever beaten them," McGhee said. "This week, they're going to come out fired up looking for revenge. They are a talented team, and it will take a combined effort to get the job done. We've set the table, and now we have to use all of our talents all at once in order to get that victory."


As the Bulldogs enter Class 5-2A conference play, the team has another goal in its sights — reaching the second round of the playoffs for the first time in school history.


"We all want to help leave behind a legacy for Quitman," McGhee said. "Everything clicks for us right now. Everyone knows their job and does it well. We've spread out the workload, and it has helped us get better individually, and as a team. We're constantly improving and working to build something not only for this year, but for the years to come."


Having played the game since second grade, McGhee has seen his share of great football over the years. However, the senior believes that his best moments are yet to come.


"I think my favorite football memories are still to be made," McGhee said. "This season, with the way we've started and knowing that we have all the talent in place to go far and do something special — it's exciting for all of us. We're all working toward the future this year and in just three games, this has been the best time I've ever had playing football."


McGhee, who also contributes to Quitman baseball and track and field, excels in the classroom as well — boasting an impressive 4.02 GPA. The senior is also a member of Beta Club and FCCLA and plans to pursue a degree in civil engineering after high school.


"Trey understands what it means to be a student athlete," Narretto wrote. "He understands that taking care of his academics opens up opportunities for him to take care of his athletics, and he encourages his classmates and teammates to do the same. He maintains teammate relationships on and off the field by being a supporter of his friends."


"My dream job would be to work for the Greers Ferry Dam or anything with the Corp of Engineers," McGhee said. "I'd love to work with dams, bridges, waterways or roads — something that I could do close to home."


Off the field, McGhee spends his time giving back to the community he calls home.


"I try to support the younger players as much as I can," McGhee said. "For me, it's about giving them the knowledge of the game that I have. I also volunteer with QuitmanFest, which is a festival that helps bring our city together."


Quitman plays at Bigelow on Friday, Sept. 23.