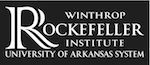 13 Apr 2011

Legacy event seeks solutions for future, pays tribute to past

Posted at 4:51 PMh

in

News

PETIT JEAN MOUNTAIN, Ark. (April 13, 2011) — The picturesque panorama of the Arkansas River Valley inspired Winthrop Rockefeller to adopt the state as his new home, a move that effectively changed its cultural and economic landscape for the better. Conclaves hosted from his mountaintop home assembled great minds from across the state and the nation to successfully tackle immense challenges that faced Arkansas. 


The former governor's spirit and aspirations for Arkansas will be revisited when the Winthrop Rockefeller Institute hosts the fourth annual Winthrop Rockefeller Legacy Weekend on Friday, April 29, beginning at 6 p.m., and continuing through Saturday, April 30. 

The 2011 Legacy Weekend will highlight Gov. Rockefeller's contributions to economic development in Arkansas. The purpose of this annual event is to explore the specific decisions and contributions Rockefeller made that continue to affect the modern-day political environment of the state, as well as the everyday lives of Arkansans. 

Rockefeller became the 37th governor of Arkansas in 1967 and served two terms. Even before he served as governor, Rockefeller worked to build Arkansas' struggling economy as chair of the Arkansas Industrial Development Commission. He was instrumental in bringing more than 600 new industrial plants to the state, which provided 90,000 new jobs. During his first term in office, Rockefeller also adopted the state's first minimum wage and brought reform to Arkansas' prison system. 

The 2011 Legacy Weekend will open Friday, April 29, at 6 p.m., with the annual Winthrop Rockefeller Legacy Art Exhibition, formerly known as Arts in the Air. The exhibit will celebrate the work of 30 Arkansas artists. Most of the art will be available for purchase, and a majority of the proceeds will benefit other parts of the Rockefeller Institute's arts programming. The exhibit will be available for viewing by appointment until Sunday, July 3.

On Saturday, April 30, at 10 a.m., a panel discussion will focus on Rockefeller's influence in the area of economic development. Panelists include former colleagues of Rockefeller's and individuals who possess intimate knowledge of the subject matter:

Maria Haley, executive director of the Arkansas Economic Development Commission;

Craig McCulloh Smith, administrative assistant to Rockefeller from 1962-1972 and interim director of the Arkansas Industrial Development Commission in 1961;

Charles Venus, Arkansas Governor's Council of Economic Advisors (1967-present); and

William "Sonny" Walker, former director of the Arkansas Office of Economic Opportunity under Rockefeller.

Rex Nelson, president of Arkansas' Independent Colleges and Universities, will moderate the discussion.

In addition to Saturday's panel discussion on economic development, other panel discussions will focus on using the creative industry to build a competitive economy and economic development in rural Arkansas.
Participating organizations include the Arkansas Arts Council, BailinStudio, Capital Hotel, Innovate Arkansas, South Arkansas Growth Initiative, Southern Bancorp, Winrock International and Winthrop Rockefeller Foundation. A complete schedule of events is available at LiveTheLegacy.org.

Legacy Weekend activities are free to the public. However, due to limited seating, preregistration is recommended. To register or reserve overnight lodging for the event or for more information, visit LiveTheLegacy.org or call 501-727-5435.

About Winthrop Rockefeller Institute

In 2005, the University of Arkansas System established Winthrop Rockefeller Institute with a grant from the Winthrop Rockefeller Charitable Trust. By integrating the resources and expertise of a statewide university system with the legacy and ideas of Gov. Winthrop Rockefeller, this educational institute and conference center creates an atmosphere where collaboration and change can thrive.

The Rockefeller Institute offers a variety of workshops, seminars, public lectures, conferences and special events. Program areas include agriculture and environment, arts and humanities, economic development, and policy and public affairs. To learn more, call 501-727-5435, visit the website at LiveTheLegacy.org, or stay connected through Twitter and Facebook.