24 Jul 2020

Leading the way: Technology makes diagnosis less invasive

Dr. Alok Surana, a Conway pulmonologist, is making less-invasive pulmonary diagnostic testing more accessible for patients in the Faulkner County area. A trip to Little Rock is no longer a necessity for patients seeking an endobronchial ultrasound bronchoscopy (EBUS) procedure that is used to diagnose different types of lung disorders, including inflammation, infections and cancer.

Local access to EBUS bronchoscopy gives patients a chance to continue treatment in Conway, which is more convenient for them, according to Dr. Rachana Yendala, a Conway Regional hematologist-oncologist. "It basically closes the loop for many patients. This is a major advance in our cancer care in Conway."

Surana joined the Conway Regional Multispecialty Clinic in 2019, and Yendala followed a few months later. During her hematology-oncology training, Yendala had access to other specialists who collaborated on cancer care. "I was really glad that when I came to Conway Regional, I had pulmonology right beside me," she said.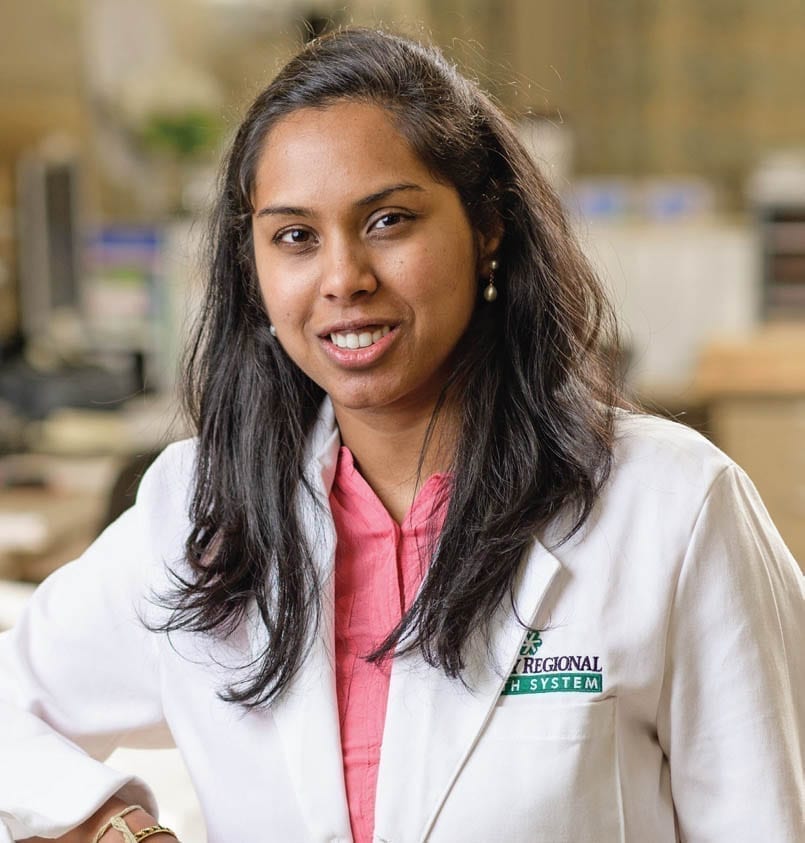 Lung cancer continues to be the deadliest form of cancer, and early detection is vital in treating the disease, according to the American Cancer Society.
Surana specializes in pulmonary and critical care medicine, which includes diagnosis and treatment of conditions that affect the lungs, including, but not limited to, asthma, COPD, sleep apnea and pneumonia. Yendala specializes in diagnosing and treating all forms of cancer.
The EBUS bronchoscopy uses a flexible tube that goes through the mouth and into the windpipe and lungs.
The EBUS scope is similar to the device used during a colonoscopy, although it is much smaller. The scope has a video camera with an ultrasound probe attached to create images of the lungs and nearby lymph nodes and can accurately locate and evaluate areas seen on X-rays or scans to give physicians a closer look. Using the camera and the ultrasound, Surana examines the patient's lungs and airway and collects samples of the lung. The samples are usually taken using a needle that is smaller than the point of a pen.
EBUS bronchoscopies are performed in the Conway Regional Bronchoscopy Laboratory.
Who is a typical EBUS patient?
EBUS bronchoscopy can help if a patient had a chest X-ray or CT scan and an anomaly was detected. The American Thoracic Society recommends that people who smoke receive an annual lung cancer screening to detect early-stage cancer. Low dose CT scans are used for the screening.
If the screening shows a suspicious growth or other anomaly, the EBUS bronchoscopy can be used for follow-up imaging to confirm whether the patient has cancer or another lung condition, according to Surana.
Other diagnostic follow-up procedures are more invasive and may require a prolonged hospital stay. "With EBUS, the advantage is that you don't have to do any of these invasive procedures," said Surana, adding that a few hours after the procedure the patient can go home. "The risk for those procedures is significantly higher."
Referrals
Surana was trained in EBUS bronchoscopy during his pulmonology and critical care fellowship at the University of Arkansas for Medical Sciences. In addition to Yendala, he receives referrals from other hematologists-oncologists, primary care doctors and other specialists. EBUS bronchoscopy has been available at Conway Regional since January.
All in one care
Surana says it is helpful that Yendala also has an office in the Conway Regional Multispecialty Clinic. She refers patients to Surana to help make lung-rated diagnosis of cancer and other conditions.
"He is very efficient," said Yendala. "We always discuss patients between us before we see them. It is an advantage knowing each other's plan of care. That helps us in moving things ahead in a more-timely fashion for the patients, and that can really make a difference."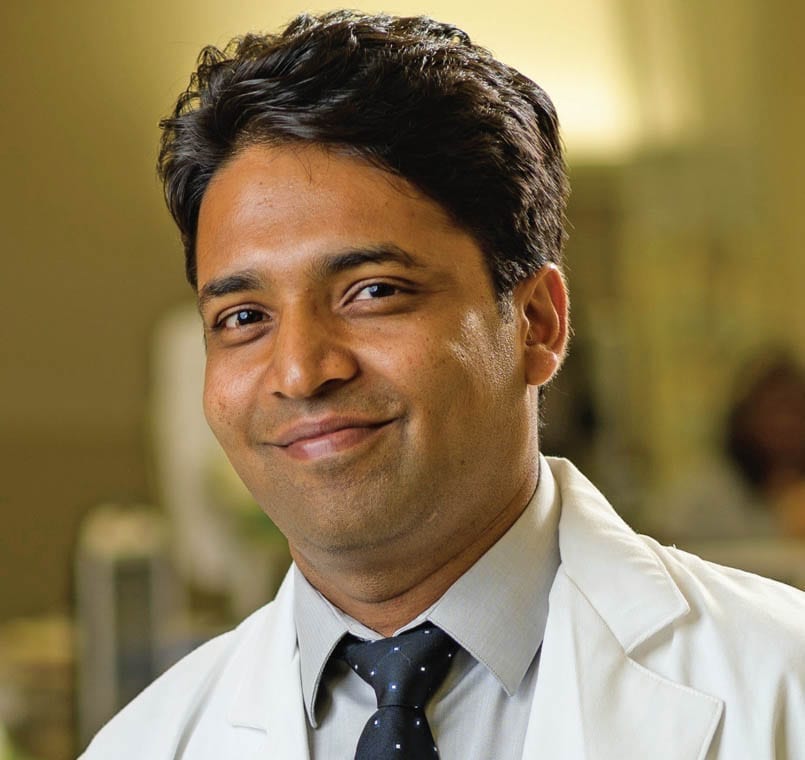 "Once the patient begins to be treated by Dr. Yendala, they will need to be followed and monitored to check for a reoccurrence," said Surana. "If there is anything suspicious, once again we can use the EBUS to take the samples and restage the patients. It's a rule-in or rule-out kind of procedure."
"There is harmony of care between pulmonology and oncology," said Surana. "It cannot possibly be better than this because there is only a wall separating my office from Dr. Yendala's office." He added that patients may be seeing him, "but we can also set up an appointment with Dr. Yendala. Having both specialists in the same clinic speeds up care."
He cites the example of a man whose cancer reoccurred after he moved from another state. "Dr. Yendala was treating him for a reoccurrence, and I used the EBUS to restage him and diagnose him."
The EBUS at Conway Regional keeps healthcare local. "EBUS was not available in Conway before Conway Regional purchased it. The only option was to go to Little Rock," said Surana. "These patients are severely ill, and you don't want them to exert themselves. You want to minimize their time in the hospital. It helps to coordinate their care, stage them and treat them all in one place."
About Surana and Yendala
Surana completed his pulmonology and critical care fellowship training at the University of Arkansas for Medical Sciences in Little Rock and completed his Internal Medicine Residency at Crozer Chester Medical Center in Pennsylvania. He is a member of the American College of Chest Physicians.
Yendala finished internal medicine residency training at the University of Toledo. She completed her Hematology/Oncology Fellowship at Texas Tech University in Lubbock, where she served as the chief fellow.
Telemedicine and in-person appointments are available with both physicians at the Conway Regional Multispecialty Clinic, located on the Conway Regional Medical Center campus at 525 Western Ave., Suite 305. For more information, the clinic can be reached at 501.358.6145.