01 May 2022

Leadership graduates raise money for Children's Advocacy Alliance

Posted at 9:51 PMh

in

News

By Tammy Keith

The little girl was anxious as she walked into the medical room in the Central Arkansas Children's Advocacy Center in Conway to undergo an examination.

The nurse took her time, calmly explaining every step in the head-to-toe exam. Tess Fletcher, executive director of the Children's Advocacy Alliance, said that after the exam was over, the child nervously asked if she was "broken." She wanted to know if people would be able to tell what had happened to her. Fletcher said the nurse reassured the girl. "She said, 'No, you look just the same. Nobody can look at you and tell.' The nurse said the relief on that child's face was very visible."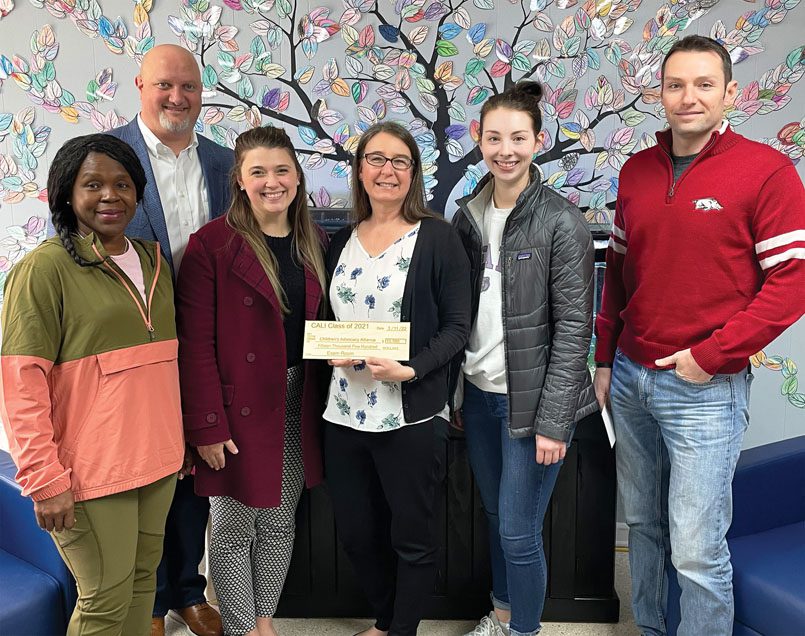 Fletcher's dream of a larger, updated medical room to serve abused children was met when the 2021 Conway Area Leadership Institute class chose the Children's Advocacy Alliance as its community impact project and raised $15,500 to fund the room in a future building project.
CALI is a 10-month program for emerging or established leaders who want to take a deep dive into learning more about how to serve the city. The curriculum is based on Conway2035, a long-range strategic plan developed with residents' input, and covers areas such as arts and culture, education, health care, and job creation.
The nonprofit Children's Advocacy Alliance serves abused and neglected children in five counties: Conway, Faulkner, Perry, Searcy, and Van Buren. It has two programs under its umbrella, the Children's Advocacy Center and Central Arkansas Court Appointed Special Advocates.
Miranda Daily, a graduate of the 2021 leadership class, said choosing a project was difficult. "There were very strong opinions in my group since we're all local leaders. We wanted to make sure we had a direct impact that would help for years to come," she said.
Representatives of organizations made pitches, and Fletcher's stood out, Daily said. "Tess gave an amazing testimonial, and people know the great work they do, and that really stuck with that class. Everybody agreed that this was a great cause."
Jason Owens knew firsthand it was a worthy cause as a member of both the CALI 2021 class and the Children's Advocacy Alliance board. Owens, an attorney, said he also sees the benefits of the CASA program.
"We're really excited to get on board with the Alliance and raise funds for this room and try to meet this need to assist neglected and abused children. We all thought it was really important and worthwhile," Owens said.
The 1,632-square-foot advocacy center, a former private home in downtown Conway, serves as a child-friendly location for sexual-assault exams, forensic interviews, family resources, mental health advocacy, and prevention. Fletcher said 400 children were served from July 2020 through July 31, 2021, and the number is growing.
Families "don't pay a dime" for services, she said. The nonprofit receives some funding through grants, but it also relies on fundraising and community support.
Daily said she set up a Facebook group for the fundraising project and posted testimonial videos from class members asking for donations, which could be made through an online giving portal or by taking them directly to the Children's Advocacy Center at 574 Locust Ave.
CALI exceeded its goal and presented a $15,500 check to Fletcher in March.
"One of my major goals is to see our agency comfortably serve all of the children who need our services. This donation from CALI means the world to me because it helps us move closer to future expansion," Fletcher said. "We make do with what we have, but the layout of the medical room could be better and more conducive to kids." She also envisions a spot near the exam table for a facility dog.
Fletcher said CALI was successful because the class members worked together.
"The CALI group didn't say, 'Hey, one person has to raise $15,000.' The one big thing I would want people to take away is anybody can make a difference; $5 a month to us means as much as $500 a month," she said. "Conway is an amazing community made up of people who truly care about making a difference where they live."
The CALI project is even more personal for Daily. She is being trained as a court-appointed special advocate to go to court with an abused child who has been removed from a home to represent the child's best interests. "I never thought I could love Conway more, but I do now because of what I learned," Daily said.
Fletcher said the Children's Advocacy Alliance is passionate about supporting children who experience trauma, and the advocacy center is crucial to its mission. "The change in these children from the way they walk in and the way they walk out is amazing. That's the difference that CALI can make. They will make a difference in countless children that they'll never know," she said.