30 May 2018

Leadership Conway County graduates 21 in Class Two

Posted at 2:53 PMh

in

News

Class Two of Leadership Conway County met May 9 at the Morrilton Area Chamber of Commerce for its last session, which concluded with a graduation ceremony for the 21 members of the class.

The day started with a presentation on applying the habits of effective leaders by Sharon Wilson, principal at Morrilton Primary School. This was followed by a presentation by the Rev. Craig Duncan, pastor of Lonoke Baptist Church, on the role of the church in community development and lessons learned about leadership. Duncan also spoke about his new role as chair-elect for the chamber of commerce.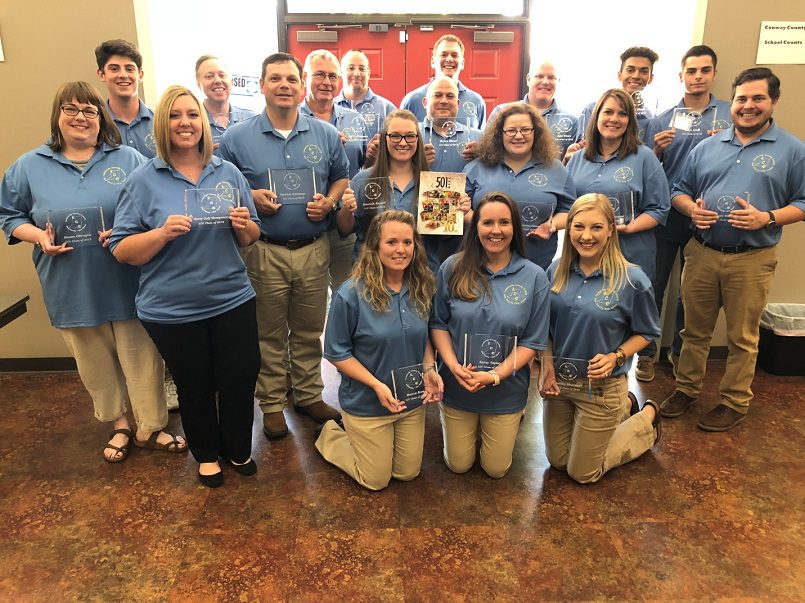 The class then participated in a "What's Next" table hop. With the premise that the leadership program is partly aimed at providing newly trained community leaders for local boards and commissions, 15 different organizations had representatives in the lobby of the chamber for table-top discussions with the participants.
Participating organizations included: Arkansas Department of Human Services, Elmwood Cemetery Association, Conway County Depot Museum, Vision 2020, Morrilton City Boards and Commissions, Conway County Boards and Commissions, Morrilton Rotary Club, Main Street Morrilton, Morrilton Area Chamber of Commerce, Knights of Columbus, Lions Club, Conway County Chapter of the NAACP, Conway County Community Foundation, Morrilton Fire Department, Conway County Economic Development Corporation and CASA of Tri-Peaks.
After lunch, which was sponsored by Crafton-Tull and prepared by members of Class One, former graduates of the Vision 2020 program joined the class to hear presentations about projects conducted by different teams in the class.
Class Two facilitators Katie Hartman and Jessica Rohlman spoke to the class about their reflections on the richness of the experience due to the dedication and teamwork shown by the class.
Shawn Halbrook, chairman of the board of the Morrilton Area Chamber of Commerce, then awarded each member of Class Two with a plaque commemorating their successful completion of the eight-session training program.
Class Three begins in August and anyone that is interested in participating should contact the Chamber at 501.354.2393 or email Stephanie Lipsmeyer at [email protected].