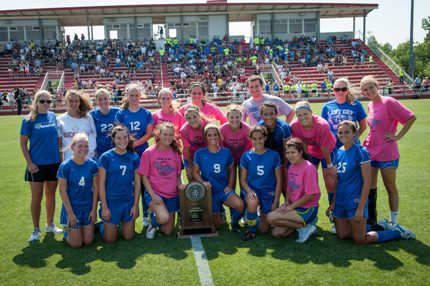 23 May

Lady Cats fall short in state championship

by Donna Lampkin Stephens


The incredible three-year run of the Conway Lady Cat soccer team came up just short last week in the Class 7A state championship game in Fayetteville.


Bentonville squeezed past the Lady Cats, 1-0.

But oh, what a three years it was for Whitney Allison and her 11 seniors.


They put together a 59-3-3 record (.907 winning percentage), went 22-0 and won the state title in 2011 (beating Bentonville, 3-0) and finished 20-2-1 and state runner-up in 2012.


Allison, the former CHS and University of Arkansas star, is headed off to North Carolina, where she'll begin studies at Charlotte School of Law in August.


"For a team that's won as many games as we've won the last three years, I hate the fact that our last game ever together ended with a loss," Allison said. "The fact that it was all coming to an end was what everybody was most upset about.


"What we've been a part of the last three years was bigger than soccer or our individual selves."


As the top seed from the 7A-Central, Conway earned a first-round state tournament bye, then beat Springdale Har-Ber, No. 4 from the West, in the quarterfinals, 2-0; and Rogers Heritage, No. 2 from the West, in the semis, 1-0, to set up the rematch with Bentonville.


"That game was completely different from last season," Allison said of the two finals. "They came out for revenge and wanted it. I hate to sit back and say they deserved to win because I think our girls did, too, but they were impressive. They were stronger than us; they knocked us off the ball. We'd had some injuries, so we were down with our bench strength. They had more bench strength and more physical strength.


"We could not get our possession game going. You could probably count on one hand our number of shots on goal, and at the end of the day, you can't win if you don't score, and you can't score if you don't get shots on goal."


Bentonville won its third state title in its sixth consecutive final appearance.


"We just couldn't get our game going," Allison said. "They controlled the midfield, and we couldn't string together two passes or hang onto the ball. I hate that because this team is such a quality soccer team and plays the game so well and so beautifully, and it was the last game we all get to play together."


Ending their Lady Cat careers were Brittanie Ashcraft, Madison Dayer, Kyndal Leffert, Rachel Caldwell, Julia Pettit, Caitlyn Carroll, Ashley Johnson, Kayleigh Little, Kara Blackwell, Alex Fahr and Sarah Phillips. It's a group that has played together since they were tiny.


They were the reason Allison decided to return and postpone her dreams of law school for a year.


"They've made history with this program," she said. "They're leaving behind a legacy."


So is she.