15 Dec

Lady Bisons win big at Arkansas-Monticello

MONTICELLO — The Harding women's basketball team jumped out to an 8-0 lead and didn't look back as they went on to defeat Arkansas-Monticello 73-45 Saturday in Great American Conference action.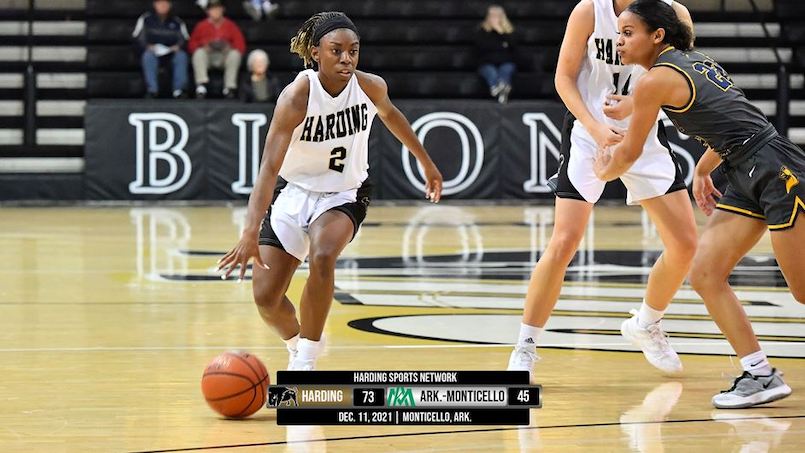 The Lady Bisons improve to 6-3 on the season and 2-1 in the GAC.
Arkansas-Monticello falls to 0-9 overall and 0-3 in the GAC.
Harding had four players in double-figure scoring. Aubrey Isbell led all scoring with a career-high 18 points, going 7-fo-13 from the field. Sage Hawley added 16 points, Hannah Collins had 15 points and Lexie Davis had a season-high 11 points.
Harding outrebounded Arkansas-Monticello 41-31. Hannah Collins picked up her first double-double this season grabbing a career-high 11 rebounds.
The Lady Bisons scored 38 points in the paint and held Arkansas-Monticello to 14 points.
Harding made 28 buckets and shot 41.2 percent from the field.
Harding shot 90.9 percent from the free-throw line, making 10-of-11. Hannah Collins was perfect going 5-for-5.
The Lady Bisons held Arkansas-Monticello to 15 shots and 25.9 percent from the field.Harding will be back in action at 5:30 p.m. on Saturday, Dec. 18, when they host Henderson State at the Rhodes-Reaves House.