06 Apr 2022

Lady Bisons top Washburn

The No. 48-ranked Harding women's tennis team battled back from an early deficit and defeated Washburn 4-3 at Southwest Baptist in Bolivar, Mo., in a neutral matchup of regional opponents on Sunday (April 3). Harding has now won 10 of their last 11 matches and improves to 13-4 on the season while Washburn fell to 8-9.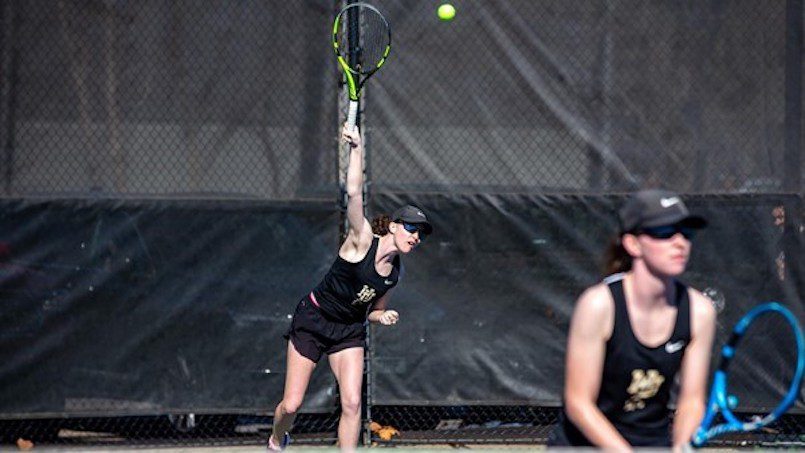 Washburn came into the match on a four-match winning streak and took the early 1-0 lead with a sweep in doubles action. Emily Carpenter and Allison Jenkins fell at No. 3 and Allison Carpenter and Grace Dodd fell at No. 1. Romane Britt and Lindy Carpenter were leading at No. 2 6-5, before their match was stopped because Washburn already clinched the doubles point.

Emily Carpenter got the Lady Bisons on the board with her fourth straight win, a 6-3, 6-4 victory at No. 4. The Ichabods went up 2-1 with a win at No. 2, before Britt secured her 19th victory of the season, winning 7-5, 6-3 at No. 3. Dodd pushed the Lady Bisons lead to 3-2 with a 7-5, 6-2 victory at No. 1.

After the Ichobads picked up their third point of the match with a win at No. 5, all eyes looked to No. 6 where the final singles match was taking place. Allison Carpenter won her sixth straight match 6-3, 7-6 at No. 6 to clinch the match for the Lady Bisons. With the win, Allison Carpenter becomes the 15th player in program history to reach 60 career singles victories.