16 Nov 2022

Lady Bisons lose late in Oklahoma inbox

LAWTON, Okla. — Trailing by 15 points at halftime, Harding women's basketball rallied to take the lead late before dropping its third straight close game 73-71 Tuesday against Cameron, a member of the NCAA II Lone Star Conference.

Harding fell to 0-3 on the season with its third loss of two points or fewer.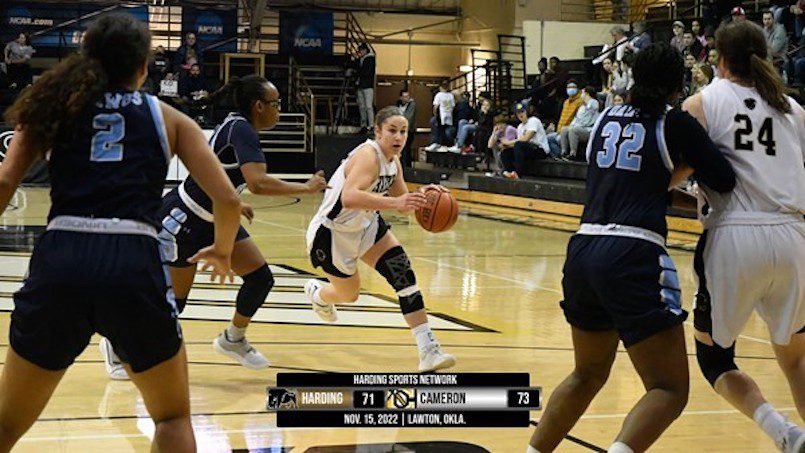 Harding trailed 69-64 with 3:36 left, but cut the deficit to one point on layups by Aubrey Isbell and Sage Hawley.
With 1:35 remaining Isbell hit a pull-up jumper to give Harding a 70-69 lead. After a steal by Jacie Evans, she made one of two free throws to put the Lady Bisons ahead 71-69 with 40 seconds left.
Cameron answered with a layup and a free throw to complete a three-point play with 16 seconds left. Trailing 72-71, Harding committed a turnover on its last possession and had to foul. Cameron made one of two for the final margin.
Sage Hawley led Harding with 25 points and 14 rebounds, her second double-double of the season. Isbell scored a season-high 22 points on 9-of-14 shooting. Rory Geer added 11 points.
Harding trailed 48-33 at halftime, but scored the first nine points of the third quarter to begin the comeback.
The Lady Bisons shot 52% for the game and made 5 of 11 3-pointers but made only 8 of 17 free throws.
Harding continues the road trip Wednesday, taking on Texas Woman's at 6 p.m. in Denton, Texas.