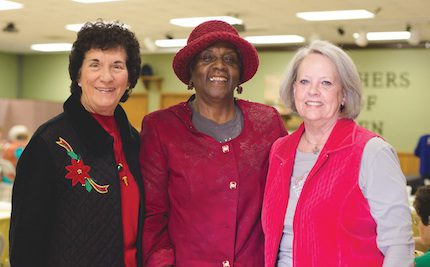 25 Jan 2014

Ladies' Lunch Break celebrates 25 years

Posted at 12:56 PM

in

Faith

Photos and story
by Callie Sterling


The Ladies' Lunch Break ministry has reached more than 24,000 women and is approaching its 25th anniversary in February.

The ministry began in 1989 with the guidance of Marilyn Mathis.


"I always have loved to teach," she said. "When some ladies I knew began talking about creating a ministry just for women, I said I would like to teach it."


The Ladies' Lunch Break is held the first Wednesday of each month at Second Baptist Church in Conway. The ministry is open to all women and is not exclusive to members of Second Baptist.


"We want to minister to all women, and we actually have more women attend who are from other churches all over Faulkner County," Marilyn said. "We have women who attend that are from neighboring cities such as North Little Rock, Vilonia, Greenbrier and Perryville."


Marilyn's goal is to reach as many women as possible and spread the word of The Lord.


The Ladies' Lunch Break began with about 50-70 members but has grown into something much larger. "We rarely run under 100 members each month," Marilyn said. "We have even run up to 130 members."


In 1992, the group did not meet because Marilyn took a year to help with her two grandchildren.


Marilyn hopes to see the ministry continue to grow and expand. "This is just an awesome thing that God has done," she said. "He has always worked out every obstacle. I have been able to constantly see his hand at work — from the volunteers, to the decorations, cooking and even clean-up."


Marilyn meets with a prayer team before each session, and they thank God and pray for guidance regarding the ministry.


The 25th anniversary Lunch Break will be held at noon on Wednesday, Feb. 5, at Second Baptist and is open for women of all ages to attend.