07 Jul 2021

Kumlin, Rittawee and Thitisup named WGCA All-American Scholars

CORAL SPRINGS, Fla. – The Women's Golf Coaches Association (WGCA) announced its yearly All-American Scholars on Tuesday. The University of Central Arkansas women's golf team was represented by Elin Kumlin,Pear Rittawee, and Pim-Orn Thitisup who earned All-American Scholar honors.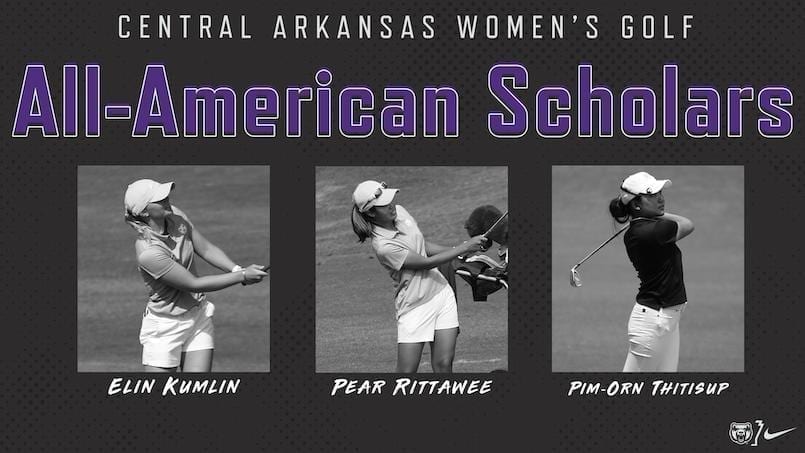 Kumlin picked up her second WGCA All-American Scholar nod. She earned First-Team All-SLC as well as Academic All-SLC earlier this year after an outstanding season. She led the Bears with an average round of 74.27 and a score relative to par of 2.40. She won the dual against Missouri State to start the season. She finished tied for fourth at the Southland Conference Championship. She posted five top-10 finishes during the season. She has a 3.83 GPA while pursuing a degree in innovation and entrepreneurship.

Rittawee collected her first All-American Scholar accolade after her first season with the Bears. She averaged 77.32 per round and finished the year with a 5.47 score relative to par. Her best finish was a tie for ninth in the dual against Missouri State. She produced a career-low 69 and finished tied for 12th at the Callaway Gardens Invite. She posted three top-15 finishes throughout the season. Rittawee has a 3.56 GPA in the pursuit of a degree in exercise science.

Thitisup was named an All-American Scholar for the first time. She compiled an average round score of 76.31 and a 4.45 score relative to par. Her highest finish was a tie for fifth in the dual against Missouri State. She collected three top-15 finishes during the season. She tied for sixth at the Bama Beach Bash. She finished in 20th at the Southland Conference Championships. She has a cumulative GPA of 3.53 in the pursuit of a degree in Mandarin Chinese.

Student-athletes need to have a minimum cumulative GPA of 3.50 in order to be recognized as All-American Scholars.

From the Coach – Head Coach Natasha Vincent
"It was another great academic season for the team and for these three standouts! The entire team isn't far off from a clean sweep. We have great leadership in Elin, both on the course and in the classroom. Pim is right there with her. Pear really shined coming in as a transfer. Again, it's hard not to comment on the rest of the team because they do work hard as well. I have seen progress and success in the classroom from all of them. Here's to another great season!"
Written by Chad Smith.