Since early April, thousands of Kris Allen fans have been gathering for official watch and vote parties held in Conway in support of the American Idol contestant.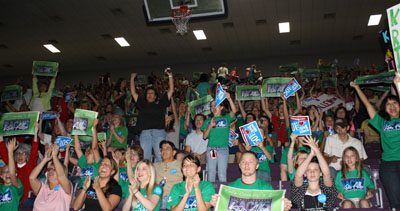 Sponsored by the Kris Allen Kick Awesome Task Force, the events have been held at the Farris Center at the University of Central Arkansas and New Life, where Allen serves as a worship leader.
The initial party – held April 21 – attracted an estimated 1,000 people. Allen's brother, Daniel, was on hand to accept a legislative citation of support presented by state Sen. Gilbert Baker.
The second and third parties attracted an estimated 2,000.
Conway Corp. has broadcast live from two of the watch parties, and those attending have had an opportunity to record video messages for Allen.
A number of local businesses have shown their support by providing coupons and prizes to be given away at the watch parties.
501 LIFE has been on hand with a life-size cutout of Allen for individuals to have their photos taken.
Check out more pics at our Life in Pics page: http://501adsandmags.zenfolio.com/