01 Jan 2023

Kneed for speed

By John Patton

Wolfgang Oeste of Conway will be packing his bags again for another adventure.

Oeste and his wife, Patty, have a deep love of music and travel, and thanks to a knee replacement in July, he has resumed both pursuits with his typical vigor. He is already riding his mountain bike again.

The Oestes spent more than a decade performing in opera houses throughout Europe and Canada before eventually settling down in Conway. Patty, a retired music education teacher at Ruth Doyle Middle School, received numerous awards of recognition during her teaching career, including Yale Distinguished Music Educator. Wolfgang, an associate professor at the University of Central Arkansas, taught music performance and student vocal development for 28 years and has performed with the Conway Symphony Orchestra.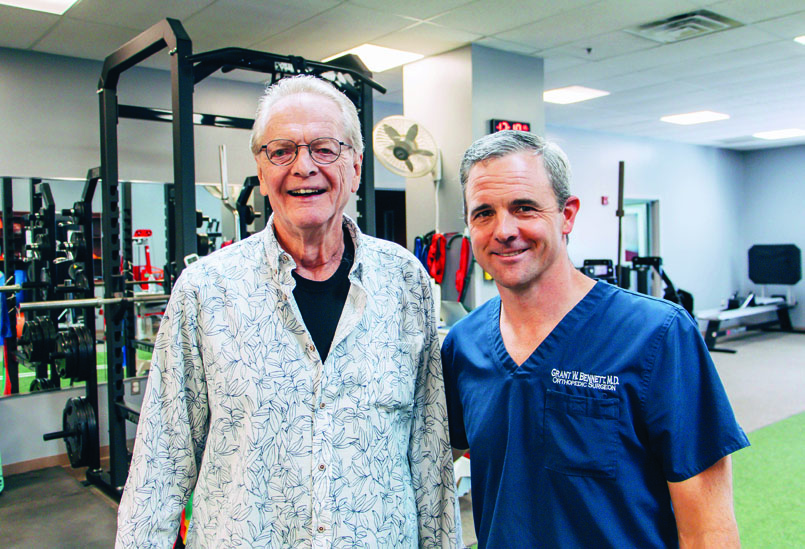 They also plan to resume their travels soon. "I could have lived my life without the operation, but why should I?" Oeste, 76, said. "I want to travel."
It was during a rainy trip abroad on the Scotland West Highland Way, a 96-mile walk taking several days, that he decided he was ready for a knee replacement. "It rained for 21 days, and the trail was so difficult. We had not realized the extent that the trail changes with rain," he said. "You couldn't judge the depth of some of the holes you were stepping in. Right there, I decided that when I came home, I had to do something about my knee."
Doing something meant a trip to Conway Orthopedic and Sports Medicine Center and a consultation with Grant Bennett, MD.
Dr. Bennett is one of three surgeons at the center who perform Mako Robotic-Arm Assisted knee replacements, a technology that allows orthopedic surgeons to pre-plan surgery using software and then perform the operation by guiding a robotic arm to precisely remove bone and cartilage.
"Robotically assisted partial and total knee replacement is a great option for any person suffering from pain or activity limitations related to knee arthritis," said Dr. Bennett "Each surgery is planned and customized using a CT scan before surgery as well as ligament tensioning and range-of-motion assessments that are performed at the beginning of every surgery."
After Surgery
Dr. Bennett added, "Many patients go home on the same day and almost all are ready to go back home after an overnight stay. I remind patients that their knee arthritis and stiffness didn't develop overnight, and they need to expect several weeks to complete most of the recovery. Most patients report continued improvement for a year or longer."
After surgery in July and several weeks of therapy, Oeste was riding his mountain bike again, including a recent 15-mile trek with Patty from their home in West Conway to the Conway Airport.
"I am a very aggressive healer," said Oeste. "Ryan (Smith, a therapist with Conway Regional) put me through my paces. He told me I am ahead of most people my age. Being an athlete probably helped," Oeste said. Oeste was a semi-professional hockey player in Canada and played soccer for a few years in Little Rock.
"I wish all my patients were like Wolf," said Dr. Bennett "He was very motivated and had a great outcome following surgery. An added benefit to me is that he's very interesting and funny, which keeps clinic days fun!"
He also cited the importance of a patient's work habits and the continuity of care within the therapy process.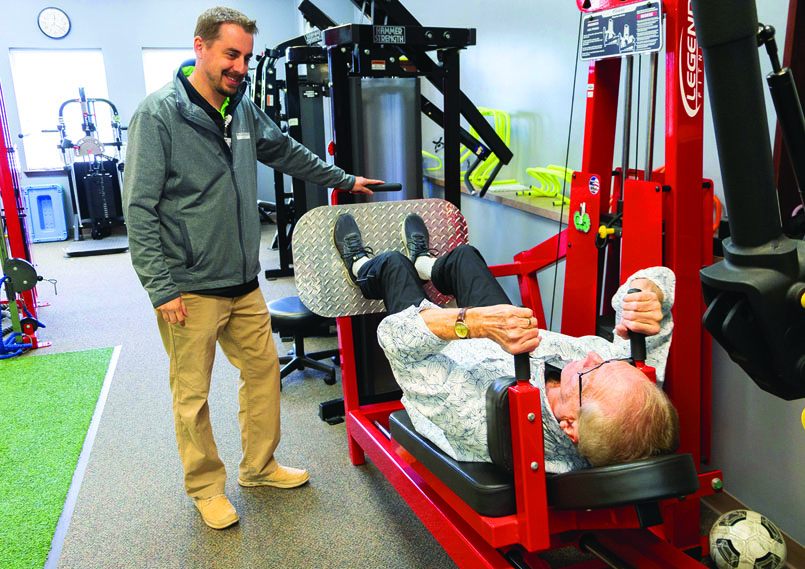 After consultation with Dr. Bennett, Oeste had knee surgery in July. Of Dr. Bennett, Oeste says, "He listens to what you say. He helps you along. He had to slow me down."
Dr. Bennett said, "It's fairly common to remind very hard-working patients that they won't be finished recovering in three weeks, regardless of their age or general health."
He added, "I think you must be patient and realistic. Don't compare yourself to others and remember that it's very likely you will have much less or no pain and better mobility. Stay positive and be consistent."
"I give a lot of credit to Dr. Bennett and the Conway Regional therapy staff," said Oeste. "Without them, I wouldn't be where I am. Now, it's up to me."
Recovery from a knee replacement requires "hard work and a good therapist," Bennett advised. Oeste added, "A friend of mine who had a knee replacement had told me that you cannot just sit there and say, 'now heal.' You'll never get the angles back. It's about how far you can bend your knee and how far inward you can bend it."
Ryan Smith knew he could count on Oeste to do the therapy, including at home. Oeste converted part of a bedroom into a gym to accommodate at-home therapy.
"He asked a lot of questions about the exercises, but I knew he would do them. It was my job to take him from point A to point B," said Smith, a lifelong Conway resident and UCA graduate.
Smith assesses each patient to determine their goals, specifically what pursuits they want to resume. "With Mr. Oeste, it was riding his mountain bike and traveling. With someone else, it might be walking across the room," said Smith. Once the goals are determined, he develops individual therapy plans to get patients where they need to be.
"I'm really glad they have someone who can interact with my age group," said Oeste. "We had a comradery. When he upped the weight on the exercise machine, I had to complain. But I knew everything was being done to benefit me."
The relationship between the patient and therapist grew.
Oeste would interject humorous scenes and lines from Monty Python's Flying Circus into his therapy regime to make the therapy go smoother. They even watched some British comedies on YouTube. "Oeste was quite the character. Sure, I knew what Monty Python was," said the 39-year-old Smith. "I had watched it before."
"We were like family," Oeste added.