05 May 2021

Klinkerman voted Field AOY; five named All-SAA

UPDATE: Because of a submission error, Jaydan Hunt was misidentified when this story ran on May 6. A new photo has been added to this story with correct identification.

ATLANTA, Ga. – Hendrix's Madelyn Klinkerman has been named Southern Athletic Association (SAA) Field Athlete of the Year, the league office announced Friday. Klinkerman and Jaydan Hunt were tabbed All-SAA first team, while Allison Long, Margaret Anderson and Alivia Allen were second-team selections.


At the SAA Championships, Klinkerman captured the league title in the discus and finished second in the hammer. Her discus throw of 39.17 meters was seventh-best all-time in the SAA Championships.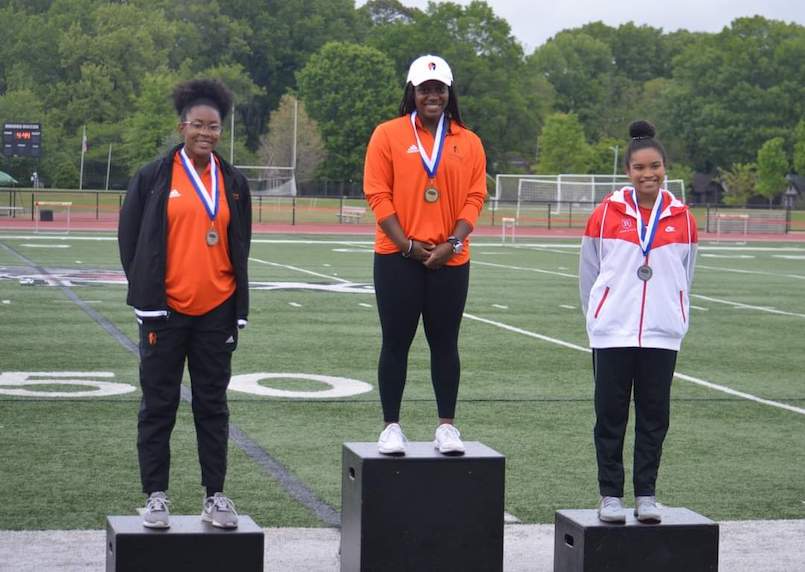 Hunt won the conference championship in the shot put after a toss of 12.18 meters, which tied for eighth all-time in the meet and was just 0.05 meters short of her own Hendrix record, and finished second in the discus after a heave of 39.06 meters, good for eighth all-time in the SAA Championships.

Klinkerman and Hunt tied as the ninth-highest scorers among all participants in the SAA Championships, with each performer compiling 18 points.

Long finished third in the long jump.

Anderson was third in the triple jump and fifth in the long jump.

Allen claimed third in the shot put and discus and seventh in the hammer.

Meghan Owens of Centre (Ky.) was named SAA Track Athlete of the Year and SAA Track and Field Newcomer of the Year. Robert Shankman of Rhodes (Tenn.) was named Coach of the Year.

The four major award winners were selected by the league's head coaches, while the All-SAA selections were based off a student-athlete's finish at the SAA Championships.