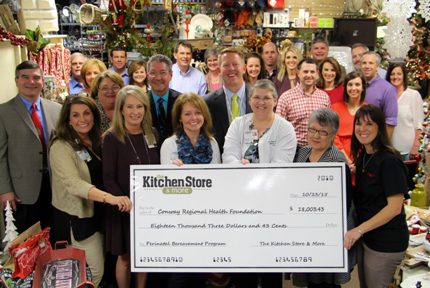 02 Nov 2015

Kitchen Store raises funds for perinatal bereavement

Posted at 1:43 PMh

in

News

The Kitchen Store & More raised more than $18,000 for the Conway Regional Perinatal Bereavement Program, during its Holiday Preview Event on Oct. 22. The store was decorated for the holidays, as customers took advantage of the opportunity to shop while supporting a worthy cause.


Conway Regional's Perinatal Bereavement program offers a personal, long-term approach to serving those touched by the tragic loss of an infant during pregnancy, stillbirth or during the first few months after birth. Through the program, the Conway Regional staff provides supportive care in the hospital as well as follow-up care after loss.


Since the annual event began, The Kitchen Store & More has donated 100 percent of gross sales from the festive shopping event to the Conway Regional Health Foundation to help fund the program.


The event also included a raffle for three different baskets, all valued at more than $700. Basket winners were:
Jamie Kissinger, "Here's to Your Health"

Anna Lee Drenon, "Cook up Some Fun"

Amy Porter, "Girl on the Go"
Hosts of the event were Melissa and Jamie Gates, Jennifer and Darren Hill, Dr. Amy and Brad Johnson, Jenifer and Dr. Greg Kendrick, Dr. Debra and Rocky Lawrence, Dr. Brandie and Trey Martin, Amanda and Travis Mulhearn, Melissa and Chris Polk, Susan and Gene Salter, Kelly and Sam Strack, Dr. Pebble and Dr. David Sutherland, and Brandy and Dr. Josh Ward.