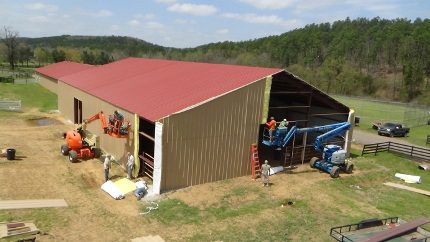 12 May 2014

Kimberly Clark workers help at Glenhaven ranch

Posted at 10:40 AMh

in

News

Employees from the Kimberly-Clark manufacturing plant recently teamed up with Venture One Builders to enclose a covered horse arena at the Glenhaven Youth Ranch.

Founded in 1985, Glenhaven (ghyr.org) is a comprehensive, long-term residential facility offering a compassionate community that helps young men and women overcome their difficult pasts and find reconciliation with themselves and their families. An important part of a resident's life at Glenhaven is caring for and working with horses.


"Every day, our residents clean the stables and work with the horses," said Monte Jones, logistics director at Glenhaven. "By helping our residents handle horses, we give them valuable assets to handle events in their lives."


Glenhaven Youth Ranch, west of Perryville, is a United Way of Central Arkansas affiliated agency. Teenagers at Glenhaven work with horses in educational and therapeutic settings to gain confidence, learn responsibility, establish trust and develop problem-solving skills.


Twenty employees from Kimberly-Clark volunteered their time to assemble walls around the horse arena. Previously, the arena had a roof only, and was open to the elements in winter. This construction allows residents to use the facility year-round.


Along with private donors, Kimberly-Clark helped fund the materials for the construction. Bill Nelson works for Kimberly-Clark and has lived around horses all his life. "This type of project is very important to me. Building confidence in your horse builds confidence in yourself."
A Hot Springs-based contractor company, Venture One Builders, oversaw the construction and led the volunteers. The construction required nearly 4,000 feet of metal to complete. A later part of the project will install roll-up doors.

Kimberly-Clark Facility Manager Kevin Ward said, "Now that the arena is fully enclosed, it will be able to provide year-round therapy for the residents."

The Kimberly-Clark plant in Conway employs more than 400 people. It manufactures feminine care products. In 2013, Kimberly-Clark and its employees donated over $100,000 to United Way agencies.