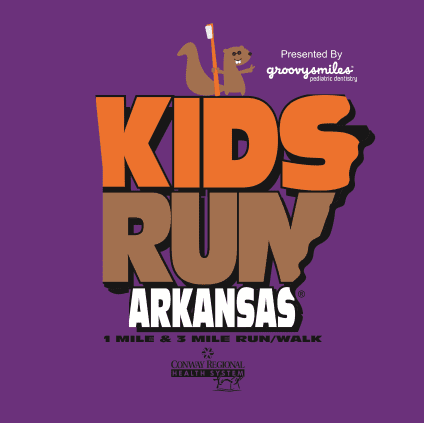 23 Mar 2016

Kids Run Arkansas April 15

Registration is under way for the eighth annual Kids Run Arkansas, a 1-mile and 3-mile run/walk for kids of all ages, sponsored by Conway Regional Health & Fitness Center.


The registration deadline is Tuesday, March 29, to guarantee an event shirt and finisher medal.


The event is presented by Groovy Smiles Pediatric Dentistry.


Kids Run Arkansas will be held Friday, April 15, at Laurel Park in Conway. The event offers fun for the entire family, including face painting, games and more, leading up to the 1-mile and 3-mile run/walk at 6 p.m. This event is open to kids of all ages and parents. There is no chip timing as Kids Run Arkansas strives to promote fun and fitness in youth and family.


"Kids Run Arkansas is a great way for families to spend an evening being active together," said Mallory Lefler, race director. "Childhood obesity in Arkansas continues to increase, so what better way to celebrate fitness and fun than with Kids Run Arkansas?"


Kids Run Arkansas was established in 2008 with registration increasing from 209 to nearly 750 in 2014. Last year, there were 745 kids from 41 counties who participated. "We have no doubt that this year will be bigger and better than ever," said Lefler.


The event is presented by Groovy Smiles Pediatric Dentistry. "Groovy Smiles Pediatric Dentistry is excited to sponsor Kids Run Arkansas because there are many aspects to growing healthy kids, including healthy teeth!" said Dr. Aaron Forrester. "There is a strong correlation between diet, exercise, and oral health."


Kids Run Arkansas will offer a finisher's medal, sponsored by Groovy Smiles.


Each year, the schools with the highest percentage of participation are awarded scholarships for their physical education programs. In 2015, $4,600 was awarded.


Registration is $10 per child and includes an event T-shirt, finisher medal, post-race goody bag and refreshments.


A registration form is available at conwayregional.org/ClassesPrograms.


For more information, call Lefler at 501.450.9292 ext. 309.