28 Feb 2023

Kids of the Month: Aiden Guzman and Declan Moore

By Stefanie Brazile

A person's values and character begin showing when they are young, and brothers Aiden Guzman and Declan Moore have proven they are brave and unselfish. They are true heroes.

Mid-December, the boys and their younger sister were visiting their grandmother in White County when two pit bull-mix dogs came onto her land, started barking and running toward the youngest child, 3-year-old Annsley. Declan, who is 6, moved between his sister and the dogs and shielded her from the attacks, suffering deep bites. Then Aiden, who is 10, intervened and sent Declan away with Annsley. The dogs viciously attacked Aiden until their grandmother arrived at the scene. She was also bitten.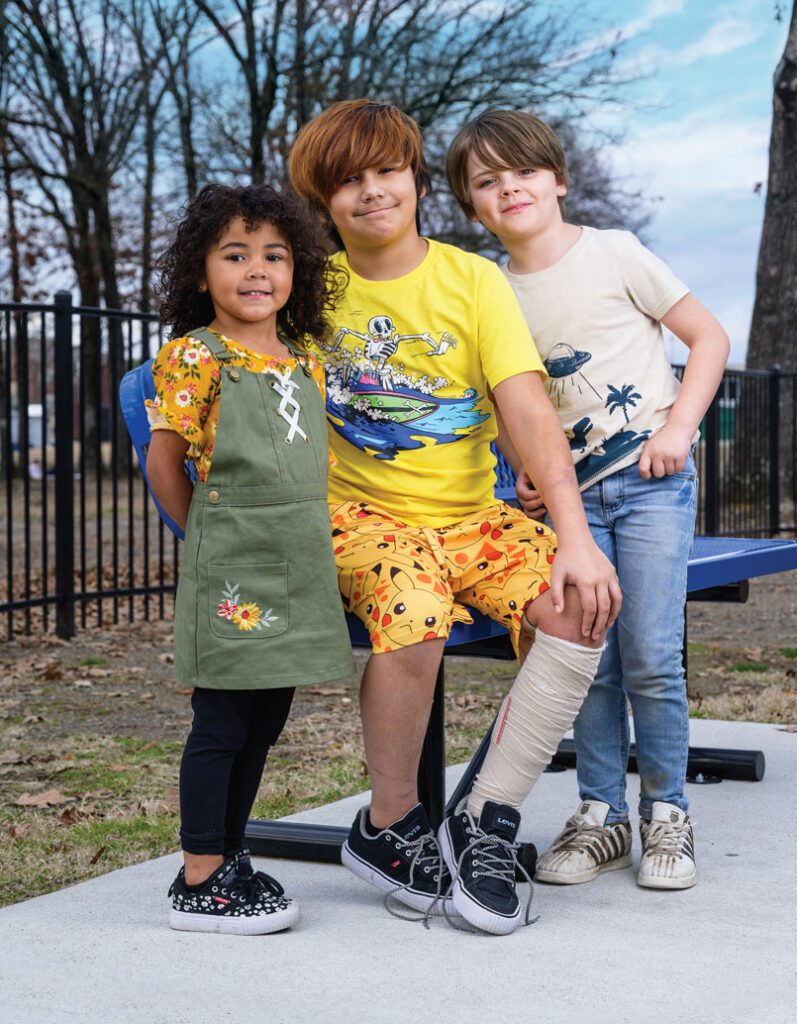 If Declan and Aiden had not sacrificed themselves, their young sister would have been seriously injured or possibly worse.
"This was just them loving their siblings and each wanting to keep the other safe," said Caitlin Mayo of her children. "I tell the boys 'thank you' every single day. They are the strongest people in the world, and I cannot imagine being as brave as they were."
The boys were transported to Arkansas Children's Hospital, and their grandmother was also taken to an ER. Mayo was at work and learned about the attacks from voicemails. It was a horrifying and uncertain drive from her job in Conway to the hospital in Little Rock.
Since then, life has been a series of surgeries, procedures and wound care, but Mayo is thankful that her children are gradually healing physically and emotionally.
Having a sister was always important to Aiden. In fact, he began asking for a baby sister when he was a toddler. "Around age 7 when she was born, he would say, 'If anyone ever tries to hurt my sister, they'll have to go through me'," Mayo recalled. His actions in December proved that those weren't mere words; he and Declan sacrificed their safety because of their loving commitment to one another.
The family lives in Conway and the boys' heroism was recognized by Mayor Bart Castleberry and the City Council at the Jan. 24 meeting in the Council Chambers. Aiden is a student at Ruth Doyle Middle School. He has undergone four surgeries and four procedures and sees a plastic surgeon regularly. This will continue for another one to two years. He is using a walker and has physical therapy sessions to rebuild strength in the leg.
Declan is a student at Ida Burns Elementary School and his wounds also went to the bone. He continues to heal and see a physician regularly. Fortunately, Annsley was not attacked.
"The dogs had attacked a man around Thanksgiving, and after my kids were attacked, on Dec. 31 they hurt two little girls and their stepdad," Mayo said. "Arkansas doesn't have strong laws about dog attacks."
Although the terrifying situation still affects their daily life, Mayo, her mother and the children continue to love one another and enjoy life together. More than words, the actions of Declan and Aiden proved their deep commitment to one another and to the sister they always wanted.