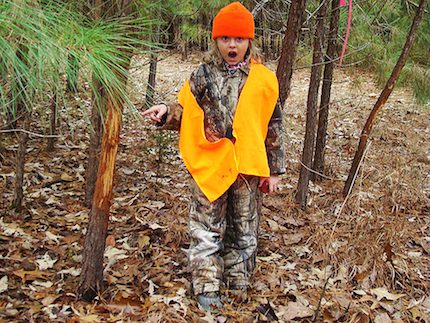 28 Jan 2015

Kids, impaired Arkansans enjoy The Hunt of a Lifetime

For 13 Arkansans, eight of them youngsters, December brought them a special gift. They went deer hunting.

Traditions started in 2000 are annual youth hunts and annual mobility impaired hunts operating out of the Potlatch Conservation Education Center at Cook's Lake in the White River country east of Stuttgart. The ongoing program is called The Hunt of a Lifetime.

The hunts targeted persons who have never had the opportunity to participate in the annual event at Cook's Lake. Participants each year are chosen at random from applicants. For the young ones, under 16 years of age, it is a chance to do something in the outdoors that is not available to the public at large. Each of the young hunters is accompanied by a chaperone.

The mobility impaired participants are adults who may have had opportunities with other similarly sponsored hunts, like the youth, but not at Cook's Lake. They traditionally make use of five hydraulic lift stands at the Potlatch Center to get in and out of deer stands. These five hunters this season were John Paris of Jacksonville, David Miller of Heber Springs, Josh Miller of Heber Springs, Gordon Sasser III of Alma and Jerry Norwood of Hot Springs.

The five hunters and their helpers enjoyed lodging and meals at the Potlatch Center that were compliments of the Arkansas Game and Fish Foundation. For both the mobility impaired and the young hunters, hunter safety, in-the-field instruction and hunting tips of the area were part of the weekend experiences. The hunts use personnel of the Arkansas Game and Fish Commission, the U.S. Fish and Wildlife Service and a number of volunteers.

The eight young hunters were from all over Arkansas. They were Brian Thorne III of Marianna, Caleb Simpson of St. Charles, Kaleb Garner of Jacksonville, Sarah Brock of Quitman, Remington Frisbee of Hope, Chase Losh of Paragould, Caden Brown of Dardanelle and Dale Horn III of Hot Springs.

They camped at the Potlatch Center or stayed in nearby motels. Lunches for them and their chaperones were furnished by the Potlatch Center.

The limit for each hunter was one buck and one doe, and these were bonus deer, not counting as part of their regular season limits.

The hunts were on 1,850 acres of bottomland and upland forest that are part of the Fish and Wildlife Service's Dale Bumpers White River National Wildlife Refuge adjoining the Potlatch Center.