02 Sep 2021

Kid of the Month: Terrance Black II

By Becky Bell

Terrance Blake II's mother has a picture of him playing the drums when he was less than a year old. And now, at age 13, with a height of about 5 feet 7 inches, he still loves music.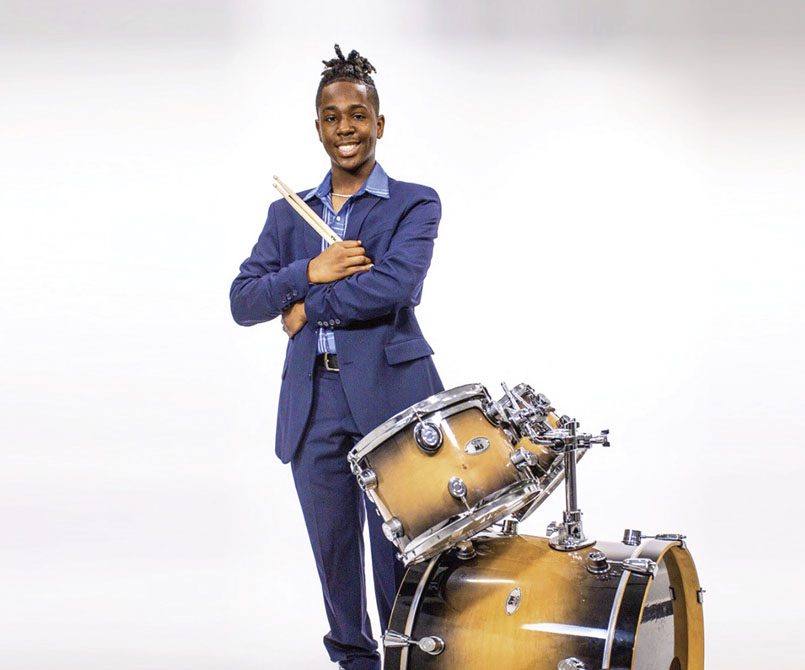 Because of years of lessons, he can play the drums and piano, and his heart is set on trying out for the jazz band at Conway Junior High School. He also plans to go out for the football team. His athleticism is shown in how he plays soccer year–round, plays football in the fall, and runs track each spring.
"Soccer is his actual sport, and they start it in the ninth grade at school, but he has been playing since he was 6 or 7," Cameria Blake said. "He is on a competitive team and did the three–by–three tournament and they won all their summer games. Soccer is usually little bitty guys, and a lot of times we have to keep his birth certificate with us. Lots of teams we play haven't gotten their growth spurt yet."
But it's still music in which he immerses his life, according to his mother. He has taken lessons at the Conway Institute of Music since 2015. The teen's love for piano began at his church. His mother said she and her husband noticed he liked it, and, during a summer program, someone told her he was picking it up by ear so well that they might want to invest in some lessons.
He also loves playing the drums, and, like the piano, his first memory of the drums was seeing someone play at his family church, Salem Missionary Baptist, and then climbing up to the set after the service and banging on them himself.
While church helped draw his attention to those instruments, Cameria said her young son discovered jazz on his own.
"He was going to sleep, and I went in his room and there was jazz playing," she said. "He likes to listen to jazz while he goes to sleep. He just likes all kinds of music."
Terrance said he doesn't really know a way to explain his love for jazz, but he knows it's important to him as a musician. "It's kind of soothing I guess, and I know I just feel kind of attached to it," he said.
"I like it because you can make music that you really haven't heard before and think it's cool," he said. "I like to hear my beats on the piano, and my friend comes by and he plays percussion as well. So whenever I play the piano, friends come over and might beat the drumsticks and beat on the chair while I play the piano. It's fun."
Terrance hopes his talents will allow him to play in jazz band. He said his lessons have already helped him learn more about the music he is playing.
"I think it helps me drastically," he said. "When I first started, I thought it was hard to play, but now it's just natural."
His mother said the lessons have helped him advance beyond playing by ear.
"He had to go back and learn the notes," she said. And now things are different.
"Instead of just listening to the songs and pressing keys that sound just exactly like it, I actually know the notes on the paper," Terrance said. "It was hard because you got so used to playing by ear, but now I play the actual notes."
Since he's had a passion for music and sports most of his life, he is sure to be successful in both.