31 Jan 2021

Kid of the Month: Sounds of success

By Stefanie Brazile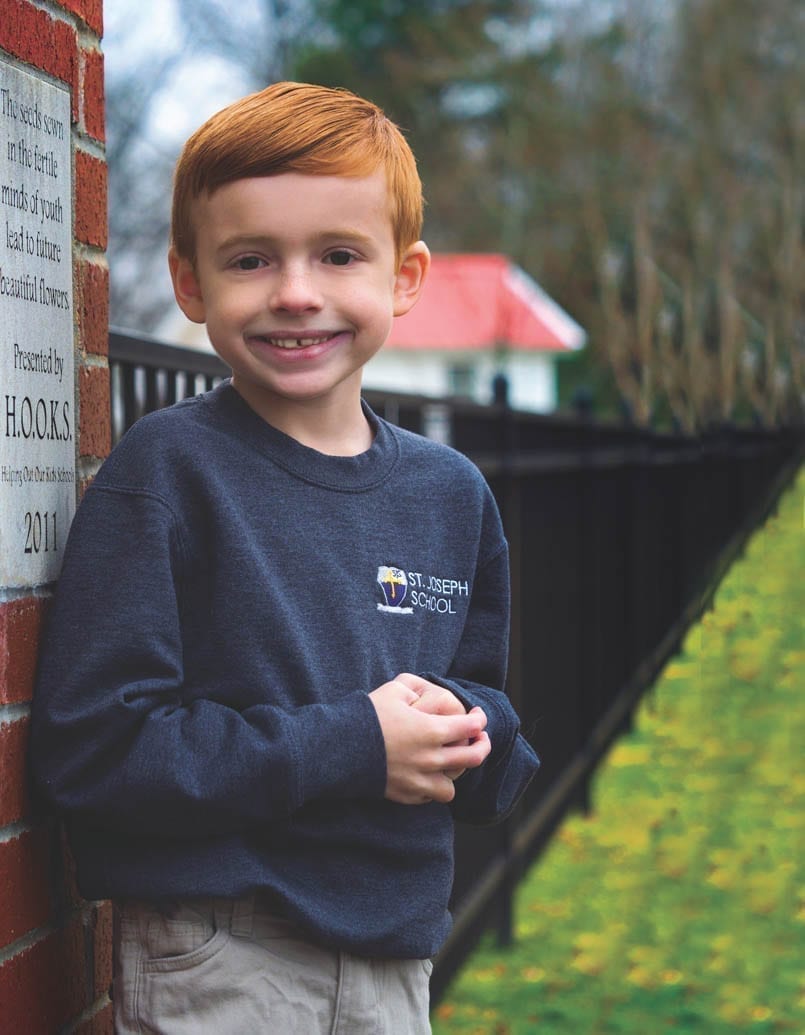 Age: Seven.
City: Conway.
SCHOOL: First grade, St. Joseph Elementary.
FAVORITE SUBJECT: Reading.
FAMILY: Haley and Scott Moran (mom and dad); Ben Moran (brother).
MOST CHERISHED POSSESSION:
Star Wars figures that belonged to his dad.
FAVORITE MEAL: Chic-Fil-A nuggets and fries.
FAVORITE ACTIVITIES: He loves going to the park and playing with his dog, Milo.
what he does WITH PARENTS:
He enjoys watching The Mandalorian with Dad and having dance parties with Mom.
FAVORITE GAME: Star Wars Monopoly.
FAVORITE MOVIE: Jurassic World Fallen Kingdom.
Owen Moran is an active first grader who loves Star Wars and going to the park with his family and dog, Milo. He has met Gov. Asa Hutchinson and enjoys playing with his fellow Cub Scouts. Owen also has Childhood Apraxia of Speech (CAS).
CAS is a motor speech disorder that makes it challenging to speak. The rare disorder affects one to two children out of 1,000 and is twice as prevalent in boys.
"We suspected that something was not quite right when he was 18-months-old," Scott Moran said. "At that time, our focus was more on sounds and less on words. Owen struggled with long vowel sounds and he also was unable to make the same sound twice."
Their pediatrician told them that boys were late talkers and discouraged any worry. They brought it up again at his two-year check-up and were referred to a Speech-Language Pathologist that was knowledgeable about apraxia. Wendy Lyon at Kidsource Therapy in Little Rock quickly diagnosed him and began intensive speech therapy. "The progress was almost immediate," Moran said. "If any other parents are reading this and have similar concerns about their child, then my biggest piece of advice is to trust your gut. If you as a parent feel like something isn't quite right, then don't take the first answer given to you. Early intervention is the key to success in overcoming CAS."
Trouble communicating affected Owen socially and he lacked confidence. He would sit quietly among his peers. So, his parents decided to enroll him in a smaller school. Two years ago, Owen began attending pre-K at St. Joseph School.
"This fall has been the year that he has begun to come out of his shell and play with his classmates," his father said. "We hoped he would grow socially and excel academically. Those hopes have turned into reality and we are so thankful for the teachers and staff at St. Joseph. Everyone has embraced Owen, opening their arms and hearts to him."
Elementary School Principal Courtney Pope enjoys having Owen as a student. "The Moran's are a precious family. They truly show the impact of being an advocate for your child and the success that will follow."
Each September, the family participates in the Arkansas Walk for Apraxia at Laurel Park in Conway (pre-COVID-19). Typically, the governor attends and helps celebrate the apraxia stars. The fundraising event raises awareness and connects kids and families for support.
"Apraxia is a marathon and not a sprint," Moran said. "When your child is unable to speak, at times it seems like a hopeless journey. Our purpose in this journey is to help give others hope, to show them that apraxia can be overcome."