02 Aug 2022

Kid of the Month: Mia Palmer

By Lori Dunn

Mia Palmer is a confident firecracker of a girl who is as equally comfortable talking about her voice lessons as she is her love of professional wrestling. Her parents are Shane and Ashley Palmer of Conway.

She turns 8 this month and is about to start second grade at Jim Stone Elementary School in Conway. But she is already preparing for high school by playing "teenager" with her friends.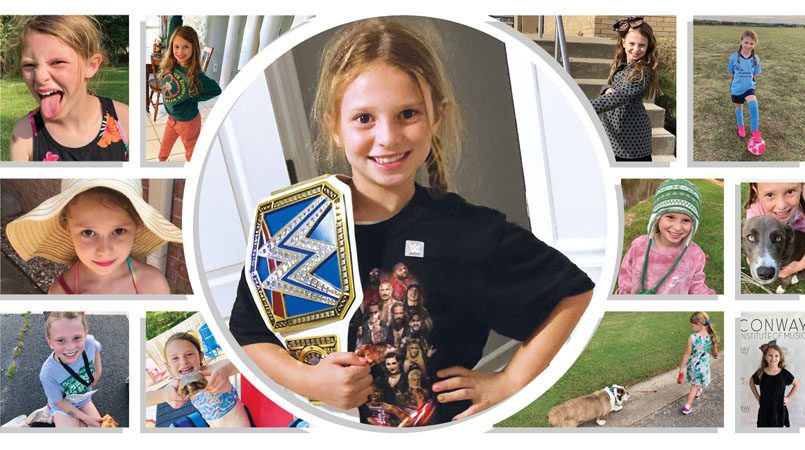 Mia loves to sing and dress up. She likes to wear high heel shoes during dress-up but thinks "they hurt too much" to wear them all the time. But she also plays soccer, enjoys finding cicada shells outside in the yard, and can quickly rattle off the names of the professional wrestlers she enjoys watching with her dad.
Mia takes voice lessons at Conway Institute of Music. She has been taking music classes for about four years."I think in December I'm going to do a music recital. I'm going to sing 'Fight Song,' and my teacher is going to play piano," Mia said. She loves singing Katy Perry music, including "Fight Song" and "Roar."
Sometimes when her friends stay over, they put on shows for Mia's parents. They have microphones to sing into and put a lot of work into each production. Her grandparents live seven houses down from her and often pick her up from school. Her "pop pop" is musical also and used to play rock and roll, Mia said.
Mia is musical and athletic. She plays soccer for Arkansas United Soccer Club. She inherited her soccer talent from her dad. "My dad has been playing soccer since he was 8 or 9. He still likes to kick the ball around," Mia said.
Mia also swims with the Aqua Kids team at Hendrix College. She enjoys swimming in her grandmother's pool during down time.
Watching wrestling with her dad is one of Mia's favorite things to do. "We went to Smackdown in Little Rock," she said. WWE Friday Night Smackdown at Simmons Bank Arena featured Women's Champion Rowdy Ronda Rousey and WWE Champion Roman Reigns, along with wrestlers Cody Rhodes and Kevin Owens. Mia, who likes Rousey the best, was shown on TV wearing her wrestling belt.
At school, Mia enjoys P.E. class along with music and art. "And lunch!" she said. "They have good food at my school." At home, she enjoys eating pizza and steak cooked on the grill.
Mia grew up with a dog named Dexter, but he has sadly passed away. A puppy named Luna recently joined her family and brought a lot of joy to them. "Luna is so cute!" Mia said. "She is a border collie mix. She is brownish gray with white socks."
Her favorite toy is her stuffed lamb "Lamby," who has been with her since she was a baby. When she has time, Mia enjoys planting flowers and vegetables in the family's garden. Another one of her favorite things to do is visit Gulf Shores, Ala., and swim in the Gulf.
It might be a good idea to remember Mia's name. Odds are she will have a future on stage or on the soccer field. Either way, she will probably be having a lot of fun.