02 May 2023

Kid of the Month: Katie Williams

By Becky Bell

If you didn't know Katie Williams was 11, you might think you were talking to a long-in-the-tooth cowgirl about the ranch she grew up on, her saddle worn bare from all the years of riding with the herd.

"Yes, my pony Pancho is ornery! He was just born that way," Katie says like the accomplished cowgirl she is. "I'm trying to break him, but he's nothing but a pasture ornament."

The conversation is quick with Katie, and the interviewer is delighted to hear the phrase "pasture ornament," recited by a child to describe an animal as if it's common everyday language. This little cowgirl is not someone who is "all hat and no cattle"—she's the real deal. 
Katie lives on T&W Cattle Ranch with a number of cattle, two ducks, six dogs and thirty horses, six of which belong to her. Her mother, Tiffany Williams, grew up on a ranch and said she is glad her daughter is getting to experience that lifestyle as well. Tiffany said her daughter's skill with horses has been something she has marveled at since she was first around them.
"She's always been natural on a horse. She can ride a horse better than most grown men. She just takes to it," Tiffany said. "When she was going through gangly stages, she would get on the horse, and it would all go away. She had perfect balance and there was no problem at all."
Although Katie is an accomplished rider, she still has years to learn even more about animals as a fifth grader at Wonderview Elementary School in Hattieville (Conway County). Elementary school Principal Shandee Gordon said those who know Katie know she comes from a family of ranchers and farmers and that she loves all things horses. But Gordon said Katie's kindness does not stop with animals.
"She is beautiful inside and out," Gordon said. "She is a friend to all and is a pleasure to have in class."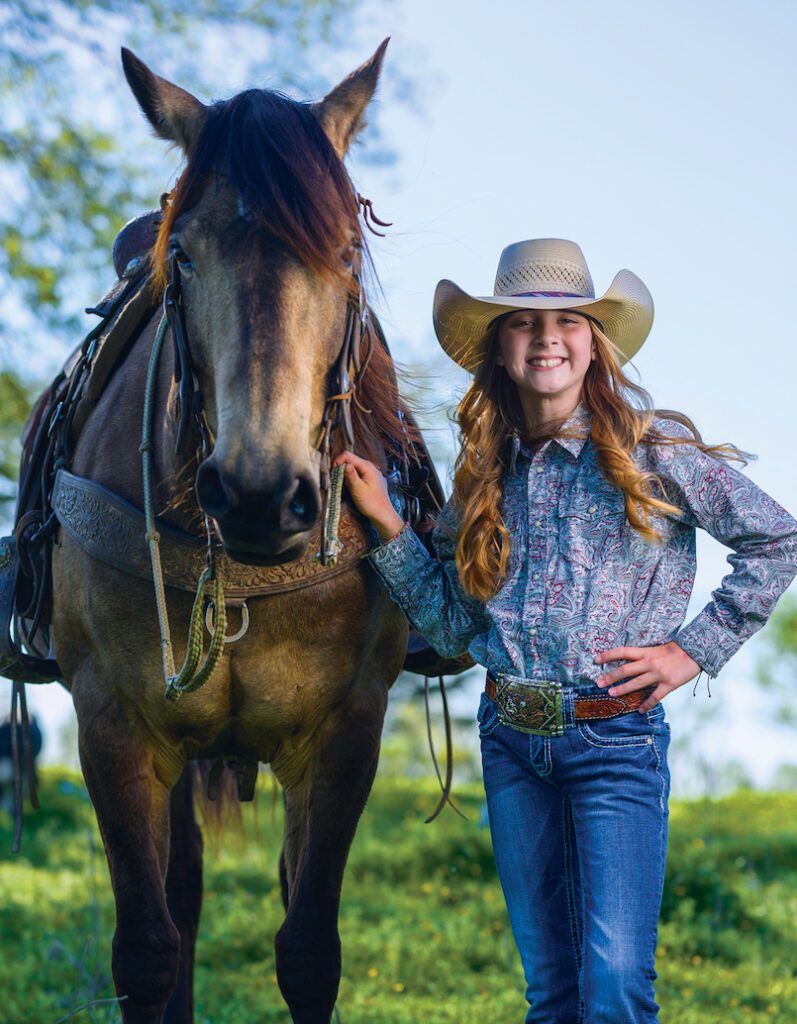 Katie said she enjoys school and making friends and finds forging friendships fairly simple. She said she keeps it straightforward and encourages others to do the same. "Everybody is my friend," she said. "I say hello and I ask them what their name is and what their favorite color is and stuff like that and then I tell them my favorite color and ask if they want to play with me. If they say yes, great. If they say no, I'm going to leave."
When it is time to hit the books, most children favor one subject over another, and Katie is no different. She said her favorite subjects are English and science and she can tell you why without hesitation. "That's because English is easy because it's not math and science is the same way; it's really fun and I get to do science experiments," she said.
Her dreams of what to be when she grows up will not come as a surprise.
"I want to be a veterinarian because I want to help animals and want to see if I can make them happier than they are," Katie said. "And I like to be around animals."
Tiffany thinks Katie will be able to be anything she wants to be if she puts her mind to it, and she can see her only child becoming a vet based on past experiences. "She has watched her dad, Terry Williams, and her grandad, Dub Williams. She knows horses and when they are at ease," she said. "She can just glance around horses from a distance and find a certain one in the pasture. It's just crazy."
The young cowgirl from Conway County with a sweet, albeit straightforward, disposition is destined to make friends with people and animals all of her life.