05 Nov 2023

Kid of the Month: Hannah Halbrook

By Becky Bell

Hannah Halbrook is only 14, but she is already thinking about her future and sees herself becoming a doctor one day.

"I really like people's biology, our DNA and makeup and stuff and how certain traits are going to get passed on through generations," Hannah said. "I feel like I've liked science for a while. I want to go into a medical career. I want to be an oncologist or cardiologist. It is just something I have been thinking about."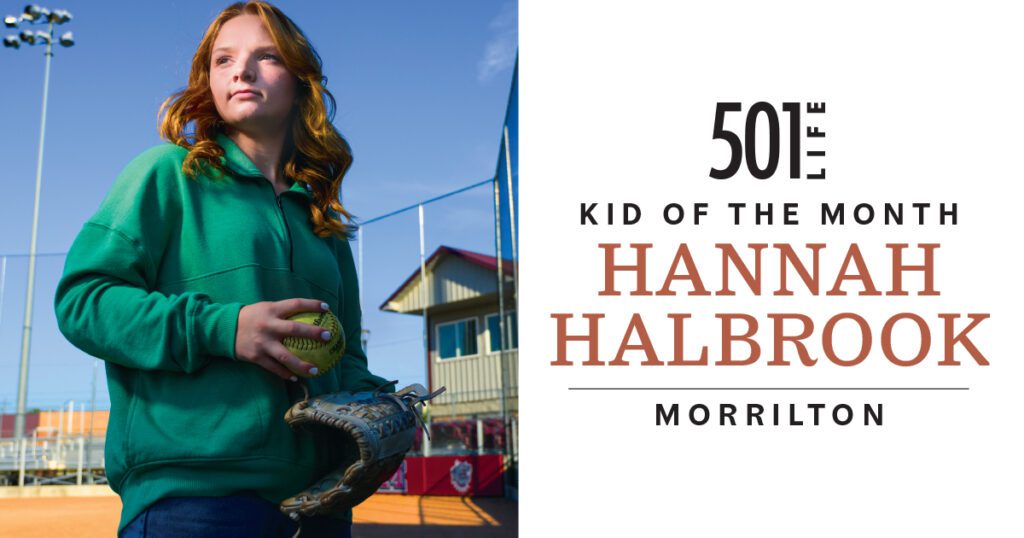 Hannah's experiences with family members who have faced crucial health challenges have led her to the conclusion that doctors help people when they need it most.
"I have known people who have had cancer, and there is a part of me that really wants to get rid of that pain for people and help them get better," Hannah explained, adding she has had aunts and cousins who have suffered with different types of cancer.
However, she might be swayed to go down the path of helping those with heart problems because of her grandfather, Charles Masters, whose heart problems led to open-heart surgeries.
"It was cool to hear about when they went in and did (the surgeries)," Hannah said. "A friend of mine recently had heart surgery, and it helped her out and made it better, and that is just something I would like to do."
Hannah's favorite class is, unsurprisingly, physical science, and she said the class is taught by her favorite teacher, Kaleb Blocker. Although she and other eighth graders at Morrilton Junior High School will have to wait another year to dissect a frog, Hannah said she likes frogs but the thought of the dissecting assignment really doesn't bother her. An ability to dissect and keep a solid stomach will serve her well as she continues her studies to become whatever type of doctor she wants to be.
Hannah is the daughter of Shawn and Jennifer Halbrook. She has three siblings: Cade Halbrook, 21; Ashlyn Halbrook, 19; and Kynsleigh Halbrook, 11. The family has one pet, a cat named Violet, whose sweet name doesn't quite do her justice as an expert hunter of the various lizards, birds and rabbits that she lays down as gifts in front of the family's door. Jennifer said the cat was supposed to be Kynsleigh's pet, but the cat has chosen her favorite.
"She loves Hannah and Hannah loves her," Jennifer said.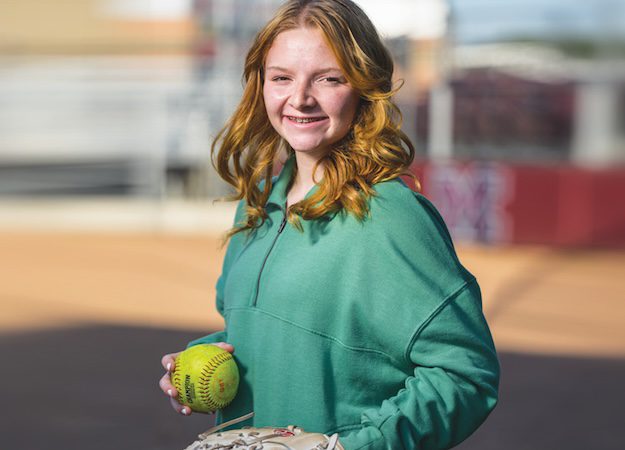 When she isn't studying science, or hanging out with her family, Hannah participates in various athletic pursuits. She runs track and plays both volleyball and softball. Her favorite sport is volleyball because she likes the faster pace of the game.
"I am a setter, which [means I] get the ball where the hitter can hit the ball to the other team," Hannah said. "Volleyball is my favorite over softball because it's faster paced, which is really meant for me. I like everything fast-paced because sometimes softball will get boring."
Hannah certainly does like fast-paced if her position as shortstop on the softball team runs a little slow for her. Also, in search of fast-moving sports, she started track last year. She competes in the 400-meter race as an individual and the 4×400-meter relay, which is where the runners hand a baton off to each other at the end of each relay leg.
Additionally, she competes in the triple jump, which requires three steps before landing the jump in the sand pit, and she also competes in the pole vault.
Because she is not an only child, she realizes that both her parents can't attend all her sporting events, but she loves to see them in the stands, she said.
"It's just nice seeing they care enough to come and see what I've been working on and how I've been improving," Hannah said.
With supportive parents, success in school, a love of science and a desire for a fast-paced environment, Hannah is on her way to becoming a doctor or anything else she wants to be.