11 Sep 2023

Kid of the Month: Bowen Bradford

By David Grimes

Bowen Bradford is not your typical 10-year-old boy. The Conway youngster was born with craniosynostosis, a birth defect where the bones in a baby's skull join together too early. But Bowen's disorder was not diagnosed until he was 9 years old. The delay added complications to his condition, as parts of his brain had grown into his skull.

His remarkable journey is retold very passionately by his mother, Sheri Bradford.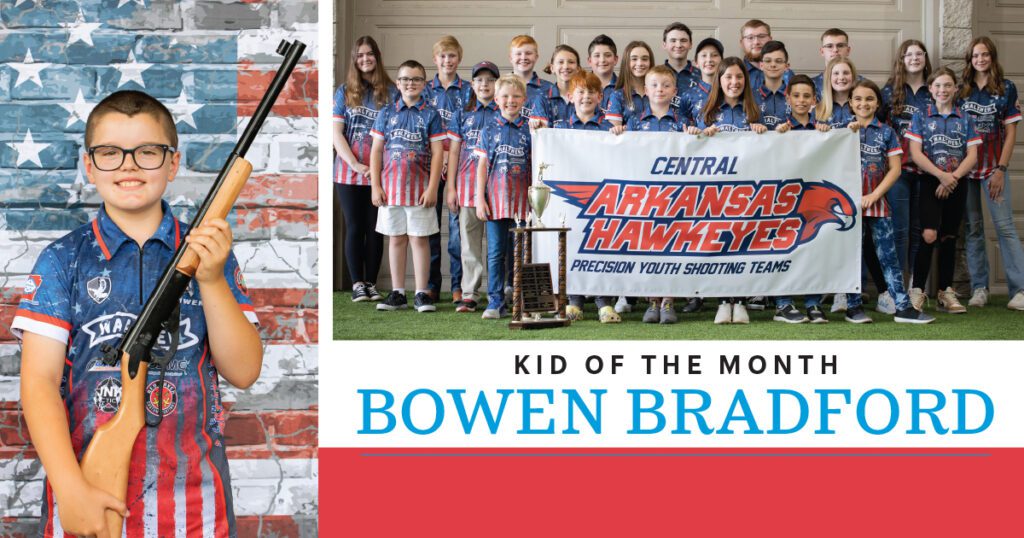 In May of 2020, a trip to the eye doctor led them to realize something was wrong, but it took awhile to fully understand what they were dealing with. Ultimately, on Sept. 27, 2022, Bowen underwent a 12-hour surgery at Arkansas Children's Hospital to remove and reconfigure his skull, giving his brain the room it needs to continue to grow. The surgery was successful, but the rehabilitation has not been easy.
During the recovery, Bowen had to use a wheelchair for almost a month. However, that did not deter him from continuing to do many of the things he loves, including playing with his impressive Lego and Hot Wheels car collections and spending time with his 11-year-old sister, Savannah. He also continued his involvement with the Central Arkansas Hawkeyes Precision Youth Shooting Team. In fact, Bowen was practicing with the team only a few weeks after his surgery while still in his wheelchair.
This was Bowen's first year with the Hawkeyes. He found out about the group at a BB gun and safety camp that was conducted through the 4-H club last summer just before his surgery.
The Central Arkansas Hawkeyes is a 501(c)(3) tax-exempt organization with the mission of introducing youth and young adults to competitive shooting sports and firearms education. With a focus on competitive rifle and pistol activities, they strive to offer youth, their parents and adult volunteers the opportunities to become responsible, self-directed and productive members of their local communities. The Precision BB Gun program is open to kids 9 to 15 years of age.
Andy Faulkner is the founder and head coach of the Hawkeyes. He works at the University of Central Arkansas as an athletic academic advisor. In July, he took 10 members of his young team to the Daisy National BB Gun Championship in Rogers, where they finished as one of the top 40 teams in the entire country.
Bradford has high praise for the Hawkeye's coaches, including Faulkner, Keri Davidson, Jeremy Ramsey, Chloe Parish and Jonathan Coats. "As parents behind the lines of any sport our child is in, we not only watch our child in the activity, but we also watch the coach's interactions with our child," Bradford said. "We value coaches as mentors and teachers. We see that certain coaches have the gifted ability to assist and teach each child at their level, with compassion."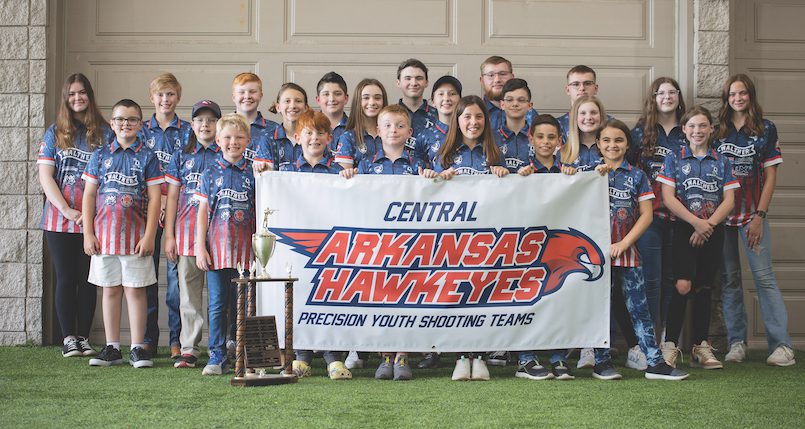 As the group began to grow over the years, a larger practice space was needed, and that is when S7 Tactical came into the picture. The facility is located just outside of Conway, near Menifee.
C. Ryan Stephens is the founder of S7 Tactical and co-founder of the Arkansas Gun Club. "The Arkansas Gun Club, Trip Leach and I are honored to be the home of the Hawkeyes," Stephens said. "When we first opened our business, we committed to serving our community. Serving youth precision shooting sports, the Hawkeyes, has been one of the most rewarding ways of giving back. We have witnessed leadership, professionalism, discipline, responsibility, honor and hard work from the coaches and these young athletes."
Coach Faulkner brags on his young shooter. "Bowen had a natural talent and a great attitude as one of our youngest competitors," he said. "He really loves the sport, but was worried he would not get to participate due to his surgery. I told him and his mother that if they still felt up to giving it a try after his operation he could come out. The beauty of shooting sports is that it does not require you to be the biggest and strongest athlete in the field. If you are willing to try hard, work on your focus, and develop some of the technical positioning, then you can be just as good as anyone out there."
Bowen has benefitted from the group in many ways, as evidenced by what he said of the club. "I love the Hawkeyes coaches and how good they train and teach my teammates and me. They are really nice and helpful," he said. "My teammates never let me or any of the other team down. I love shooting for many reasons. One is that when I keep my eye on the bullseye, it is all I am focusing on. I love shooting with my teammates who have become my Hawkeyes family. Every time I shoot, it feels awesome because I know I do my best and shoot with all my heart and my sight."
The organization is in the planning stages of building a $3,000,000 world-class precision shooting sports arena that would foster collegiate and Olympic hopes and competitive teams of all ages. Once the building, which will be accessible to people with disabilities, is complete, they will offer a para-athlete team. For more information on this project, contact Coach Faulkner at 501.402.0911 or [email protected].
The Hawkeyes motto is "Aim High, Reach for The Sky, And Always Stay On Target!" Given the determination that Bowen and his teammates have shown, the Hawkeyes are no doubt on the way to hitting that target.