30 Jun 2021

Kid of the Month: Anthony Long-Irby

By Becky Bell

While Anthony Long-Irby's friends are busy on their cellphones or playing video games, the 13-year-old can be found in the middle of the woods enjoying the peace of nature.

And although time in the outdoors is its own reward, he has received nearly all the badges from the Arkansas Game and Fish Commission's (AGFC) Outdoor Skills Program, which recognizes the abilities of Arkansans in nature.

Launched in January 2019, the program encourages people of all ages to sharpen their outdoor skills in 10 categories: archery, conservation leadership, fishing, game calling, hunting, shotgun marksmanship, rifle marksmanship, paddle sports, trapping and watchable wildlife.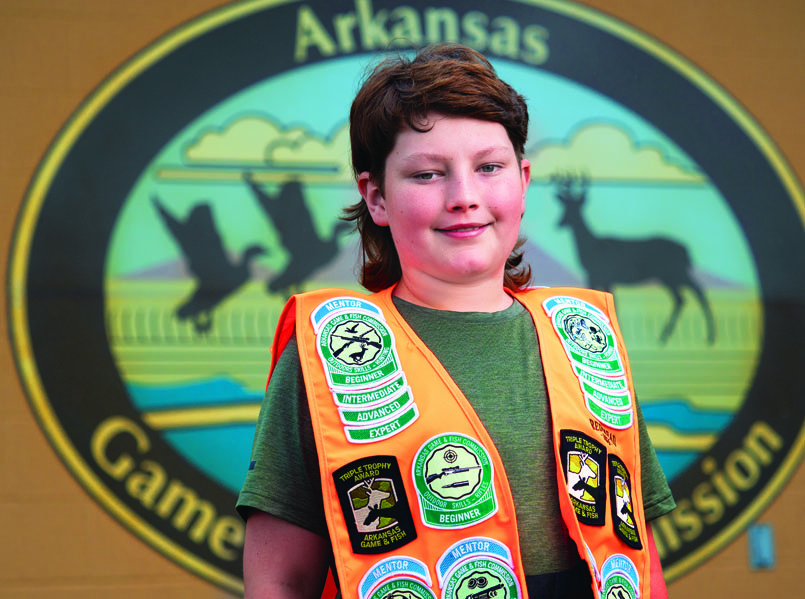 Anthony lives in Mayflower, but since his grandparents, Anthony and Deborah Long, bought a home in Calico Rock, Anthony and his siblings have been doing more hunting, fishing and exploring. Anthony was 5 when they bought the place in Northeast Arkansas, so he's grown up learning about and loving nature.
"Papa taught me how to hunt, fish and camp, pretty much everything outdoors," Anthony said. "On the property, we would see caves and creeks, and we even saw a bear. It was a big ball of fur. We saw them about 80 yards from their house. We've seen a bobcat and have stalked deer."
A highlight of this year was harvesting his first turkey because turkey hunting is different from hunting deer, and Anthony liked the chance to hunt something requiring a different skill set.
"It was tricky, but it was fun. You have to be quiet, and you can't be seen," he said. "With deer, you can stay a little further away because you don't have to use a shotgun. With turkeys, you use a shotgun, and you shoot from their neck to their head. You can also use a bow to hunt them, but you just can't use a rifle."
These hunting and camping accomplishments have earned the middle schooler patches through the AGFC's program. He has three to go to complete it.
"When Anthony was 8 years old, he received a triple trophy for harvesting a deer by modern gun, archery and a bow," his grandmother said. "He received a patch for the triple trophy and a certificate."
Anthony also received a triple trophy in deer hunting for using all three ways to harvest a deer at age 10 and again this year.
And even though Anthony had already begun working on his badges before the pandemic, it was the pandemic itself that helped launch him in pursuit of more badges, Mrs. Long said.
The two categories Anthony still needs experience in are conservation and paddle sports.
"I'm trying to get the paddle-boating patch, and I have to do one overnight stay during a canoeing or a kayaking trip. I have to float one river or creek, and I have to attend a basic canoe or kayaking class," Anthony said.
He has decided that he might like to be an Arkansas Game and Fish officer when he grows up. "I want to make sure that safety and animals and conservation stay good," Anthony said.
Papa Tony said he has been hunting and fishing since he was 14 and was honored to mentor his grandson because the skills are important to know.
"I believe it is kind of dying off, call it a trade or way of life. It has kind of dwindled down," Long said. "More kids nowadays are sitting in front of the Xboxes and know very little about the outdoors. I wanted to teach him to be able to be self-sufficient and to provide for himself through hunting and fishing. And one thing I could say is if he got lost in the woods, he knows about making a lean-to for shelter and he knows how to make fire from scratch. He knows how to survive."